The Forest Scout Friday Five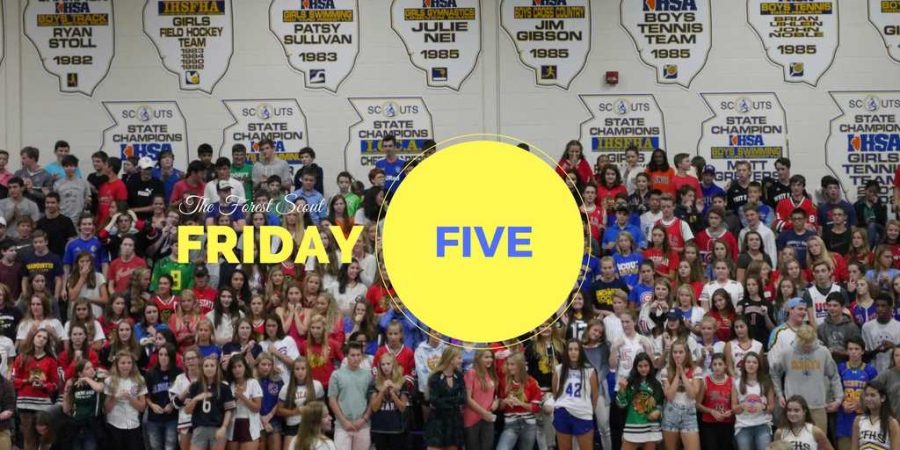 The Forest Scout Friday Five is a weekly segment that celebrates five people making a distinct, profound, and positive difference in the Lake Forest High School community. To visit our most recent installment, click here. To recommend a student, teacher, support staff, or community member for inclusion in The Forest Scout Friday Five, please email [email protected]ols.net.
Matt Jerina: The teachers at Lake Forest High School need a few things to keep them in a good mood on a daily basis. One might, of course, be some mature and responsible behavior from students. Still, another is a good morning workout, which is something that Wellness teacher Mr. Matt Jerina, a Lake Forest High School graduate, provides a few teachers with every morning by way of the Teacher Fit Club at LFHS.
Mr. Jerina's facilitation of the workouts is an unpaid position, but talk to anyone involved and you will immediately see his value. He plans the workout, often coaches them through it, congratulates them, and then goes on about his day–a very busy day, may I add. Not only does Jerina help teach the Strength Training and Team Fitness courses in the Wellness Department with specific, nuanced instruction, he is also a coach in every single season that the school has to offer. A cross country coach in the spring, Jerina assists the runners with their stretching and weightlifting techniques to help bolster their physical fitness and also help with injury prevention. In the winter, he shifts gears to wrestling, where he has helped Coach Matt Fiordirosa build the wrestling program into a reputable competitor in the North Suburban Conference. When spring rolls around, Jerina is back to helping out runners, assisting with the LFHS track and field program, all the while finding time to spend with his wife and two kids at home.
Though Mr. Jerina's build could pigeonhole him as a brut, he is one of LFHS' most caring and compassionate individuals, evidenced by him giving every bit of energy he can to the high school, whether it be with his colleagues in the faculty, or with the students he teaches in and out of the classroom.
Celeste Tomaselli: In stressful moments, everyone has difficulties staying positive and living out every day like it's their best.  This isn't the case for freshman Celeste Tomaselli.  Celeste greets every day and every person she meets with a smile and a 'hello,' and she isn't afraid to laugh.
Perhaps her greatest accomplishment as a freshman thus far is her dedication to the band and the percussion section.  "Celeste's enthusiasm and work ethic as a percussionist are inspiring to her classmates and to me as her teacher," says band director Mrs. Kessler.  "Already as a freshman she is making a huge contribution to the ensemble!"
As a member of the the LFHS Drumline, Celeste also participates in extracurricular musical ensembles ranging from Jazz Band to Pep Band.  Her skill on the drumset during pep band is astonishing, and her vibraphone playing enhances the style in the jazz band. "Celeste is one of the hardest working students I know. She always has an open mind and is always looking for a challenge to help her grow as a musician," says jazz director and assistant instrumental music director Mr. Janiszewski.  "Not only is she a great student but also a great team player. Whether she is Jazz Band or in the Drumline, Celeste always has a positive attitude and treats everyone with respect and kindness."  Outside of the school music department, Celeste takes private drum lessons through the School of Rock, and somehow still has time to be a key member of the LFHS Tech Crew.
Even during the marching band season, Celeste was able to be a leader in the section, despite her freshman rank.  She was the recipient of the "Rookie of The Year" award for her "exceptional spirit, enthusiasm and musical ability."  Section leader and lead snare William Steck admires Celeste's contributions to the section: "Celeste is a great percussionist and an even better person. Her daily positivity is infectious and her dedication to the percussion section is greatly appreciated."
Amid all of her activities, Celeste is still able to find the time to be a caring and positive friend. "Celeste is one of the most hardworking people I know, and that's something I admire about her. If she doesn't understand something or doesn't get it right away, she works at it until she can do it perfectly every time," shares fellow freshman percussionist Margot Pierce.  "She's also really kind, super supportive, and an all-around good person to talk to. She's always ready to listen to what you have to say… her enthusiasm encourages everyone around her to be a better musician. I'm really glad to have her as a friend!"
If nothing else, Celeste is a model example for all of us.  No matter the circumstance, it is always the right decision to smile and make the best of it.  Once you find something you love, stick with it and show other people how much you love it.  When you have the opportunity to lead, lead with integrity and style.  And above all, be kind.  Celeste is the embodiment of kindness and dedication.  Her kindness is contagious; there's no telling what she is going to do with her three remaining years here at LFHS.
Ava Schumann: Ava Schumann, or should we say the Fearless Freshman, is one who will not allow anything stand in her way. She is caring, sweet, kind, and someone who simply is a good friend. Ava ran varsity cross country and will be running on the track and field team this year. Already a speedy freshman, her running career has just begun. Her dedication is shown through her spirit in running. She is the person who will push for that extra mile, extra stretching time, or even that extra lap around the track. "She's an incredibly driven person with a wide range of unique interests. She puts a ton of effort into what she cares about and is a super supportive friend," said teammate and friend Kate Wildman.
Ava is never quiet on the sidelines watching her teammates. Instead, she is cheering and pushing her teammates to the finish line. She pushes herself to exceed her goals. She is certainly fearless, no matter the obstacle, and keeps moving forward while maintaining a positive mindset. Ava is dedicated in not only her drive to succeed in her sports, but her schoolwork as well. Freshman year is not easy–it takes some time getting used to. But Ava is handling sports, friends, and her school work like a champ.
Ava has the maturity of a 17-year-old already. Once you meet and get to know Ava, your conversations with her can go on forever. Her smile and laugh spread joy to others. At first Ava may be a little shy, but once you get her talking she exemplifies her big personality. People like to be around Ava because she is a loyal friend. One of her closest friends, Grace Benson, said, "Ava is someone who would do anything for a friend, no matter what." Ava is that person who will cheer you up when you are having a bad day. Another friend and teammate, Mia Johnson mentioned that, "Ava is undeniably one of the sweetest people I know. She is my running buddy, my motivator, and a little sister that I don't have."
Ava just started her journey at LFHS, and already has made an impact on others not only as a teammate and student, but as a friend. So next time you see Ava in the halls, say hi, she is a person that everyone should get a chance to know.
Collin Robinson: If you've ever walked through the halls of LFHS and wondered why there's a full grown man eating lunch in the commons, chatting up the girls, and goofing off with the boys, let me clarify: that is 18-year-old senior Collin Robinson. Don't be intimidated by his 6'1" frame and 180-pound, muscular build, he's achieved this impressive physique through 9 years of dedicated swimming. All the hard work has paid off, as Collin is currently a co-captain on the Varsity Swim team.
Head coach Cindy Dell had some delightful words to share about Collin. "Collin is one of a kind – he is empathetic, silly, compassionate and leads by example on a daily basis.  Collin understands the definition of hard work, takes no shortcuts and makes no excuses.  Collin has always done a great job of being an inclusive teammate – he is great at getting to know all the athletes on our team and taking the younger swimmers under his wing to make them feel that they are an important member of the team. He is not afraid to be a strong leader, yet is awesome at adding levity to practice and team events." Collin has raced a 23-second 50 free, a 51-second 100 free, and most impressively a 58-second 100 butterfly.
Collin is not the stereotypical jock you may be imagining him as right now; you'd never know he swims or plays lacrosse unless you ask him. Film is Collin's true passion, "I love film and enjoy telling stories and being a part of that stuff. I want to be a director of a film one day. My passion for film started since 3rd grade,"  he adds. Collin recently returned from Detroit, aside from going to the annual auto show with his dad, he got to visit the College for Creative Studies (CCS). CCS is one of the nation's leading art and design colleges, a top ranked, private, fully accredited college. Collin will be attending CCS next fall.
Collin is a great friend to everyone in this school, and someone that you definitely need to meet before he graduates this spring. I want to leave you with a quote from Collin's idol, an aphorism that he repeated numerous times throughout this entire swim season "Try not! Do or do not, there is no try." – Yoda.
Isabel Murphy: There isn't one person at LFHS who could say a bad thing about senior Isabel Murphy. She is, hands down, one of the most likable people at LFHS. Whether it's her funny demeanor, caring personality or her love for her friends, she is a friend to all. Senior Caroline Kozera had a lot to say about her one-of a-kind friend. "Isabel is one of the most down to earth, humble, optimistic, and nature-loving gals I have ever met and I'm unbelievably lucky to have her as a friend–whether she's stealing my food, making me listen to classic rock, talking about fishing and the outdoors, or stealing more food, she is someone that can always make me laugh, give me great advice, and can brighten anyone's day."
At LFHS, Isabel is involved in NHS, Varsity Tennis and is also a sprinter on the track team. However, her true passion lies outside the walls of the high school. She is  a huge fan of all things outdoors. Some people like to be outside, but Isabel takes it to a whole new level. Whether it be fishing, heading up to Big Sand, or even taking it to the extreme and going on an Outward Bound trip, she simply loves being outside. During the summer of 2016, Isabel spent a few weeks traveling throughout Colorado. There, she hiked and performed a solo. For those who don't know, this is when someone camps alone and it is extremely challenging. Aside from spending time outside, Isabel also spends her time trying to better the community. She currently trying to protest the use of styrofoam here in Lake Forest. Not to mention, she is is also very involved in the House of Peace.
Isabel is also very well known for her sense of humor. She is a very funny girl. In fourth grade, she confessed her dreams of wanting to open a pickle shop. Longtime friend Maggie Filkin shed some light on Isabel's witty personality, "Isabel is hands down one of the funniest people I know. She never fails to put a smile on my face, and I couldn't imagine my life without her." If you get the chance to interact with Isabel, she is definitely a keeper that you'll want to get to know.
About the Writer
Ghost, Author
Ghost is a section of The Forest Scout that chooses to publish material anonymously in order to increase the depth of their investigative reporting. Ghost...