Scout Send-Off: Cindy Dell
In sports, there are coaches. In academics, there are teachers and professors. People remember their teachers, mentors, and coaches, more for who they were than for what they did. You remember the different values those people took and held dear to them: discipline, leadership respect, responsibility, and countless others, just to name a few. The greatest coaches live and believe in their values every day.
And then, there is Cindy Dell. Even before her time at Lake Forest, she had been a mainstay in the hearts and minds of hundreds throughout the swimming community, formerly being involved with Lake Forest Swim Club, Lake Forest Club, and now Exmoor Country Club. Through her countless, Coach of the Year awards, IHSA qualifiers, and Conference and Sectional championships, she has continued to make an impact on her community.
As the end of the school year draws near, so does the retirement of one of the school's most beloved teacher's aids and swim coaches, Ms.Cindy Dell, and while 1,000 or so words can't even scratch the surface of the impact she has had on so many students who have gone through the school, it is a good place to start. Cindy has been a vital part of the school community for more than a decade, providing invaluable support and guidance to both students and teachers alike.
As a teacher's aide, she works tirelessly to ensure that students have the resources and assistance they need to succeed. She is always available to answer questions, provide extra help, or simply lend a listening ear. Her kindness, compassion, and dedication to her students are evident in everything she does, and she has a profound impact on the lives of many.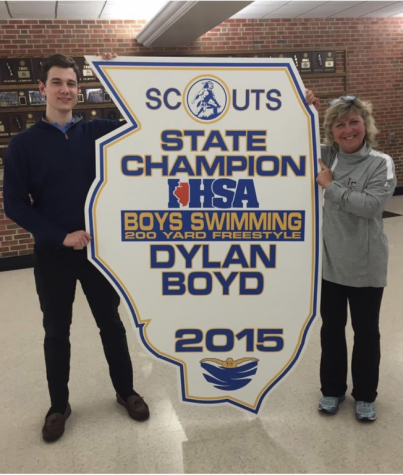 "I feel blessed to have been a small piece of thousands of students' and athletes' puzzles. Helping out in any way I can is a gift that I am forever grateful for, and the memories I have made are treasured. I have had many mentors, not just in coaching, but in my classes as well, and I have learned so much from each one of them," she said.
Both in the hallway and on the pool deck, Cindy fosters relationships with teachers and students alike, never underappreciating her relationship with them.
"It took us twice as long to get into every meet we had, just because Cindy had to walk up and hug everyone she saw and say 'Hello Friend!' and then catch up with them for a little while," senior captain Harrison Moore joked.
Throughout her years at 1285 McKinley Road, she touched the hearts and impacted the lives of so many different students and athletes, and has countless stories from on the pool deck and in the classroom to corroborate her impact.
However, it was in her role as a swim coach that she truly blossomed. For almost 20 years, she has been an integral member of the school's swim program, seeing through countless different assistant coaches, diving coaches, and athletes throughout her program.
"I have been lucky to work with people who are all working towards the same goal. There are no egos involved – we all accept each other for who we are. It's about growth as a coaching staff and as individuals, and that comes from being able to work together in a cycle of improvement," she said.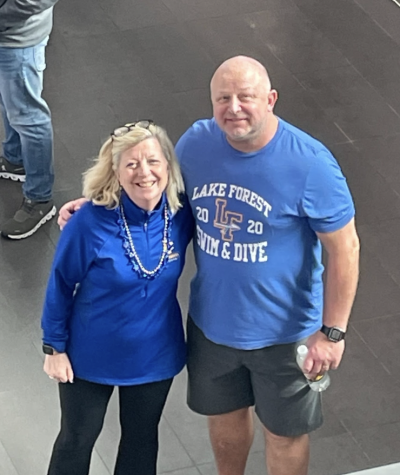 Her love of the sport and her dedication to her athletes was evident in everything she did. She was a tireless cheerleader on the pool deck, always encouraging her swimmers to push themselves to be their best. Her enthusiasm was infectious, and her positive attitude was a major factor in the success of the team.
Many of Cindy's former swimmers credit her with instilling in them a love of the sport, as well as teaching them valuable life lessons about discipline, hard work, and perseverance. Her impact on the school's swim program and the lives of her athletes will be felt for years to come.
"The culture of hard work she built with our team throughout the years is something special. It's not like anything I have ever seen before, and talking to friends on other teams, their coaches aren't having them do even half of what we would do, but that's part of what makes her so special," senior Harry Moore said.
Representing yourself well, maintaining relationships, and respecting those around you are some of the many values that Cindy instilled in all students, but especially her swimmers. When asked about the culture at Lake Forest High School, she reflected on their legacy.
"I have always believed that my standards are my legacy. It's about building a culture of excellence that continues long after I'm gone. I want to leave behind a legacy of courage and high standards, always striving to be better and never letting down those standards."
As she prepares to retire, we are filled with both sadness and gratitude. We will miss her unwavering support and her infectious enthusiasm, but we are also grateful for the impact she has had on our school community. We wish her all the best in her retirement and know that she will continue to inspire and influence those around her, wherever she goes. Cindy plans to spend more time outside, as well as spending time with "the best man in the world" Chip Dell and will spend more time with her grandkids. Thank you, Cindy!