The spoon theory: chronic illness, growth, and lessons
In 2002, when Mrs. Amy Rambo was 22, she had to drop out of the University of Illinois Chicago. She couldn't walk across campus. She couldn't cut food, and she couldn't write. The pain in her wrists and hands had become too strong. Finally, after 11 years of these symptoms, she went to the doctor. 
An RA factor test showed that she had Rheumatoid Arthritis and Systemic Lupus. 
"At that point, part of me wanted just to stay home," Rambo said. "But I looked back on the years of school that I had worked so hard through, and I knew I couldn't stop there."  After having to drop out of college and leave her roommates and friends, she immediately went back to the hospital. All her time there was spent figuring out her perfect balance of medicine and physical therapy. 
Finally, after two years, she was ready to return to her education. Just a few years after that, she earned her teaching degree. 
She started part-time and little by little, she took on more. Now, she teaches three different subjects to three different grade levels: U.S. history, biology, and she co-teaches materials science with Mr. Thomas Galla. But it hasn't been easy. 
Along her chronic illness journey, Rambo learned about the spoon theory. The spoon theory, which was first introduced by blogger Christine Miserandino in 2003, just a year after Rambo's diagnoses, uses spoons as a metaphor for the limited amount of energy that those with chronic illnesses have each day.
As Rambo explained it, each day, she wakes up with a certain number of "spoons" – each spoon representing a unit of energy. Simple tasks like getting dressed or preparing breakfast use up one or two spoons, while more complex tasks like grading papers or running errands could use up five or more. 
Rambo instantly resonated with this idea.
"Now, when I wake up, I have to consider how many spoons I have," Rambo said. "It taught me how to say like no to people. So, like, if my son gets invited to two birthday parties on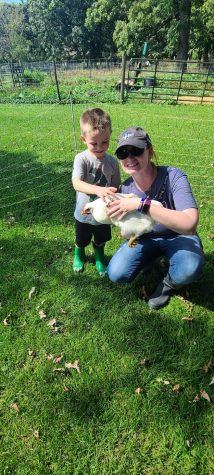 a weekend, sometimes I have to tell him, no, Mommy can only go to one."
As Rambo continues to take persistence to the next level, her students see her as an example of strength. As her co-teacher, Mr. Thomas Galla, put it, "I watch her build resilience, and she does an amazing job of passing that along to her students. We have many kids with ankle issues, digestive issues, and things like that, but she shows them they can work through whatever they face. It's very admirable."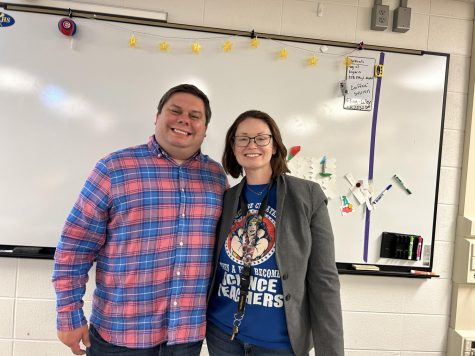 If there's anything that Rambo wants her students, especially those with chronic health conditions to know, it's that you should never be scared to ask for help.
"There are hard days, but there are also great days. I wouldn't be here without my incredible support system, and they help me adjust to life–they give me more spoons."