Boys Golf Team Wins Regionals, Prepares for Sectionals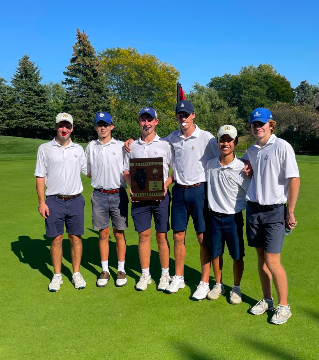 Coming off a narrow victory in Conference at Veterans Memorial Golf Course Sept. 21, the boys golf team came out hot in Regionals at Deerfield Golf Club Wednesday, taking the victory by a margin of 18 strokes over second-place Libertyville.
Leading the way for the Scouts was senior captain Jack Marshall with a -3 69, adding another individual first place finish at Regionals to his already storied résumé.
"The formula was to stay patient until I got to that back nine, and that's what I did," Marshall said. "Also being able to see the scores while in action and see our team perform at such a high level…it took a lot of the pressure off and I was able to just play freely."
Also scoring for the Scouts was senior Edward Torosian with an even-par 72, senior Michael Cassidy with a +1 73, and senior Will O'Neil with a +5 77. 
The final leaderboard was filled with Lake Forest names. First and second place were taken by Marshall and Torosian, and Cassidy came in tied for third. O'Neil and sophomore Tadgh Burke also finished top ten, tying for the ninth overall spot.
Cassidy had a shaky start to the round, but was able to turn it around: 
"The first stretch of holes were rough, but I knew my score could count and be improved; the last 13 holes were very scoreable," Cassidy said.
It was a perfect day for golf, with the sun shining all day and little to no wind. 
"The playing conditions were near perfect and the whole team played well," Burke said. "It was a great team win and we're looking to do it again on Monday."
With a win at both Conference and Regionals now under their belt, the boys prepare for Sectionals on Monday at Buffalo Grove Golf Course.