Four more State banners hang in Competition Gym
Two Scouts win celebrate back-to-back State championships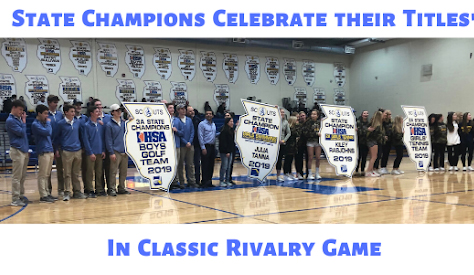 The walls of the Competition Gym are decorated with four more State banners, marking a remarkable run of athletic achievement.
On Wednesday night, the Varsity Girls Tennis team, Varsity Boys Golf Team, tennis player Kiley Rabjohns, and swimmer Julia Tanna were honored for winning State Championships last fall.
As the Scouts went to the locker room tied at 18 with Stevenson, the State champions  waited in the lower commons for their official recognition as champions.
Led by senior captains Patrick Morehead and Sam Rogers, the golf team collected their banner first. The crowd heard the incredible story of their State Championship run.
The Scouts are celebrating their fifth State Championship under head coach Jim Matheson and first since 2012. "Every year is special, but my greatest joy is seeing the looks on the players' faces as they could see all their hard work being rewarded," said Matheson.
For the players, it was special and fun being recognized by their peers. "It was really cool to see how supportive and proud everyone was," said Junior Flynn Bradley. "It was something I'll never forget."
Once the court was cleared, the Girls Tennis team was announced. The team collected their State Championship banner and similarly to Boys Golf Team, a run-down of their dominant run at the State Finals was described over the sound system.
After a runner-up finish in 2018, it was a different celebration for the team this year. "It was a lot better this year because the whole team was there, and we also got a big state board," said junior Kiley Rabjohns.
Rabjohns was also celebrating her second straight individual State Championship. Although winning was fun as an individual, Rabjohns said she was more excited for the team and celebrating with her teammates. "It was more for all of us."
To conclude the halftime festivities, Julia Tanna was recognized after winning her second straight State title.
Identical to last year, Tanna captured the title for 100 meter breaststroke in Class A of athletes with disabilities. Tanna also broke the school record just a week earlier with a time of 2:08:28.
To wrap up the night, the State Champions and the rest of the fans got to see the Scouts take down the rival Stevenson Patriots for the second straight time. It was a perfect ending to a memorable night for all of the Scouts in the building.