Scouts Golf Finish 3rd in Sectionals, Head To State This Weekend
Scouts Look for 5th State Title This Weekend
The Varsity Boys Golf team is off to State after finishing third at Sectionals at Kishwaukee Country Club in DeKalb.

Sophomore Jack Marshall posted the lowest number for the Scouts, firing a 75. Junior Pierce Grieve was right behind him with a 76. Senior Patrick Moorhead shot a 78, and to round out the top four scores were juniors Flynn Bradley and Colin Jasper, who both shot an 82. 
It was a very difficult day to play at Kishwaukee as the, already hard course got harder to play on in the 50-degree weather with 9 mile per hour winds. It also didn't help that tee times were postponed an hour due to frost on the course. DeKalb and Barrington finished ahead of LFHS.

"The course was playing extremely tough," Bradley said. "With the temperature being what it was and the wind blowing, it was tough to get going." 
The conditions will be similar in Bloomington on Friday and Saturday as the Scouts travel down to The Den for State. 
On Friday, the forecast predicts that it will be about 55-degrees with 12 mph winds. On Saturday, it should be a little warmer at 60-degrees, but there is rain in the forecast to go along with 11 mph winds. 
Playing in tough conditions is nothing new for the Scouts as the top six on last year's team had to play the State Tournament with snow on the ground. 
Expect the Scouts to come out prepared and ready to play as this is the tournament they've been waiting for since the beginning of the season. Tune in to IHSA State Golf Live Scoring to follow along as the golfers play. 
About the Writer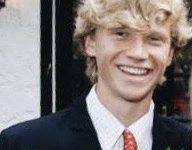 Luke Davis, Sports Editor
Luke Davis is one of the sports editors of The Forest Scout and is a senior at Lake Forest High School. Most of his work is done in the Sports section...