Greater Than Perfection: LFHS' Grace and Jane Mockus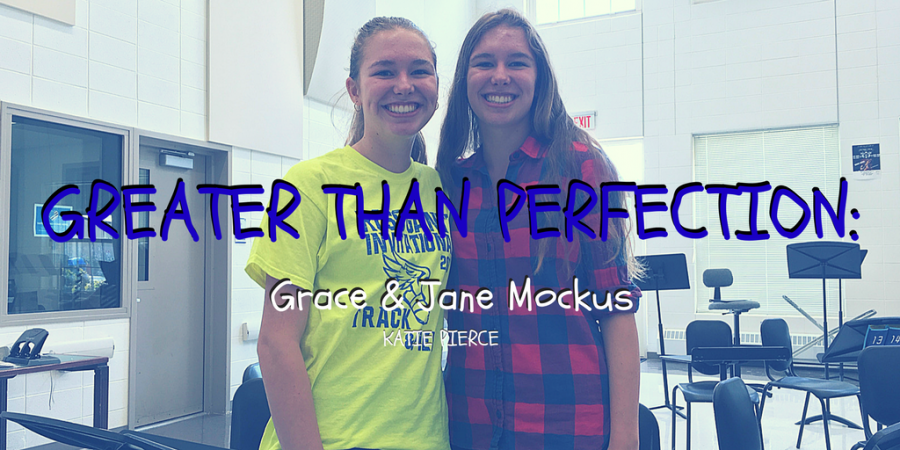 When I began my sophomore year here at Lake Forest High School, I began to see new faces in the Music Department.  This was new for me, of course, because I had been the new kid the past year.  Of all of the new freshmen, there was a pair of twins that stuck out to me the most: orchestra's Jane and Grace Mockus.  This violin and cello duo were both members of the audition-based symphony orchestra in their freshman year, and I got to know them through symphony and also pit orchestra, where Grace sat next to me every day.
When I emailed the duo about an interview, they both responded in separate emails around the same time, both saying how excited they were to talk to me.  When I arrived in the orchestra room for the interview, I saw their backpacks but not the girls themselves.  It was only when I checked Mr. Bassill's office that I found the Mockus twins.
"To be honest, pretty much any free time we have, we are in the orchestra room," Grace had written to me in an email.  "3rd we are there, 5th we are there, 6th I'm there, 7th Jane is there, etc."
So there they were in the director's office, where he was writing them passes to get out of study hall and asking their opinion on a symphony piece.  "What do you guys think of this?" he asked while pressing play on a preview from the music store's website.  After a minute, both girls nodded.  "We like it," they replied.  After some more conversation with Mr. Bassill, the girls joined me in the orchestra room for an interview.
The first thing I always notice about the Mockus twins is that they are always smiling, be it in the hallways, during rehearsals or after school.  They are talkative and outgoing, and I remember that we were already laughing about something when we sat down to talk.
When I asked when they started playing, both girls responded together in unison: "Fourth grade."
"I just always wanted to play cello," Grace shared.  "My mom tried to get us both to play violin," Jane remarked.  "But we have the attention span of like small gnats," she joked.  On playing the violin, Jane's opinion is simple: "It is really fun."
In addition to both being exceptional players, the Mockus sisters use their musical talent to create music as a pair.  "We could play, like, the Bach double together," Jane suggested to Grace.  "I'm trying to find one in bass clef, so I'm struggling through the one in treble right now," Grace told me, laughing.
In terms of concrete accomplishments, the girls may not have many, but their talent doesn't go unnoticed.  As ambitious eighth graders, they put time into preparing for an audition for the high school's top orchestra: symphony.
Jane and Grace started laughing when I first brought the topic up.  "I played my audition, and of course I was nervous, and Mr. Bassill kinda leaned back in his chair and said 'Do you wanna try that again?' and he was such a nice person!" Jane remembered, reminiscing with a smile.  "For my audition, I (accidentally) used a viola bow," Grace told me.  "And (he) said to me, 'Do you want to try a cello bow?'"  They both burst out laughing remembering their auditions.
What struck me about the girls was their ability to laugh at their mistakes, and not react with the usual cringe that most musicians would respond with.  These imperfect auditions for them are good memories for them, regardless of the fact that they actually made the orchestra in the first place.
As for the future, Jane and Grace want to keep music in their lives.  They told me they intend to play in college orchestras and ensembles beyond Lake Forest.  "And the music program here at the high school is at such a higher level than the one at the middle school," Jane told me.  "And here… we get to hang out in the orchestra room all the time.  It's so much fun."
So what keeps the Mockus twins going?  "There's such a range of stuff you can do," Grace said. "The more stuff I listen to, the more I want to play it." Jane added.  "And there's the people too!" they both remarked.  "There's so many great people."
"Last year we had a cello clan," Grace shared.  "This year too, but last year there were so many people that just helped me into the program."
"And then you have your sister too," I added.  "Yeah!" they both said at the same time, looking at each other and grinning.
There are great musicians in this world.  What makes them great may be debatable, but I think it's not just the technicalities and the robotic ability to be perfect.  Great musicians can laugh at themselves, laugh at their mistakes, and laugh with other people.  They are friendly, outgoing, modest and charismatic.  I could include a laundry list of adjectives.  But I can say for sure that in Lake Forest High School, we have great musicians.  Just two of them are Jane and Grace Mockus.
Watch Jane, Grace and Orchestra Director Mr. Bassill perform an excerpt of Tchaikovsky's Souvenir de Florence below.
About the Writer
Katie Pierce, Editor in Chief
Katie Pierce is a proud senior at Lake Forest High School. Besides being Editor-in-Chief of TFS, Katie is a drum major of the LFHS band, and spends most...