Band Breakdown: Looking for Jane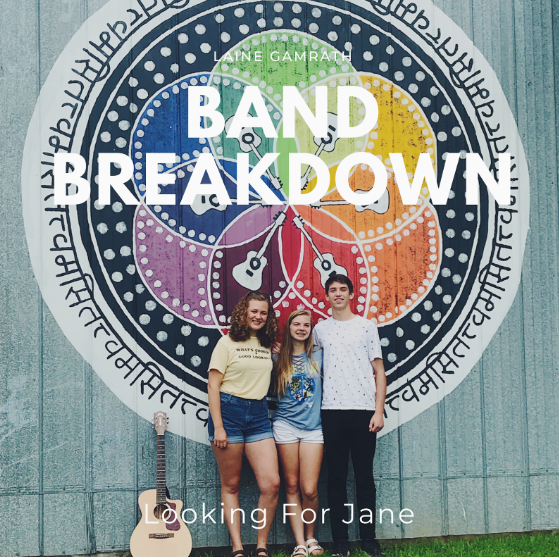 It's a hot day at the end of June in Baraboo, Wisconsin, and the Swamystock Music Festival is about to start. Tents have been pitched, tacos have been served, and lawn chairs have been set up surrounding the open air amphitheater-style stage on the property of John Swamy, a music producer and Lake Forest High School graduate.
All the big bands are lined up, having performed at stages like the House of Blues or Lollapalooza, but opening the day's performances is a group one would not expect to see.
Senior Martha and freshman Kay Clifford, followed by their drummer and "clout creator," junior Ryan McFadden, step onto the stage. This is routine for them; they've performed at this festival for four years now, two of those with Ryan. They can take the stage with the confidence of a seasoned performer, but how did they get to this point?
Music has surrounded the Clifford sisters for as long as they can remember. Their parents raised them around all types of music, wanting them to appreciate it as much as they had.
"Our parents would just always have music on — in the morning, right when we would wake up, during dinner we would have music on, in the car too — so it just felt normal to always have music," Kay said. "Still to this day we just constantly have music on."
"There's always three sources of music," Martha said. "Kay is blaring something, I'm reasonably listening to it in my room, and my dad's listening to it on a little speaker."
Then, for Christmas of 2011, Martha and Kay received their first instruments – Martha a guitar and Kay a keyboard.
"Kay got a keyboard for Christmas and I got a guitar for Christmas, which is ironic because we ended up switching; I play piano now and Kay is 'the big guitar girl,'" Martha said. "I remember we brought the guitar with us on a road trip the day of Christmas to Colorado and Kay would play it in the car."
"
We just constantly have music on."
— Kay Clifford
By 2016 and Martha and Kay were performing at their first gigs, from Swamystock in Baraboo to Hoagies and Hits, an open mic night held at Prairie Espresso in Lake Bluff every other Thursday. The sisters even had the opportunity to perform at a remembrance walk for families who had lost children at a young age in Columbus, Ohio, which they commented was "a humbling and eye opening experience." They soon realized that throughout all these gigs, they couldn't just play acoustic, slower songs; for bigger gigs they needed upbeat tunes. That's where junior Ryan McFadden came in.
"A lot of people had been telling us about Ryan, like one of my good friend's mom is friends with Ryan's mom, and was like 'You should really talk to Ryan; he'd be great with you guys; he's a great drummer,'" Kay said.
McFadden is another talented instrumentalist, performing in other bands other than Looking for Jane on guitar and bass, but Martha and Kay knew they needed a solid rhythm to pick up their set lists to raise the entertainment value, therefore increasing the size of the gigs they could play.
"So after a while of putting off starting to rehearse for Swamystock 2017, we were like 'Ryan, do you wanna come over and just try a few songs?'" Martha added.
And that was that. Ryan McFadden was added to the band, and Looking for Jane became what it is today. You can see the trio perform around the area, whether it be at Lake Forest Days or Nashwood, the music festival relatively new to Highwood. They have come a long way from their roots, so it would be best to not miss the train as they continue to go places.