Be Ready to Hear the Name Dominic Fike
It is likely that you haven't heard the name Dominic Fike yet.  But I assure you that is bound to change.
Fike's career has been exploding behind the scenes.  The public has been in the shadow of his success because it has been fairly difficult to find any of his music online.  His early Soundcloud rap songs, bearing resemblance to the South Florida hip-hop fiasco, had been taken off the website and his coffeehouse-rock EP Don't Forget About Me, Demos was released in 2017 only to be taken down soon as well.  
Why hide an upcoming artist's music from the public?  It seems contradictory to basic marketing skills. Fike's manager had a different vision, citing unreleased music as "good leverage."  Even with Fike distributing little consumable music to the public, record labels went to war over the versatile young man. A four to five million dollar deal was eventually signed between Fike and Columbia Records.
Certain people criticize Fike for "selling out" because a more lucrative deal could be acquired in the future due to his inevitability for mainstream success.  But, per usual, the public eye is unaware of what was beneath the headlines in Fike's life. In 2017, Fike was on house arrest charged after an altercation with a police officer. This allowed him time to record his EP.  "The judge was the only reason I ended up making that tape." If it wasn't for his time on house arrest, Fike said he "would still be getting drunk on someone's couch." He reluctantly released the unfinished EP before he had to turn himself in for violating his house arrest terms.  
The decision to drop the EP flipped Dominic's world upside down, as he spent his time behind bars prepping for meetings with high-powered label executives and rehearsing label auditions with his bunkmate.  
Instead of waiting to be released to end the label bidding war, Fike ended the madness and signed with Columbia Records. Many claim the decision was rushed, but Dominic had something else in the back of his mind.  In October 2018, the day of the re-release of the Don't Forget About Me, Demos on Soundcloud, Fike drove his mother to prison to serve a two-year sentence on drug charges.  The money was needed immediately to hire attorneys to hopefully reduce her sentence, which it did.
After all that drama, since the re-release of the EP on streaming services and Soundcloud in October 2018, the hype around Dominic's name is finally beginning to snowball.  His song "3 Nights" is becoming a hit, racking up millions of views on Spotify through its glittery vocal patterns and simplistic acoustic patterns.  He had received shoutouts and cosigns from the likes of Russ, Billie Eilish, DJ Khaled, Kendall Jenner, Kourtney Kardashian, and has become friends with the popular boy band, BROCKHAMP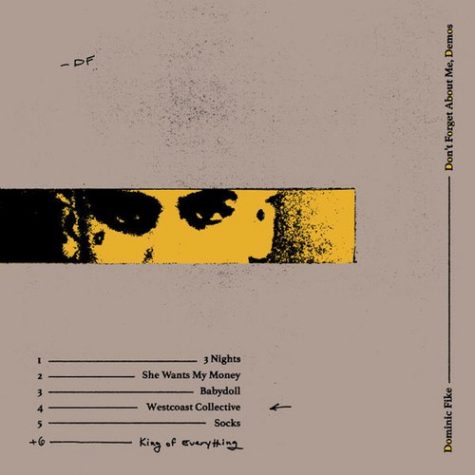 TON.
Kevin Abstract, the founder and leader of BROCKHAMPTON, directed one of the two music videos released for "3 Nights."  The first is professionally done but the second, titled This Is Dominic Fike, consists of Kevin interviewing Dominic while they laugh and flip their way through a residential neighborhood of Los Angeles all in one take.  The genuine, simple, and youthful joy makes the video feel pure.
"This is pure, this is pure artistic expression at its finest, we're not doing anything unnatural here. Right?" says Dominic to open the video. "Backflip, we'll start with a backflip!"
Dominic's gentle smile and laughter shine through the apple tattoo under his right eye.  Even though he has dealt with a tough upbringing, Dominic Fike seems to be a thoughtful 23-year-old kid embracing life and ready to take on the world.
"I wear my own merch outside, trying to get more famous," he said.  Fortunately for him, it shouldn't take much longer.
Check out the Don't Forget About Me, Demos on Spotify, Apple Music, Soundcloud, or YouTube.