Oliver Kuhn Releases First Mixtape
Last Friday, Lake Forest's own up and coming rapper, Oliver Kuhn, released his highly anticipated first mixtape, ScatterBrain. Although Kuhn has produced singles for years, he chose to stay away from biting off more than he could chew in attempting a large-scale project like a nine-song mixtape. Kuhn has rapped and produced beats for over a year now, and slowly but surely he has gained fans all around the Chicagoland area.
My expectations going into the mixtape were fairly high, especially considering the success of Kuhn's singles and features. Along with a verse on Malb's song Good Day, he had released seven songs in total leading up to ScatterBrain's release, and each of these tracks has picked up over 500 streams on SoundCloud. In particular, singles Good Day and 67 Miles each snagged over 2,000 streams, while Clock accumulated over 2,100.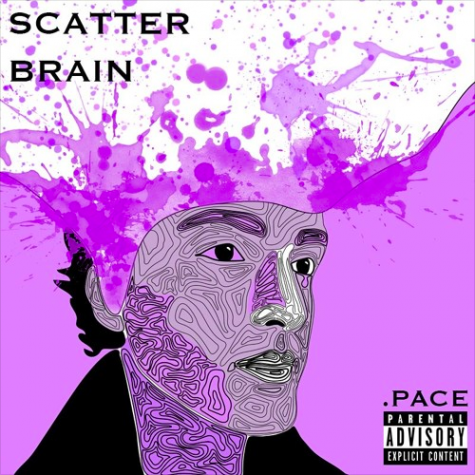 ScatterBrain boasts seven new tracks, each with a distinctive beat and style. 67 Miles and Speakrs, two previously released songs, were also added as they fit the style of the mixtape, according to .PACE (Kuhn's rapper alter ego/middle name).
"[Speakrs] didn't get the recognition that I thought the song deserved. So when it came time to make the track list for ScatterBrain, I decided to put it in because I knew that it would get more attention. And it ended up working out because as of right now Speakrs is the most played song on my SoundCloud," said Kuhn.
Besides .PACE himself, five other producers contributed to the project, including 17-year-old London-based producer Omnilow and PremierJay, who released a five-track EP of sorts himself just two weeks ago.
"I met [producers PremierJay and Omnilow] online and they helped a lot with the mixtape," said Kuhn. "Working with other artists has been a really cool experience, especially since I'm just starting out."
The full tracklist is below, along with my thoughts on each.
Warning: This mixtape contains explicit language and content that may not be suitable for students of high school age. The mixtape was chosen for its expressionism and implementation of new, experimental styles, not necessarily the message expressed by the artist.
Royal 
Listening to this song to kick off the mixtape, I knew I was in for a treat; the cinematic opening melody evokes a sense of wonder from the listener, and when Kuhn finally began rapping over the strong beat, I couldn't help but nod my head. Although the refrain is fairly simplistic, it manages to slow the song down enough to allow Kuhn's flow on the verses to stand out.
Mine ft. P. Roc
I don't have a ton to say about .PACE's second track on his mixtape, other than that it is extremely well executed. Dancing along the line separating pump-up and chill-out songs, Kuhn raps about levitating "like a hummingbird" over the repeated word "fly," which creates a calming effect that fully immerses the listener into the song. Mine also consists of the only feature on ScatterBrain, and P. Roc's verse uses autotune very well to contrast Kuhn's natural sounding vocals.
Speakrs (Prod. omnilow)
The first of two previously released songs to make an appearance, Speakrs uses one of the more complex beats on ScatterBrain. Kuhn's vocals can be considered singing rather than rapping in the chorus, but the verses continue to rely on his impressive flow. While this isn't a song to blast in the car, it is another head-bopper that employs a solid beat successfully.
Good Morning (im Up)
With a beat that builds on itself, impressive vocals, and feel-good lyrics, Good Morning is .PACE at his finest. Around the one minute mark, I couldn't help but notice the striking similarity between .PACE and international sensation Logic's flow. Kuhn credits Logic as one of his inspirations (along with the late Mac Miller, Anderson .Paak and J. Cole), so it isn't surprising that his style emulates Logic's unconventional emphasis on certain syllables and lightning-quick delivery.
Lately (Prod. Ari)
.PACE crafts a story about his personal life in Lately, and presents the listener with some deeper insight into the life of a budding hip-hop sensation. He starts off the track rapping, "Lately I've been staying up late, wasting my time // doing nothing, pretending I'm doing something, lying to myself." The internal rhyme scheme and stressed syllable pattern that Kuhn sets up here is nothing short of poetic, and the background vocals that come in and out serve to organize his lines perfectly. Overall, this track doesn't have any particularly memorable moments, but its expert production and engaging story make it a fun listen.
Stay In
Stay In is definitely an unconventional song from the very beginning. Its swooping beat is one of the most intriguing melodies that I've heard in recent memory, and while the vocals aren't anything too special, the overarching message (that Kuhn has "too much on [his] mind" and is tired of the repetitive nature of his life) is an important reality check, especially coming off of songs in which .PACE references himself as the "king" and "too fly." This shift really began in the previous song, but until then, the mixtape was headed in a completely different direction.
Woah
The beat, reminiscent of the guitar chords in Childish Gambino's Flight of the Navigator from his 2013 album Because the Internet, that opens up the seventh track on ScatterBrain tricks the listener into thinking this is another thought-provoking commentary on Kuhn's personal hip-hop related trials and tribulations. However, the message of the song is decidedly different from the previous two. After essentially overthinking things, .PACE has a realization of sorts (hence the "woah") and manages to turn the entire vibe of the mixtape back on itself once again. .PACE raps, "I been in the sh*t, I been coming up," which works not only to prove my assertion that Kuhn's feel-good mentality is back, but also to evaluate his current career.
67 Miles (Prod. PremierJay)
Arguably .PACE's best single, 67 Miles was the second previously released track to be added to ScatterBrain. The fast-paced tempo and inspirational vocals make it easily the best pump-up song on the mixtape, and there has definitely been a correlation between the hard work Kuhn put into this track and its success when it was first released three months ago.
Until Next Time (Shoutout Patrick Paige ii )
Until Next Time serves as an outro to the mixtape, and thus utilizes a subtle beat. .PACE looks forward to his next projects in the chorus, rapping, "When I'm back, I'll be better than ever // When I'm back, I'll have my sh*t together." Since Kuhn was "scatterbrained" in this mixtape, he's making a point to be more focused in future songs. Although it isn't something I would listen to on its own, it certainly manages to close out the album effectively.
Overall, I was extremely impressed with what .PACE's first mixtape had to offer. The title, ScatterBrain, makes perfect sense after listening to the mixtape in its entirety a few times, and I hope that I fully captured Kuhn's ability to "scatter" between different vibes throughout the album in my song by song recap.