Everything We Know About Playboi Carti's "Narcissist"
If you're a Playboi Carti fan or a rap fan in general, you may have heard a lot of buzz around a new Playboi Carti project titled "Narcissist." So what is Narcissist? Is it an album? A clothing line? Nothing at all? Here's what we know:
Playboi Carti initially announced the project through a cryptic instagram post on August 23rd. The post consisted of eight slides, mostly containing pictures of the rapper posing in many different jackets, masks, pants, and even helmets. What got the fans excited however, was the caption; it read "NARCISSIST 09/13/21". 
@playboicarti on Instagram: "NARCISSIST 09/13/21"
Despite this, Carti fans were skeptical if this post actually meant anything. The 25 year old rapper has not been the most trustworthy when it comes to release dates in the past. His most recent album, Whole Lotta Red, was announced in 2018 shortly after his second studio album, Die Lit. But fans had to wait about two and a half years for that album to actually see the light of day, and a lot of fans lost trust in the artist because of this. Other fans argued the post was promoting a new clothing line, hence the stylistic pictures and sewing machines. The post was then followed up with two more posts with similar captions, while select fans were emailed concert dates for his brand new tour, also titled Narcissist. The tour had its first show set for October, not September, which was enough to convince most fans that it was indeed an album. 
But when September 13th finally arrived, the album was nowhere to be found. Fans were disappointed, but not surprised, as Carti hadn't released an album cover or tracklist for the album. He did however, give fans more hope with a Kanye West-esque tweet, posting an image of a group chat, in which he was demanding the album's release.
The tweet implies that the album is finished and ready for release as soon as his management team can clear the samples. The tweet was posted on September 15th, two days after the proposed release date, and weeks later, no album. 
Still, fans have been given a taste as to who may be on the album, as Playboi Carti has recently been spotted hanging out with rappers Kanye West and Lil Uzi Vert. Playboi Carti and Kanye West have been collaborating often ever since the release of Whole Lotta Red. Kanye appeared on the track Go2DaMoon on Whole Lotta Red, and Carti appeared twice on West's new album, Donda, on tracks Off the Grid and Junya. Many fans have been loving the unexpected chemistry between the two artists, craving new music. 
But what really gets fans excited is seeing Carti and Lil Uzi Vert finally hanging out again. Seen entering a club with clothing branded with Narcissist lettering, fans are optimistic for a feature on the new project. The two have been one of the rap games most beloved duos, but had a bit of a falling out around a year ago. After months of confusing, passive aggressive tweets by both Carti and Uzi, it seems they have finally made up again. According to Carti, he and Uzi have collaborated on over 100 unreleased songs. The two even announced a collab album titled 16*29, via a Playboi Carti snapchat story back in 2017. They also announced a tour under the same name in October of 2017, but it was ultimately cancelled.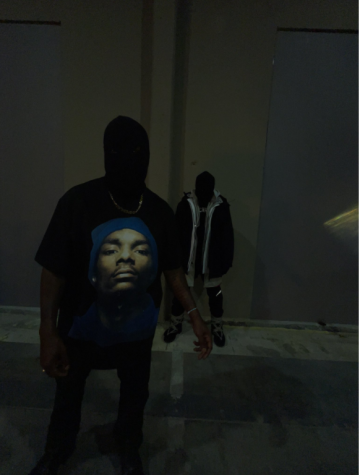 Finally, just this Sunday Playboi Carti hopped on twitter to post another mysterious message. This time around, he just tweeted the word "Narcissist." This could possibly be a hint towards a release in the near future, or maybe nothing at all.
So this begs the question–will Narcissist drop? We've seen Playboi Carti push back albums before with Whole Lotta Red and 16*29, and we've seen him cancel promising tour dates with the 16*29 Tour with Lil Uzi Vert. I for one am optimistic due to Carti's frequent social media posting, merchandise pictures, and sightings of him hanging out with other rappers. It would also be in Carti's best interest to drop, as he could accumulate impressive numbers and sales due to his success on Donda, and gain many new fans who may have not listened to him until this recent hot streak.