The Forest Scout Friday Five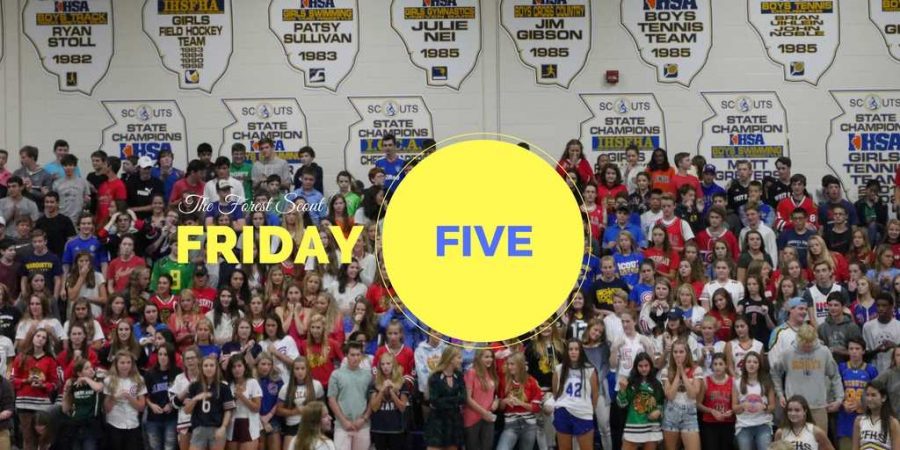 The Forest Scout Friday Five is a weekly segment that celebrates five people making a distinct, profound, and positive difference in the Lake Forest High School community. To visit our most recent installment, click here. To recommend a student, teacher, support staff, or community member for inclusion in The Forest Scout Friday Five, please email [email protected] 
Martin Pacheco: Often you can tell when someone needs something from you, whether it be your grade rounded up to an A- or some sort of personal favor that is outside of their own path of convenience. Other times, though, you can just tell someone is genuine. There's no prescribed method for pinpointing this, but it is rather something that you have to determine independently by feel. In the case of Lake Forest High School support staff member Martin Pacheco, it doesn't take very many interactions–maybe one–to diagnose his supportive, unparalleled kindness. Every school needs a jack-of-all-trades-type like Martin. He'll shovel the snow in the winter, run passes for the Guidance and Deans Offices alike, work in food services, man the desk near the front doors of the commons, or assist in any lack-of-manpower ordeal anywhere in the school at any time. All of these duties deserve favorable recognition in their own right, but Martin's trademark at LFHS comes in the way he greets people. It has become Martin Pacheco's personal touch to greet you by name. "Don't ask me how he learned them all," mentioned an LFHS teacher, "but he knows everyone's name and greets them accordingly. It just makes you feel special. I applaud him for doing that. Small things have a resounding impact." With his expanded exposure to students this year in his new role as a pass runner, Martin's positive influence at the high school has expanded beyond just the faculty and staff who graced him in his position as the checkout clerk in the now defunct staff cafeteria. When students were asked to describe Martin's presence, a few colloquial terms like, "G.O.A.T (greatest of all time)" and "the one and only" were shared, but even considering the teenage lexicon's informality, they nonetheless indicate the impact and positivity that Martin Pacheco imparts on each individual student. 
Perhaps what we can learn from Martin is the approach that he has to his job is second-to-none; no detail is too small to recognize and every small subtlety has the capacity to make someone feel like seeing them was an important facet of their own day. There is certainly an underrated sentiment associated with the fact that someone knows when you're gone from school that day–for whatever reason. And for everything it's worth, Martin Pacheco probably noticed. 
Eleanor Asma: It is no secret that Eleanor Asma has a way of brightening people's days. Yet, the variety of ways in which she does so would presumably come as a surprise to some. Sure, Eleanor is a pillar in her friend group at LFHS. She has no qualms in laughing at some of her own missteps throughout everyday life as a student at the high school, is always one for an inside joke, and has a "skillful way of making you smile" according to senior Maddy Moore, a close friend of Eleanor's. But that's what normal friends do. There are countless examples of friends who make each other laugh and liven the spirits of their own cliques within the hallways and classrooms of LFHS. 
Eleanor Asma, on the other hand, hunts down opportunities to enrich the happiness of those she barely knows, a trait that catapults her to the top of the LFHS smile-sharing totem pole. Her steadfast involvement and support of school programs like Big 2 Little, which pairs Lake Forest High School students with underprivileged youth from surrounding communities, is just the beginning. Outside of school, Eleanor hosts a monthly grief support group for young people, helping them see the light and future in their own lives at the some of their most vulnerable times. This, of course, is no small (or light) task. In a landscape where so many fight to have their voice heard among the crowd, Eleanor Asma's most defining skill has become her ability to listen, to understand, and to spread empathy and kindness with all of the people she encounters. "Obviously, she's my friend and all," mentioned junior Elizabeth Porter, "but nobody fits the requirements of the Friday Five [making a distinct, profound, and positive impact on our school] than Eleanor. It's as simple as that."
Dominic LeRose: Some people's kindness is their reputation here at LFHS. People may not know you by name, or even by face, but they know you by the bubbly bounce in your step; they know you by your voice that they overhear you sharing in kind conversation with others. In the case of senior Dominic LeRose, his kindness is his most definable characteristic, which is certainly a great attribute to have despite all of the stress, tribulation, and drama that high school can often present. "Such a sweet guy," shared senior Meghan McGrail when LeRose's name was brought up in conversation. "Probably the nicest kid there is," shared Avery Robbins, another senior classmate of Dominic's. And for Dominic, like so many kind people, his kindness doesn't discriminate. "For example, I don't know Dominic super well," explained senior Cam Litzsinger, "but I got a 'Happy Thanksgiving' and a 'Merry Christmas' text from him. His kindness is just a part of who he is." When asked what it is like to be in class with Dominic, another classmate of his shared the sentiment that, "Dominic is always involved, always energetic, and tries his best to make class enjoyable for everyone."
Outside of just, you know, being nice, Dominic has an abounding love for nature–specifically birds. He's an avid birdwatcher and photographer and certainly utilizes the LF/LB area to his advantage when seeking out his passion. He is an active member of the Environmental Club.
The Lake Bluff native has channeled his love of nature into his schoolwork, choosing both AP Biology and Photography in his senior year, while also pursuing his interests in Creative Writing and Comparative Politics. "He's the kind of guy who seems to never have a bad day," shared an anonymous senior, "but it's not just him being in a good mood. He makes you feel that way as well."
Mr. Graham O'Connor-Brooks: Mr. Graham O'Connor-Brooks' legacy at LFHS and within the Lake Forest community at large is rooted in patience. From his days as a student at the high school from 2002-2006, Mr. O'Connor-Brooks has been steadily forging his path by executing patience in taxing circumstances that many people would find difficult and, in turn, crumble under. In his career at LFHS, he has been a student, a Varsity athlete, a manager, a one-on-one student aide, a co-teacher in Mrs. Laura Flangel's American History class, a lower level basketball coach, a lower level golf coach, and a Special Ed. Case Manager. His tenure has included grueling, 4-hour sessions of reading the ACT to students with accommodations, putting out the personal stress fires his one-on-one student partners may have encountered during their school day, and teaching the youngest beginners on the LFHS Frosh./Soph. Boys Golf team how to properly swing a golf club (no easy task).
But as if his job wasn't enough, Mr. Graham O'Connor-Brooks took an opportunity in life that taught him patience at a young, formative age and has worked tirelessly to afford this opportunity to others as well. Many students and community members have worked at, or at the very least heard of Camp Hope, an annual camp for students with cognitive disabilities from the ages of 15 all the way to 35. The type of disabilities that Camp Hope campers possess presents a wide range and can be a lot for a teenager to handle on their own. Naturally, the day-to-day dealings and unique difficulties that the "buddies" (LFHS and Loyola Academy students) encounter with their "campers" require the presence of no ordinary individual. For that, there is Mr. Graham O'Connor-Brooks. He is there each step of the way to provide confidence, kindness, and most importantly calmness, to the students who are rewarding themselves by devoting a week of their summer to this opportunity. Not only does Mr. O'Connor-Brooks work magic at the camp itself each summer, but he helps plan, guide, and fundraise for the camp as well with Ms. Meaghan Laughlin, an English Teacher at LFHS. The two of them work tirelessly to promote, raise money, and network for all of the camp's activities and benefits. 
"He's a saint," shared Mr. Matheson, a Driver's Ed. teacher and Head Varsity Golf Coach at LFHS, a position he held when O'Connor-Brooks helped the Scouts win an IHSA State Title in Boys Golf in 2005. "He's a family man, very loyal, and extraordinarily patient," added Business Ed. teacher Phil LaScala, O'Connor-Brooks' Head Coach on the LFHS Boys' Basketball staff. "He'll give you the shirt off his back. He's really just a selfless individual–everything he does starts from there." For all of the work Mr. O'Connor-Brooks has put in to LFHS in so many different roles, it is no surprise why he chose our school above any other to continue to push his career forward. "I trust him completely," added fellow basketball coach and close friend Mr. Joe Harmsen, "there is no one quite like him. [Graham] is the most reliable, consistent, and competent person I know."
Mrs. Laura Flangel summed up Mr. Graham O'Connor-Brooks in the classroom in a resounding way. "Mr. O is always calm. Mr. O is always kind. Mr. O  is always compassionate. Mr. O always has a smile on his face. Mr. O is always supportive. Mr. O always tells the truth, even when it is hard to hear. Mr. O is always present. Mr. O always makes himself available; he always finds time to help any student who wants to grow. Mr. O is always focused on helping students build the life skills necessary for them to succeed. Mr. O is always committed to their success."
Mrs. Madeleine Slingerland: It is no secret that our parents have the potential to shape who we are, be it by their habits, their dialogue with us under varying circumstances, or the way that they utilize perspective in order to make sense of the world around them as a citizen. Fewer parents, though, take the initiative to not only spread positive influence on their own children, but strive to encourage, support, and enthusiastically assist many others as well. Mrs. Madeleine Slingerland is not just a parent to her three children, Casey ('17), Maggie ('11), and Henry ('08), but has helped raise the community's children in so many profound and heartfelt ways. "She's a universal mom," a friend of her daughter's shared. "She's literally involved with everything–Camp Hope, PADS, food pantry projects, rooms moms, team moms–you name it." Another young community member had this share about Mrs. Slingerland. "One characteristic of her that is different from anyone else is that she will do everything for everyone except herself, no matter what. She never says no."
Mrs. Slingerland, who is heavily involved at the School of St. Mary in Lake Forest, is a mainstay within the SMS (St. Mary's School) community. In fact, she has her fingerprints on nearly every service venture, mentoring opportunity, or mission trip the church has to offer. "She is someone who validates you in whatever you're doing, whether it is through St. Mary's or otherwise," a source within the high school revealed. "She is the most warm, loving, genuine person there is," added Meaghan Laughlin, a School of St. Mary's alumnus mentioned, her face beaming with more positive information to share about Mrs. Slingerland. Her duties clearly go far beyond the needs of her own children as she strives to make everyone in the Lake Forest and Lake Bluff communities feel included in learning, growing, and maturing in so many positive ways. 
According to the website of the School of St. Mary, their mantra reads, "To Learn, To Serve, To Lead." In terms of learning, Mrs. Slingerland has immersed herself in opportunities that encourage continual growth and lifelong learning. With regards to servanthood, you'd be hard-pressed to find any individual who serves the church and the school in more unique and personal ways. And lastly, in terms of leading, nobody–and we mean nobody!— does so by example more humbly and passionately than Mrs. Madeleine Slingerland. 
About the Writer
Ghost, Author
Ghost is a section of The Forest Scout that chooses to publish material anonymously in order to increase the depth of their investigative reporting. Ghost...