TFS Music Exclusive: Young Bombs Interview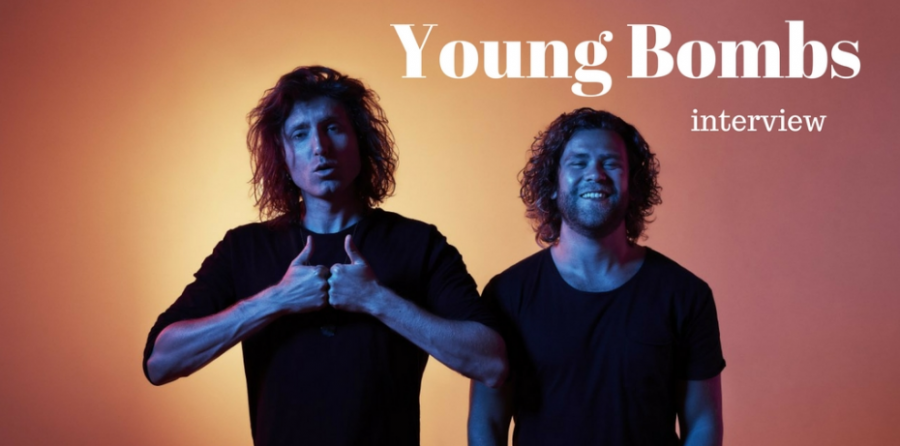 To listen to a curated Spotify playlist of Young Bombs, click here. Be sure to follow @theforestscout on Spotify. 
If you recently have gone to the popular summer music festival Lollapalooza in Chicago you might have heard an up-and-coming DJ group called Young Bombs. During the festival that put the lakefront of Chicago on hiatus for a four day weekend, the set played at Perry's stage and their rise to fame has been quite a journey. Starting out from Toronto Canada, their lineup consists of Martin Kottmeier and Tristan Norton, both of whom have really shown the music world that they are serious after their static show during Lolla. Their show was a perfect concoction of uplifting music and pure madness, supplementing their already magnetic connection with the crowd on hand. The duo continuously interacted with fans to connect with as many people as possible. 
Who/what interested you in getting into music?
We watched the movie Amadeus when we were children and wanted to become classically trained pianists. We both got extremely good and did piano battles against one another in Rome, Italy when we were 12. The final battle ended in a draw and we decided to switch our energy towards dance music.
During your time at school did any music departments help influence your interest in music or was it completely separate?
We were both in band in school so yes, it helped.
How did you get the opportunity to play at Lollapalooza? Did it live up to your expectations?
We've been grinding hard on the road this year and we think that helped us get noticed. It was one of the best festivals we've played so far. We still get goosebumps like Travis Scott when we think about it…or like R.L. Stine. Both those guys know a lot about goosebumps.
What is your fondest memory at any of your shows? Whether that's a specific person, thing, event, area, song?
Probably the first time playing New City Gas in Montreal. It was our first big show opening for The Chainsmokers and to see 4,000 kids going crazy was a life changing moment.
(Alternate answer)
The time Martin kicked a CD-J off the table by accident and every time Tristan falls through the stage (happens regularly).
Now that you're working with some very recognized artists, such as The ChainSmokers, what has been the biggest takeaway from working with those big names?
We've opened for The Chainsmokers many times and they literally play whatever music they feel like. That probably influenced us to broaden our horizons a bit. Now we drop random songs like "The Lion Sleeps Tonight" and old Backstreet Boys songs in our sets and people love it. It keeps it fun, ironic, and unexpected.
Are there any plans for future collaborations with other artists? If so who would you like to work with?
We're working with a lot of singers for our upcoming originals but can't name anyone yet. It would be insane to work with Selena Gomez because all three of us have long hair and we could braid all our hair together and make a super braid.
What's your favorite current artist to listen to?
We just discovered this band, not sure if you've heard of them, but they're called "Coldplay." They're really good. Super mellow and emotional. Definitely check them out.
Are there any plans for future international tours?
We really want to tour Antarctica because that region seems to get neglected time and time again. We think we could really make an impact among the penguins…
How are you standing out in the music scene right now? Whether it be by branding, interviews, shows, social media?
Maybe this interview is indicative of that?
How does the remix process for one of your songs begin? Do your personalities ever play a role in how the song comes out?
There really isn't much of a set process on how we approach making music. Every song evokes a different feeling or expression and we try and work around that to give it it's own unique new form. Sometimes to get in the right head space we'll rochambeau for a few rounds. Other times coffee does the trick.
How has coming out of Canada affected your rise in the electronic music scene?
Besides the fact that there isn't any AC power outlets in our igloos it's been great. It rains a lot, so it makes it easier to sit inside and work without feeling you are missing out on too much. There also isn't an overwhelming amount of producers in our city (that we know personally) doing the same thing as us so it makes it feel like anything is possible. And the ones we do know and are good buddies with have been extremely supportive.
Do you see yourselves as one single artist or as two individual artists collaborating?
We've been making music together for years now throughout a few different projects so it's like we've become one unified brain when it comes to making music if that makes sense.
Lastly, if there's anything you would like to expand on, go ahead. Any shout outs for upcoming tours, shows, song releases, events?
We have some exciting shows coming up that we are super stoked to play including: Marquee NY on August 18th with our good friends The Him (seriously the nicest guys!) followed by the Billboard Hot 100 Fest the next day (19th). Then we play in Puerto Rico for the first time at the Medalla Light Yellow Block Fest on the 24th!  Super stoked on that as we love exploring new cities and cultures. From there, we play Atlanta at the Gold Room on the 26th and Vegas back at Drais Beachclub on Sept 2nd!
Musically speaking, we have a couple remixes coming out soon! So stay tuned for those, and hopefully dropping our first originals very soon as well. 
About the Writer
Patrick Philpott, Author
Patrick Philpott is one of the writers for The Forest Scout. He enjoys all music and his favorite subject in school is English. Patrick is currently a...