Scouts face off against top ranked Loyola tonight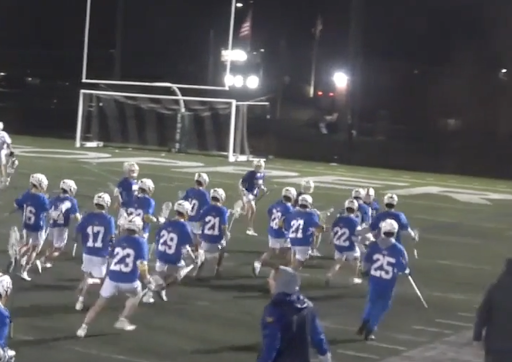 Coming off a thrilling overtime come-from-behind win two weeks ago against Glenbard West, the Lake Forest High School Scouts Boys Lacrosse Team (1-0) comes into tonight's game against defending state champs Loyola Academy (2-0) fresh and ready for a rematch of last year's state final game. 
The Hilltoppers opened up the game strong, scoring one goal at the beginning of the first quarter, but Lake Forest's offensive midfielder Harry Kotlarz answered back, tying the game up 1-1. From there, Glenbard West went on a 4 goal-scoring run while the Scouts were cold on the offensive side of the ball until junior attack Graham Garrigan answered with a goal, clawing back into the game with the score being 5-2 about halfway through the second quarter. From there, senior attack Austin Rice rode that momentum and added a goal of his own, making their trail on the Hilltoppers a mere two goals right before half (5-3). The Scouts added two more goals in the third quarter, but unfortunately, Glenbard West added two of their own, leaving the 3rd quarter with a  7-5 lead. The Scouts rallied in the fourth quarter and scored four goals to answer Glenbard West's two, ultimately sending the game into overtime. The Scouts, now in a place they've been so many times before, were able to get the ball where they needed it to be, and ultimately end the game with a game-winning goal from Garrigan, causing the crowd and team to go insane. 
Loyola, who has remained undefeated thus far, won against Maine South in a convincing 17-2 fashion, and then from there also ended up beating #9 ranked Glenbrook South 5-3. Loyola is currently led by captains Matty Vallace, Nate Switch, Sean Cronin, and Easton Bello. The team is currently ranked #2 in the state according to Illinois Lax. 
Lake Forest is led by Jack Carrabine, Jake Clements, Harry Kotlarz, Tommy Van Camp, and Graham Garrigan. The team is currently ranked #3 in the state according to Illinois Lax. 
With two highly-ranked teams and a rivalry that runs deep, tonight's game could go either way. The Scouts in the past have had more of a single-player-centered game plan, but this year, they are focusing on getting everyone involved, and it has really paid off for them so far. 
"We've only had one game so far, but with how things went there, I think it's working out really well so far," captain Jack Carrabine said. "Loyola is going to keep doing the things that we know they've been doing, and with a change in our style of play, I think that things could go really well tonight."
The Scouts face off against the Ramblers at 6:30 pm tonight on the road at Loyola.