Scouts Boys Lacrosse take down New Trier Trevians for the first time in a decade
The original headline has been updated.
The Lake Forest Scouts ended their regular season run picking up arguably their best win of the year against the current #3 ranked team in the state: New Trier. 
It seems like every year, the Scouts and the Trevians battle it out as two of the top programs in the state. This year was no different. 
The game started off quickly with Nick Winebrenner and Graham Garrigan scoring quickly with a pair of goals in the first five minutes. A few minutes later New Trier responded with two goals of their own and it looked as if it was going to be a shootout. 
Graham Garrigan slipped through the New trier defense to make it 3-2, and the Scouts never looked back. From this point on, it was complete and utter domination for the Scouts. They seemed to want it more, winning almost every ground ball, getting defensive stops constantly, and controlling the entire game through possession. 
Senior captain Nick Winebrenner called it, "the best game the scouts have ever played." "Our defense was impeccable and we dominated the whole game," Winebrenner added. 
The energy was different for the Scouts, and it started with the defense. They were making play after play to keep the ball in the hands of the offense. Junior, Tommy Van Camp, even joined in on the goal party late in the first half. The Van Camp brothers kept the defense together without their leader, Ben Winebrenner, who is still out with an injury. Senior Dillon Kimbrel also made a huge impact for the Scouts with his body defense. He was relentless on the checks and fed tons of much needed energy to his team and fans.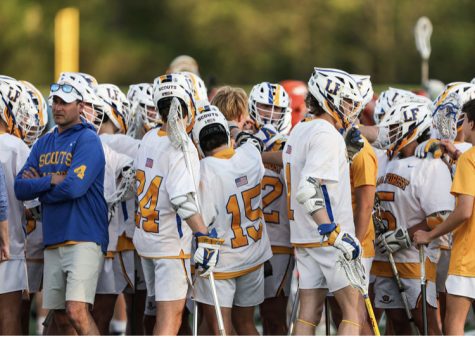 Senior goalie Anthony Reinhardt also played a fantastic game, making 16 saves and being the Trevians worst nightmare. He continues to shine in goal for the scouts, proving time after time why he's the best goalie in the state. 
By the middle of the fourth quarter, the Scouts were up 9-3 and eventually closed it out to win 10-7. Senior star Michael Cassidy had a stellar spin move goal to put the cherry on top for Lake Forest. "
We played great as a team, and everybody did their job well. We didn't force shots or bad passes," senior Patrick Lee said. He also added it was "their best game as a team."
The Scouts are getting hot at the right time, and will look to build off of this epic win going forward, hopefully turning it into a deep run in the postseason.