Men's Lacrosse set to make State run
There's no question that the men's lacrosse team has taken this season by storm-they just won their playoff game 16-1.
"Last year, we were a dominant team that relied heavily on our top guys, their great impacts on the team brought us to the state championship," junior captain Jack Carrabine said. "But this year, without those key players, we've learned to really play with one another and understand each other which has brought us to be this successful so far."
This past season showed immense promise for the team, pulling them up to rank #2 in the state with their 17 wins far outweighing only two losses, including defeating Evanston Township High School on their senior night.
While men's lacrosse has seen top 5 rankings in almost every recent school year, the goals don't change. 
"Being second in state is nice, but there's always that desire to be at the top," continued Carrabine. "I think everyone on the team would say the same." 
So how does a team perfect their tactics and ascend to the top? 4-year member Nick Winebrenner, a seasoned pro at lacrosse, says that it's important for future teams to be open to new styles of offense.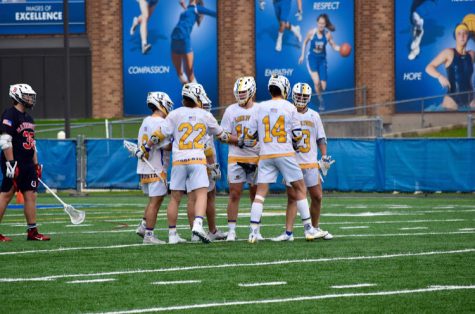 "This year was different from [past seasons] because of our different talents on offense, so [the game] flows more freely," Winebrenner said. "We've strayed away from calling more all-out plays and instead using more sets to play our own game, and let the game come to us."
With the seniors graduating in less than a week, the next season's men's lacrosse team will have to keep up the long-standing record and bring the same pride to LFHS. 
"Because next years team will be very young, they'll have to adapt game by game," Winbrenner said. 
As the seniors leave and the responsibility is left in the hands of the class of 2023 and below, the confidence is still growing. 
"We will feed off of the momentum that ends this year and continue to work hard throughout the off season to stay successful," Carrabine said.
The lacrosse team is three wins away from qualifying for the state championship. Their next game is on Friday. They will face off against Warren Township at 4 p.m. at Grant High School.