Final National Signing Day for the Class of 2020
Wednesday's Signing Celebrates Record-Size Amount of Student-Athletes
A new school record, 20 different Lake Forest student-athletes of the Class of 2020 signed their National Letter of Intent on Wednesday in the LFHS cafeteria. Here is a breakdown of all the athletes in their respective sports, and their thoughts behind their big commitments to athletic success in college.
Boys Lacrosse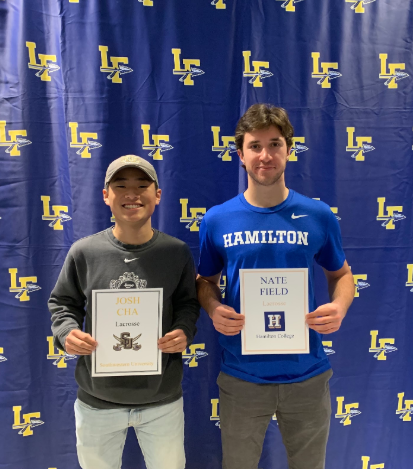 Lacrosse players Nate Field and Josh Cha are two students who signed their letters declaring their intent to play their sport in college.
Field, who led the Varsity Boys Lacrosse team on the field last season, will be attending Hamilton College in New York next year. Cha will also play lacrosse in Georgetown, Texas at Southwestern University.
Football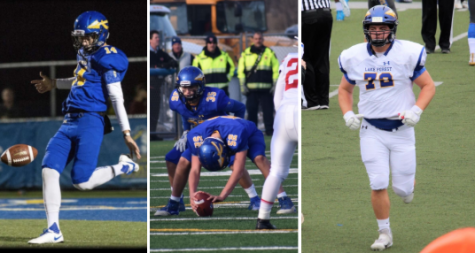 Three football players Kai Kroeger, Sam Volpe, and Charlie Aberle all locked in their commitments Wednesday as well.
Kroeger, who will be playing football at the University of South Carolina next fall, is currently ranked as the number one punter in the nation. Volpe will also be playing Division 1 football at the University of Ohio.
"I'm really excited to be a part of an unbelievable program and getting to work with some of the best players from around the country," Volpe said.
One of the more recent commits out of the 2020 class, Aberle chose to commit to Lehigh University because "it felt like home" to him.
"The culture there was something I really wanted to be a part of," he said.
Field Hockey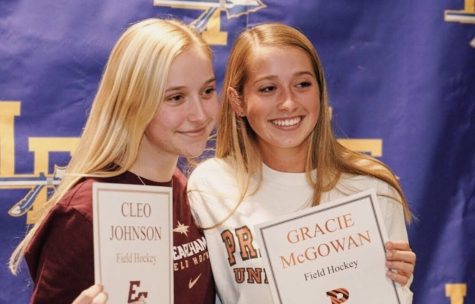 Cleo Johnson and Gracie McGowan of the Varsity Girls Field Hockey team will be attending Earlham College and Princeton University next year.
McGowan received all-state honors this year after leading the Scouts as captain to a second-place finish in the state championship.
"I'm really looking forward to meeting other athletes who are dedicated to both their sport and their studies. The close-knit community of the student-athletes is awesome," McGowan said.
Girls Swimming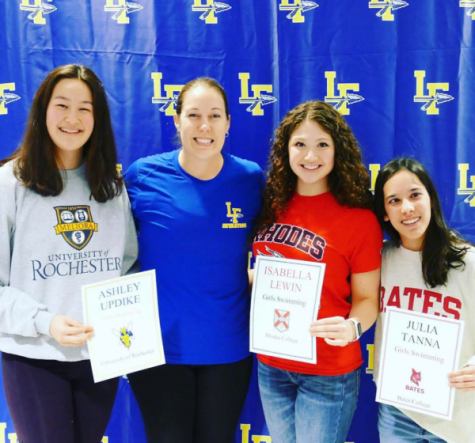 Three swimmers also signed their letters of intent.
Isabella Lewin will be going to Rhodes College, Ashley Updike to the University of Rochester, and Julia Tanna to Bates College. Tanna recently wrapped up a very successful high school swimming career with back-to-back state titles in her respective race.
Boys Cross Country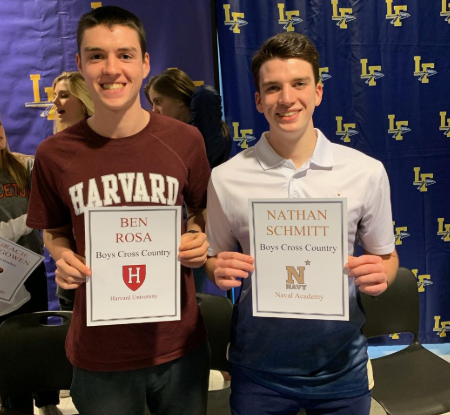 The Boys Cross Country team is sending off two of their runners to prestigious Division 1 programs. Ben Rosa and Nate Schmitt made headlines earlier this year when they committed to Harvard University and the US Naval Academy.
Baseball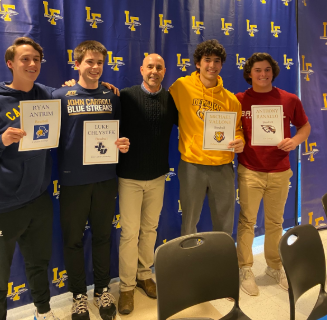 Four members of the baseball team also announced their commitments to continue playing the sport they love in college.
Ryan Antrim will be playing at Carleton College in Minnesota, Luke Chlystek at John Carroll University, Michael Vallone at DePauw University, and Anthony Ranallo at Coe College in Iowa.
Ranallo said he chose Coe because the facilities were amazing and the school had everything he had ever wanted in a college.
Wrestling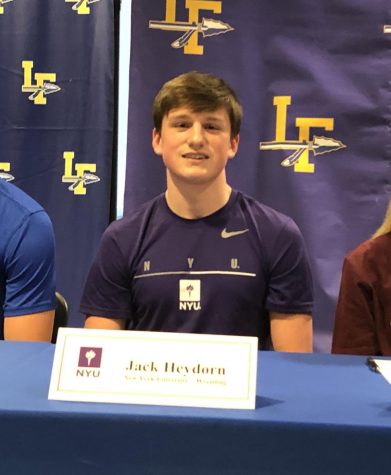 Jack Heydorn signed his letter to continue his wrestling career at New York University.
"Wrestling in college was something I wanted to pursue since middle school," Heydorn said. "I chose NYU due to their strong academic program as well as them being a top ten program in Division 3 backed by high caliber coaches."
Boys Basketball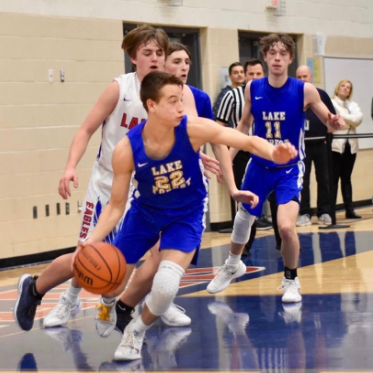 Basketball player Andy Brown chose to continue his athletic and academic career next year at Knox College.
"Obviously playing basketball in college is the dream, but the academics Knox has to offer are beyond amazing," Brown said about his choice.
Girls Volleyball, Boys Soccer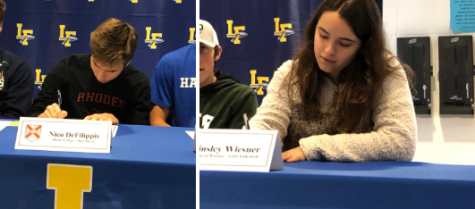 Ainsley Weisner signed her National Letter of Intent to play volleyball at the College of Wooster in Ohio next year, continuing the legacy she started on the girl's varsity volleyball team here at LFHS. Captain of the boys' soccer team, Nico DeFilippis chose to continue playing at Rhodes College next year.
Congratulations to all of Wednesday's signees. This wraps up one of the most successful senior classes at Lake Forest in recent history, and we are all very excited to see what they can accomplish in the future.