The Legacy of Jack Adams
John "Jack" Ireland Adams passed away at the age of 20, in July 2019 after a fatal wakeboarding accident in Clear Lake, Indiana.
In Adams, the community lost a bright young man who left a massive impact on the boys varsity lacrosse team, the high school and the town of Lake Forest. 
"Jack made me feel welcome immediately when I made the team, and for the time we were teammates, he treated me like a brother," said George Schoettle, a sophomore at Swarthmore College. "So when it finally set in that he had passed, it was obviously extremely difficult, but I was just so thankful to know him, because guys like Jack are hard to come by."
Not only did Jack leave a mark on his teammates, but he left a unique mark on the lacrosse field. 
"I had never seen someone play like that," said current sophomore Jack Carrabine.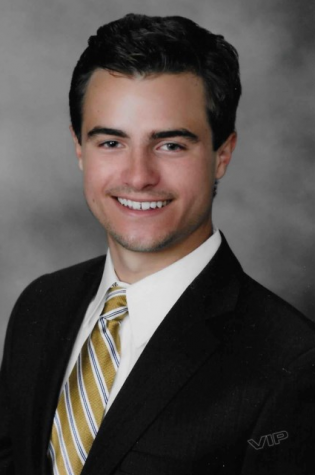 "Anybody who played with him remembers how much passion and drive he played with even if he wasn't the most vocal player on the field," said head coach Marc Thiergart.
Adams didn't only leave a positive impact on everyone he met, but he was simply a friend to everyone, and a natural-born leader on and off the lacrosse field. This congenial leadership has led the lacrosse team to honor him in a multitude of ways.
Last spring, the lacrosse coaching staff created an award in Adams' honor. It's given to the defenseman who most embodies the qualities that defined Jack throughout his career at the high school. This award is represented through the passing down of the jersey number 4.
This year, the recipient is Jack Carrabine, the aforementioned sophomore long-stick midfielder. Those who know Carrabine, no matter the age, look up to the energetic sophomore, who is one of the top long-stick midfielders in the state.
"Receiving the number is a great responsibility and a great honor," said Carrabine. "Watching him play when I was younger always motivated me to become a better player. I looked up to him and while I could never dream of filling his shoes, I certainly want to come close."
Last year, the inaugural recipient was senior defenseman Matthew Garrigan, who possessed an unmatched love for his team and a contagious positivity, two qualities that epitomized Adams. 
"I started wearing the number 4 before he passed, but after he passed, it was very different," said Garrigan, now a freshman at DePauw University. "It was a really big honor for me. I chose to wear it my sophomore year before he passed because I looked up to him. But after he passed it meant so much more because of how he carried himself as a lacrosse player and as a leader."
Jack's mark on the lacrosse field will certainly never be forgotten, in fact those who have visited Varsity Field this season may have also noticed the "4Jack" poster in the northeast corner of the field, in the same spot where Jack's father has watched each varsity lacrosse game since Jack joined in 2014 for his freshman year. This "4Jack" symbol has been stitched into almost every piece of clothing that the team has sported over the past two years and has served as a symbolic staple for the team in those years.
"I think his legacy has already affected our team in many many ways," said Thiergart. "When he played he never said much, he was kind of a silent warrior who grinded and grinded. He led by example and he loved being on the field. He never wanted to leave practice."
Not only has the lacrosse team tried to carry out his legacy in a number of ways, but students all over the high school still keep him and his family in their thoughts every day.