Boys Lacrosse Set to Face off Against Rival Loyola
As Spring sports begin to ramp up, for boys varsity lacrosse, each season comes down to one question: how do they stack up against Loyola?
The team enters this season ranked 5th in state. This comes after a remarkable season last year, where they took 2nd in state. This year started strong, with the team beating Glenbard West 11-5 in their season opener. 
The team is led by senior captains Nick and Ben Winebrenner, Michael Cassidy, and Anthony Reinhardt. They will have to find a way to replace their dynamic offensive attack that included two all-americans, Connor Armstrong and Richie Hoskins. 
The Scouts host their arch rivals, Loyola Academy, on Tuesday. The Ramblers have a star studded team with college level players and lots of experience. It was Loyola who barely beat out the Scouts last year in the State Championship 11-8. That game was filled with highs and lows and all around great lacrosse, but ultimately left a sour taste in the Scouts' mouths. 
Cassidy left the game with injury after scoring two quick goals. He is eager for another shot at the Ramblers.
"We have to stick to our game plan. Our coaches have faced this team many times and know what it takes to win," Cassidy said. 
The team is taking a slightly different approach on offense this year, according to Nick Winebrenner.
"It's less robotic and more fluid. Our midfield is very strong this year and our young attack will hopefully be ready to back it up," Winebrenner said. Winebrenner leads this troop of men on offense with four years of varsity experience. His sharp shot will be a pivotal part of their scoring attack. 
Senior Brock Uihlein and sophomore Graham Garrigan are also a key part of what the Scouts are trying to accomplish on offense. Uihlein's unique size and power along with Garrigan's shiftiness help make this a dynamic attack.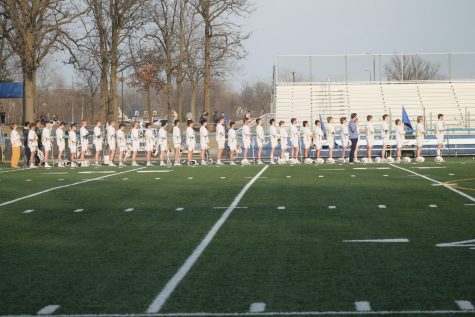 On defense, the Scouts are sticking to their tried and true gameplan. 
"We plan on playing more team defense this year. We are relying on strong close defenders to lock down opposing attacks. Our midfielders are some of the best in the state which allow other defenders to feel more confident," defensive captain Ben Winebrenner said. So much of the defensive aspect of lacrosse comes before the games and practices, in scouting matchups. The importance of a certain matchup can change the whole landscape of the game.
The X-factor for the Scouts will be their midfield. Junior Captain Jack Carrabine, who recently committed to Colgate University, will start at the faceoff X. He is elite at ground balls and stick checks, and sets a very strong tone for the Scouts. 
"Talent won't take us where we wanna go, we must rely on our disciplined work ethic and become more cohesive as a team this year if we want to win the big games," Carrabine said. Joining him in the midfield is Denison commit Michael Cassidy. Cassidy is likely the Scouts best all around player, mainly specializing in the offensive attack. "We have experienced starters and are built for this pressure," Cassidy said. He is confident that this team can upset top-ranked Loyola. 
Senior goalie Anthony Reinhardt does more than just block shots. He has a great goalie IQ and communicates very well with defenders. He makes sure that the entire defense is always on the same page. "I think he is the best goalie in the state," Nick and Ben Winnebrenner both said. 
Lake Forest Lax is in for another exciting season, and one of its most exciting games is this Tuesday, April 5th, against Loyola. Be there at 5:30 to help support your scouts in what will be one of the most exciting games of the season.