Intramural Week 7 Overview – Paths to the Championship Game / Award Rankings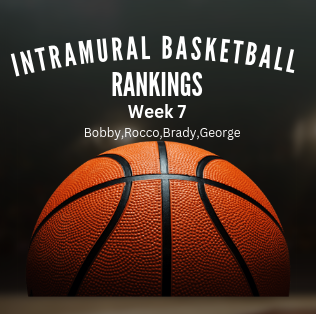 Check out our podcast for everything Intramural! Including recaps, teams to watch out for, weekly special guests, and notable performances – link here 
—————————————————————————————————————————-
This week, we are doing something a little different. In the first part of the article, instead of doing our own power rankings, we will be giving an overview for each team's path to the final four based on Mr. Werner's power rankings. The second part of the article will contain the awards finalists for this season.
For the path to the final four, we will be breaking the teams into four subcategories based on how likely it would be to see them in the final four – Highly Likely, Potential Upsetters, Not Likely, and Cinderella Stories.
Highly Likely: Expect these teams in the Final Four
Team W.I.G.: Team W.I.G will need to beat the winner of a matchup between a couple of light teams, being the Knickerbockers and Steph with Too Much Curry. They will likely have a difficult matchup between either Funkytown or the GSU Antelopes, both teams that they have beaten in the regular season.
TKN: TKN will have an easy matchup between either the Jugg Messiahs or the Ball Boys in their first game. It would be utterly shocking if TKN didn't win by 20. They then would face the winner of a game between Caillou's Boys and the Chinless Hooligans. If Caillou's Boys were to win, we could see a somewhat interesting game.
Team Coht: Team Coht should make quick work of Kramer's Kids, who will most likely beat the Big Basketball Champs. They will probably play the Butter Burger Hoopers in the quarterfinals for a very entertaining matchup of small-ball teams. We think Coht would come out on top for that matchup, landing them in the final four.
Cherry Up Men: The Cherry Up Men should have the easiest path to the final four out of these top 4 seeds, likely having to beat the Taj Tusslers, who cannot get it together, and the Puck Bandits, who have yet to beat a top 5 team. Regardless of who they face in the final four, their path there should be a breeze.
—————————————————————————————————————————-
Potential Upsetters: These teams should make it to the quarterfinals
GSU Antelopes: The GSU Antelopes will have their second matchup with Funkytown this year. They won their first matchup by 1, so this should be an entertaining game. If they win, they would face off against Team W.I.G. If GSU won both games, they will have played the toughest road to the final four in the bracket.
Puck Bandits: Many people were confused why the Puck Bandits are ranked so highly, but their record does all the explaining. They have only lost one game all year and are riding a 7 game win streak into the playoffs. They will likely advance to play the Cherry Up Men in the quarterfinals. 
Butter Burger Hoopers: The Butter Burger Hoopers should be able to handle the Handlers pretty well with their quick defense and high-scoring offense. A matchup that we would all want to see is a Butter Burger vs. Coht quarterfinals game. These two similar teams should make for a very entertaining 25 minutes.
Caillou's Boys: We think that Caillou's Boys will take down the Chinless Hooligans, although it will be a good game. They will undoubtedly face off with TKN, a team that is well-known for slaughtering sophomore teams. It would be a big surprise if Caillou's Boys could break the cycle of TKN's large sophomore victories and make it to the final four.
Funkytown: Funkytown, ranked at the 9th seed, is in a very interesting spot. They will play the GSU Antelopes, a team that they will be hungry to beat after losing by 1 to them in week 5. If they do win, they will play Team W.I.G., who they gave a run for their money in week 7. They lost by a combined 4 points in their games against these two teams.
—————————————————————————————————————————-
Not Likely: We probably won't see these teams in the quarterfinals
O-Blockerz: We think that the O-Blockerz have the best chance out of all the 'Not Likely' teams to advance to the quarterfinals, but they would have to beat the Puck Bandits and the Cherry Up Men to make it to the final four. Despite them having a clear path, we don't expect them to be able to keep up with the top 5 teams.
Taj Tusslers: The Taj Tusslers are in the same boat as the O-Blockers. They will have to face the Cherry Up Men in the second round, assuming they beat West Side Dynasty. The Tusslers have been pretty off and on this year. If they are on for the tournament, they have the potential to cause some issues for the Cherry Up Men's defense.
Kramer's Kids: Kramer's Kids do not have an impressive win to their name, which is why we think that Mr. Werner ranked them so low. They should make quick work of the Big Basketball Champs in the first round, but would then be stopped cold against Team Coht in the second round. There are no expectations for this team past round 1.
Chinless Hooligans: The Chinless Hooligans drew a tough first matchup with Caillou's Boys, a team that has proven to go toe-to-toe with some of the better teams in the league. The Hooligans haven't beaten a team of that caliber all year, and we don't expect them to in this matchup either.
The Handlers: The Handlers are in a similar position to the Chinless Hooligans. They will play the Butter Burger Hoopers, a team they got blown out by earlier in the year. Although I do think that the Handlers will be more ready for this game than their last date with Butter Burger, the shifty sophomores should outscore the Handlers enough to ensure a comfortable win.
—————————————————————————————————————————-
Cinderella Stories: It would take a miracle for these teams to make the final four
Jugg Messiahs: The Jugg Messiahs will have a pretty good matchup with the Ball Boys. This game could really go either way, but the Juggs should come out on top as long as they keep Cogan Manley out of the game who has been a notoriously brutal shooter this season. The Juggs would then face a very tough matchup against TKN, which they have almost a 0% chance of winning.
Ball Boys: The Ball Boys have an interesting matchup against a talented sophomore team. It will be interesting to see what they have up their sleeves. They will definitely have to find someone to guard Jugg Messiah's talented point guard, Huston O'Neil. If they pull off an upset win over the Jugg Messiah's, their season will most likely be over after their next game against TKN. 
Big Basketball Champs: The Big Basketball Champs just recently got their first win of the season. They might have some momentum riding into the tourney this week. They will face Kramer's Kids who potentially could be upset by the Big Basketball Champs. They will then face Team Coht, who will almost certainly end their season there. 
Knickerbockers: The Knickerbockers will have a very interesting matchup against Steph With Too Much Curry. It will most likely be a very tight game that will ultimately come down to the wire. If they come out on top, they will face the number 1 team, Team W.I.G., which will be the biggest of tests for this squad. 
Steph with Too Much Curry: This squad will face a big Knickerbocker team and it will be a tough game for this team. They will have to be shooting well to take down this squad. This team can definitely give some good teams a run for their money. If they win, they will face a very tough Team W.I.G., who they could play tight if they are having a good day.
West Side Dynasty: This team will have a tough matchup against a decent junior squad. This game could definitely be a close game. They are led by shifty sophomore Quinn Brown, who, if is having a good day, could definitely lead this team to a victory over the Tusslers. If they win, they will play Cherry Up Men which will most likely put an end to their season. 
———————————————————————————————————————
Award Finalists: Awards will be determined after the tournament
Instagram Account of the Year: GSU Antelopes, Team Coht, Funkytown
Least Valuable Player (Most Fraudulent): Jack Kaplan, Cherry Up Men
Coach of the Year: Henrik Goldsberry, Team W.I.G and Ballers
Comeback Player of the Year: Matt Durburg, Team W.I.G.
Underclassmen of the Year: Marty Hippel, Butter Burger Hoopers
    Finley Goodman, Caillou's Boys
Offensive Players of the Year: Shep Graf, Team W.I.G.
      Stephen Sinclair, Team Coht
Defensive Players of the Year: Jack Carrabine, Team Coht
      George Carter, Funkytown
MVP Race: A Tier: Robert Pasinato, Harry Kotlarz
          B Tier: Shep Graf, Jack Rosenberg, Brady Goodman
—————————————————————————————————————————-
—————————————————————————————————————————-
Co-ed Overview
Highly Likely:
Ballers –  The Ballers are the clear favorite having being in the #1 spot all but one week during the season. They will have to find a way to win without star player Caroline Keil, but their team defense is amazing. 
Babytron's Finest – Babytron's Finest are a strong pick to win but still an underdog. They are one of the better teams in the league and have a good shot to win it.
—————————————————————————————————————————-
Potential Upsetters:
Passers –  The Passers have an outside shot at winning the title after having a surprisingly strong season. They are coming off of a tough lose last Sunday where they lost their perfect record.
Slayups – The Slayups also have an outside shot at stealing the title this year. They will have to play the Kennedy's the first round which will be a close and exciting game to watch. 
The Kennedy's – The Kennedy's are one of three teams who have the small chance of winning it all this Sunday in the tournament. They  are the only Coed team in the leauge. They started off the season very strong but have suffered a couple of loses the past weeks.
Ballstars – The Ballstars started out playing poorly but they have strung together a couple of wins before the tournament. They have been playing better of late and are carrying a lot of momentum into the playoffs.
—————————————————————————————————————————-
Cinderella Stories:
Shooting Deez – Shooting Deez has a very outside shot at winning the championship. They will have a very tough opening round matchup against Babytron's Finest. If they can pull off the upset then maybe they can go on a run and win it all. 
Homie Hoopers – Homie Hoopers has the second to longest chance to win the title. They have suffered some close losses to good teams this season. 
Barty Parties – The Barty Parties have a very very long shot to win the championship. They are still the only winless team in the league and haven't shown any proof that they could win the championship. They have struggled all season long.