Coach Wilhelm Steps Down After Historical Career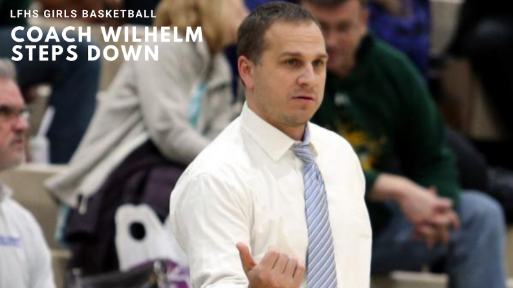 The winningest coach in Girls Basketball history at LFHS, Coach Kyle Wilhelm, has stepped down from his head coaching position. The news came a couple of days after their sectional final loss to the eventual state champion Fremd on Thursday, February 27. Wilhelm stated via Twitter that he wants to spend more time with his family.
The past 9 years as the head coach at LFHS has been an incredible experience. At this time, I need to step away so I have more time with my family. I will never forget the bonds and relationships formed. I am extremely proud of everything we have accomplished.

— LFHS Girls Basketball (@LFHSGBB) March 2, 2020
This isn't just any other coach stepping down from coaching a high school sport, this is one of the most decorated coaches in the state of Illinois: 146 career wins, three Regional championships (16-17, 18-19, 19-20), one Sectional championship (18-19), Elite 8 appearance (18-19), IBCA Coach of the Year (16-17, 18-19), 22nd Century Media's Coach of the Year (17-18, 19-20), and the winningest coach in Scouts Girls Basketball history.  
Even though everyone wishes Coach Wilhelm would be able to stay longer and continue to strengthen what is now a powerhouse in LFHS Girls Basketball, his reasons for stepping down are very understandable.  
Despite a tough ending to their season this year, Wilhelm looks back at his nine year tenure in a very positive light.  
"It was an unbelievable roller coaster ride, and I love roller coasters," Wilhelm said.  "Every season has its ups, downs and challenges, but it has been an awesome experience.  I have been very fortunate to work with so many great players, leaders, and coaches and know I have built relationships that will last a long time."
One of the best to ever play basketball at LFHS, Halle Douglass, has cherished the past four years with Coach Wilhelm, and gives him high praise.  
"Wilhelm has been one of the greatest coaches I could've asked for," Douglass said.  "He's helped me so much to grow into the player I am today and has always given 100% to our team and the success of our team."
When Wilhelm stepped in to take the position of head coach of the girls team, things were much different then than they are now, and Coach Wilhelm started to shift the culture as well as great talent coming in as well. 
"
It was fun to be part of an experience where the commitment and expectations changed. Every year the players raised the bar and wanted more."
— Coach Wilhelm
"We had tremendous growth of our feeder program, as well as our high school program.  We saw tremendous amounts of success starting at 5th grade," Wilhelm said. "It was fun to be part of an experience where the commitment and expectations changed.  Every year the players raised the bar and wanted more."  
More is exactly what they players got with hard work, determination, and of course good coaching. With that huge turn around came some huge wins for the program, and with huge success comes some of the greatest memories players and coaches could have with each other.  
"My favorite moment of him is probably either after beating Benet (on a Fisher buzzer beater), or winning the sectional last year," Douglass said.  "We were all so pumped after those wins and he was maybe even more excited. We poured a bunch of water everywhere and he would pretend to get mad to get us to stop and then be really fired up afterwards."  
Junior guard Molly Fisher has been coached by Wilhelm for just two years, but even that is enough time to create a strong bond with the head coach. 
"Coach Wilhelm has been one of my biggest supporters throughout my basketball career," Fisher said.  "He is always there for everyone and never fails to motivate me to become the player and the person I can be."    
Coach Wilhelm will be missed on the hardwood, by LFHS fans, players, and coaches around the North Suburban Conference. The culture has been shifted, and now Lake Forest is a team the state looks out for. All great things must come to an end.
"By far the greatest coach ever," Fisher said.