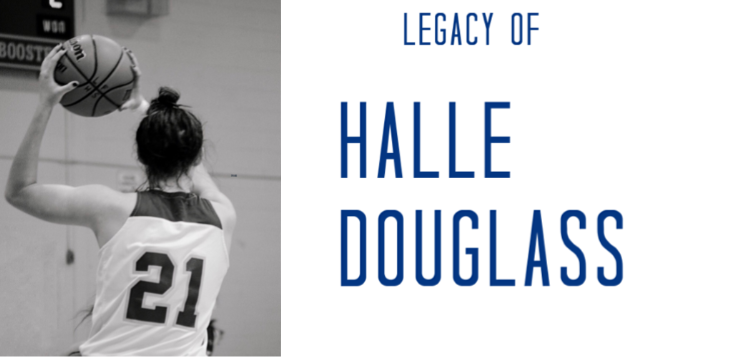 Graphic by Rory Summerville
21: The Legacy of Halle Douglass
March 5, 2020
As she began walking off the court, the emotion was clear on her face. Halle Douglass would be exiting her final game as a member of the Lake Forest Scouts. She began to hug her teammates and coaches as tears streamed from everyone's eyes. As the crowd stood in ovation and clapped, she could not believe it was over. The buzzer would finally sound and the Scouts would face the harsh reality of a Sectional Final loss to Fremd, 49-35. 
While the end of Douglass' career would sting, it is certainly one to look back on with amazement. Douglass came from Deer Path Middle School and would make the varsity roster her freshman season. 
That season, Douglass helped lead the girl's basketball team to their first Regional Championship and 20+ win season in 12 years, upsetting No. 4 seed Warren. The team would eventually fall to a talented Hersey squad in the Sectional Semifinal, but that season would be the beginning of a winning tradition for the program.
In her sophomore year, Douglass was forced into a bigger role offensively due to the injury to senior and leading scorer Maeve Summerville. She would average 11 points to go along with five assists and five rebounds as the Scouts would have back-to-back 20+ win seasons for the first time since the 1990s. However, they could not defend their Regional championship, losing to Lake Zurich in the Regional Final.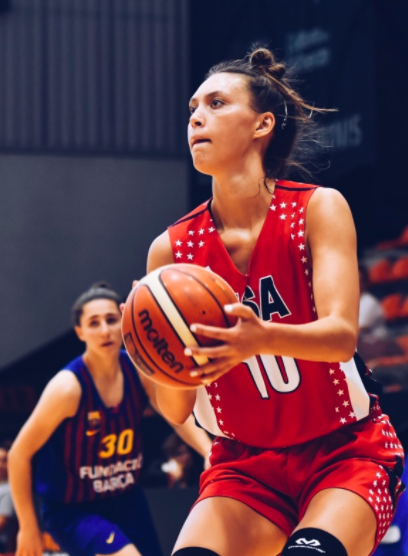 Douglass would become a captain her junior year and average around 16 points per game. That year, she tied the single-season record for points (543) and helped lead the Scouts to not only a franchise record 27 wins, but the basketball program's first-ever Sectional Championship. Douglass would also reach 1,000 points and become the second all-time leading scorer behind Janie Hodkinson. 
Before her senior season, Douglass had received numerous Division I offers from schools like Purdue, Colorado, Washington, and Illinois. However, the University of Wisconsin was always a school she had dreamed of playing for. Her father Billy had played for the Badgers in college and the state of Wisconsin was always a second home to her. In early September, her dream came true when she officially committed to Wisconsin.
During the season, the team fought through various injuries throughout the season but were able to overcome the adversity as the Scouts would finish the season an impressive 26-9, their fourth straight 20+ win season.
The team had many highs during the year, including finishing first place at the Vernon Hills Thanksgiving tournament, receiving a second-place finish at one of the best holiday tournaments in the state at Montini Catholic, beating the No. 1 team in the state (Benet), and winning their third Regional title in four years.
Before Douglass was a freshman the team had 44 wins over four years. Following Douglass' senior year, the Scouts totaled 98 wins. She was named NSC Player of the Year her junior and senior years and made IBCA 1st Team All-State her junior year. 
To go along with the team's success, Douglass' success on the court was even more incredible. Douglass totaled 1814 points as she surpassed Hodkinson's record by around 300 points. She collected 897 rebounds, 630 assists, 352 steals, and 220 blocks, resulting in her holding every record category in the program's history.
Her successes outside the walls of the Competition Gym are just as impressive. Last summer, Douglass traveled to Spain as part of the 2019 USA Adidas Select Team. Here, she played against amazing international competition. During her senior season, she was one of 30 nominees from the state of Illinois to the McDonald's All-American Game. She is also ranked as one of the Top 100 players in the country by ESPN. 
Head coach Kyle Wilhelm was at a loss when trying to describe Douglass' commitment to the program and what he will miss most. 
"Everything. Her dedication, watching her be another coach on the floor, and how she mentors the other players. Everything that you want in a player Halle has," Wilhelm said.
Even with this long list of personal accolades, there is one thing that won't be listed in the record book but will stick with her teammates and coaches for the rest of their lives, her humility.
"I think the most admirable thing about Halle is her humility. She's so talented, yet doesn't talk about it. She's worked for everything and never let her success get into her head," fellow captain and three-year teammate Finola Summerville said. 
It is difficult to argue that anyone influenced the Lake Forest girl's basketball program more than  Douglass. Her final days on the court truly signify the end of an amazing era. Douglass was not just an exceptional player, she was a role model, leader, and friend. 
"Halle's been an integral part of the complete turnaround of the program. She leads by example by being a great teammate and player but encourages us to push ourselves. She always believes we can win no matter the odds," Summerville said. 
Douglass' graduation is a difficult one for her team as she was more than just their leading scorer or captain; she was a key part of the girl's varsity basketball family. She was a heavy motivator of her team and always helped them keep their heads up after difficult losses. Her energetic attitude was one looked upon by her teammates and she made sure that everyone always felt welcome in the gym. 
Douglass had a legendary career at LFHS and it will be hard to see her go. Despite a heartbreaking but inevitable end to her career, she finished as one of the best athletes to ever wear the blue and gold.