Girls Basketball Bounces Back with Big Win Over Warren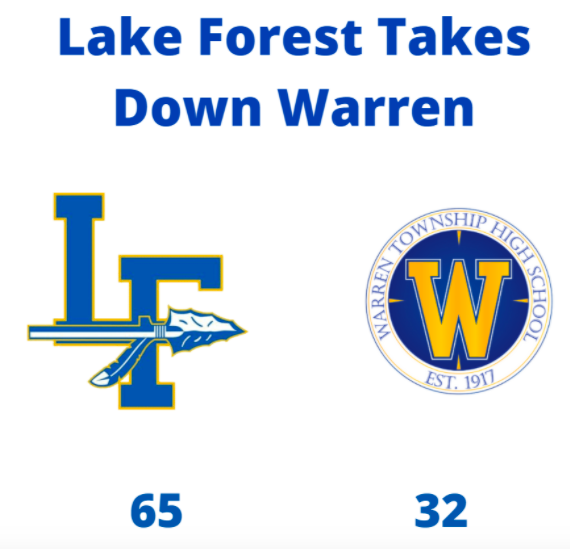 After losing the season opener to rival Stevenson, the new look Scouts looked to notch their first win of the season against the Warren Blue Devils.
The Blue Devils jumped out to a quick five point lead in the first two minutes but senior Molly Fisher quickly ended that hitting mid-range jump shot to put the Scouts on the board. After a missed shot by the Blue Devils, sophomore Bella Ranallo drove in the lane where she drew a foul and came up hurt. Ranallo would return later that quarter.
After the Blue Devils went on an eight-one run, the Scouts ended the quarter going on a run of their own with baskets from Ranallo, Kathy Peterson-Ross, and a three from Fisher. The Blue Devils did not let up though hitting a three with three seconds left in the first quarter and at the end of the first, the Scouts trailed the Blue Devils 16-13.
The Scouts got off to a hot start on defense where they forced four straight turnovers and turned them into four points on the other end. The Blue Devils were unable to get anything going on offense to begin the second quarter only managing two shots in six trips down the floor.
The Scouts' tough defense continued as the Blue Devils were still unable to score as Fisher stayed hot from three hitting two in the next three possessions. After a Blue Devils bucket, Ranallo would hit two straight layups giving the Scouts a 30-19 with a minute left in the half. The Scouts stayed hot on offense thanks to an and-one from sophomore Rachel Kaus and another layup from Ranallo as the Scouts took a 35-19 lead into half.
Coming out of the break, the Scouts did not cool off a single bit. They opened the half on a 4-2 run while collecting almost every rebound that came their way. The Scouts continued to pressure the Blue Devils and force missed shots as they only managed nine points in the third quarter. Ranallo stayed hot for the Scouts hitting a corner three off a cross-court pass from Fisher.
The Scouts saw production from everyone as junior Gabriela Brown also made her first shot of the night as the Scouts took a 50-28 lead into the fourth quarter.
As the fourth quarter started, the Scouts continued to move the ball and eat up the clock. With a victory in sight, the Scouts passed around and waited until they got the shot they were looking for. The Scouts ended up taking down the Blue Devils 65-32 and they look to stay hot on Friday February 12th as they take on Zion-Benton at home.