Scouts Win Third Regional Championship In Four Years; Will Face Hersey In Sectionals
Regional Champions Once Again
AJ Shaw, Sports Editor
February 24, 2020
LAKE FOREST — Bella Ranallo is the youngest player on the Scouts roster.
She is also the shortest player on the roster.
But her grit and determination may be the biggest on the roster.
On Friday night, the freshman scored 12 points and grabbed 10 rebounds in the Scouts 51-46 victory over the Stevenson Patriots in the Regional championship game, their third Regional title in four years.
"My desire to get to the basketball and do whatever it takes to get the ball is what I would say makes me successful at rebounding," said Ranallo.
Ranallo, along with Molly Fisher and Halle Douglass combined to score 45 of the Scouts 51 points. Finola Summerville and Rachel Kaus scored the other six.
"I am so happy for my teammates," said Ranallo. "These girls have been so welcoming and have taught me a lot along the way. They're family to me."
Fisher's 14 points came off four three-pointers and Douglass was 11-12 at the free-throw line to help the Scouts hold off Stevenson. Both players shook off slow starts and were a big reason behind a 7-0 third quarter run that put the Scouts ahead to stay entering the fourth.
"I didn't create a lot offensively than I usually do early on," said Douglass, who went on to drop a game-high 19 points. "But I give a lot of credit to my teammates for making their shots when I struggling."
"It was a great team win and I am so proud of my teammates," she added.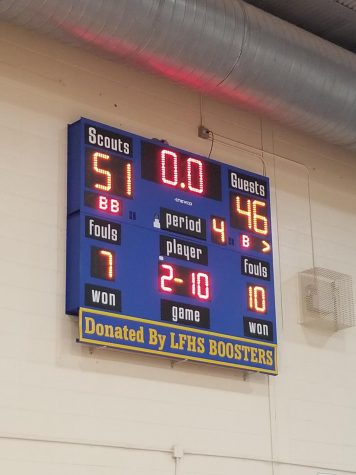 For Lake Forest, the team returns to the Sectional playoffs for the third time in the last four years. They will begin their battle against the #1 seeded Hersey Huskies, a team that beat them by 15 points, 51-36, on January 18th. However, the Scouts were missing four starters that day and with a healthy roster for this matchup, the Scouts should have a better chance.
"Going into Sectionals it helps to have the experience," said Douglass. "We won it last year and have been there twice since my freshman year and we have been in so many big games already this season so we know what to expect and we're ready for what will be in store."
QUICK FACTS:
Scouts Record: 25-8, 10-3
Next Game: Monday, February 24, 2020, vs. (1) Hersey at Palatine High School – Sectional Semifinals