Alumni Feature: Olivia Murphy (2014)–"Waste a Moment" and Listen to the New Kings of Leon Album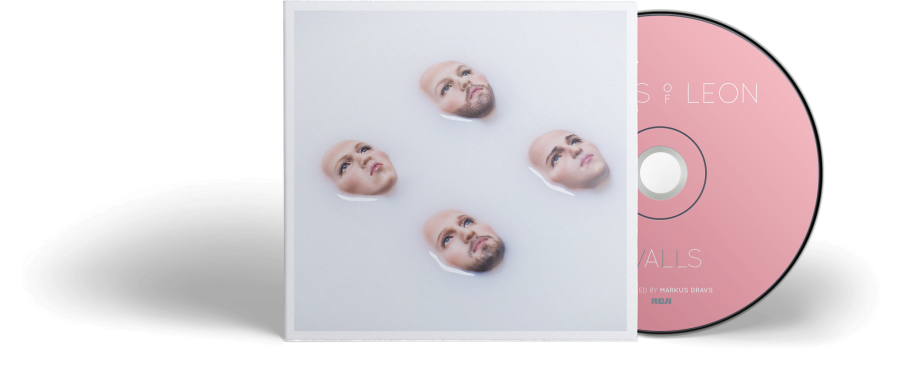 Follow @TheForestScout on Spotify and click here to listen to Kings of Leon's album Walls.
Ever since I first saw them performing on Saturday Night Live in sixth grade, I have been an avid fan of the band Kings of Leon. "Sex on Fire" was the ringtone for my pink Razr flip phone for years (which was very appropriate for a thirteen year old girl, yes), I belted my heart out to "Family Tree" at their concert last March with my dad and sister, and most nights than not I wear my favorite Kings concert tee to sleep.
Basically, ask me who my favorite band of all time is, and you betchya I'll say Kings. I just wish I had found them sooner.
Many years and albums have passed since their debut in 2003, but their southern-garage-rock vibe has yet to falter: Youth and Young Manhood (2003), Aha Shake Heartbreak (2004), Only By The Night (2008), Come Around Sundown (2010), and Mechanical Bull (2013) can attest to that. Caleb Followill leads the band of brothers (literally, they're all brothers and one cousin) with his signature husky, Nashville-style twang over riffs of loud guitar and drum sound. Every big single they've released follows this formula; every hit single conceived by a casual jam-sesh in the Followill's basement. We're just the lucky ones who get to witness it.
When the news of the new single "Waste a Moment" dropping hit in September, it spread like wildfire. It's catchy; has a good beat; compels you to belt out the chorus; and is, for lack of better words, an absolute banger. (I may or may not have already made a poster with the main lyrics, "Take the time to waste a moment" on it to put over my bed at school.) It follows the classic Kings familiar vibe of alternative rock and a southern jam matched with story-telling lyrics. To make it clear, I'm a huge fan of it. To me, if that was a precursor to what the seventh album, WALLS, was going to sound like, I was all ears.
And boy, did it deliver.
Although this album is undoubtedly slower and more diverse compared to its predecessors, WALLS (which stands for 'We Are Like Love Songs,' apparently) still tackles the very reason Kings has such a following. The quirky beats in "Around the World" and "Find Me" have the classic blend of rock and grunge that uphold the standards of every Kings of Leon album. These songs make you bob your head and tap your feet and want to groove to the beat. The manly requiem of "Muchacho" combines steady beats and an almost tropical guitar into a hip-swayer; "Reverend" is a rush of nostalgia to their usual guitar-slinging true-blues; and the upbeat jam "Eyes On You" reminds me of the oldie-but-a-goodie "Birthday" from Come Around Sundown. Overall, these songs exceeded expectations and have been on repeat for the past week (I wish I was kidding).
That's why when I listened to the album's namesake, "Walls," I was surprised I didn't want to break out dancing and scream out the lyrics. The light strum of guitar and piano keys make this song no such head-banger, but rather a sullen ballad. The monotonous instrumental beat never revs up to the usual electric guitar solo and voice belting from Caleb Followill. The only build it has is about three-quarters into the song when the vocals are amped up a bit, but the background instrumentals stay the same. It definitely does not include the usual howling and "woo-hoos" from the frontrunner Followill. However, this isn't necessarily a bad thing—it's just different. Sure, Kings has released calmer and softer songs (like "Back Down South," an all-time fave, and the ultimate favorite of Mr. Scott) but never one so dialed-back and unfamiliar. To be honest, it reminds me of the background music in a sad montage scene of a girl driving after breaking up with her boyfriend. Doesn't mean I don't like it, but try getting that image out of your head every time you listen to it.
Then again, this is 2016. Although the underlying style of all Kings of Leon songs is still woven in, the Followills know that to keep up with mainstream bands, they have to deliver something fresh and different than its previous albums. (Just look at what Coldplay did with A Head Full of Dreams.) They are trying to pull a game-changer with a new producer (Markus Dravs, who also produces Coldplay, Mumford and Sons, and Arcade Fire… can you see a pattern here?) and are experimenting with a new sound (as seen in "Walls"). You can only write so many songs that sound like "Revelry" or "California Waiting," after all.
Honestly, I appreciate the move in a new direction. Although the album is different than the head-bangers of the previous six albums, WALLS still delivers on their raw, gritty, original vibe. Seven albums deep and they've just gotten started.
We are watching the Kings of Leon transform and transcend that of the usual quirky southern rock and into something deep and tangible, folks. What a time to be alive.
As a bonus, check out this video of KOL performing a cover of "Hands to Myself" by Selena Gomez. Truly worth your time. 
About the Writer
Olivia Murphy, Author
Olivia Murphy is a junior Professional Writing major at Miami University in Oxford, Ohio and the Editor-in-Chief of the Miami University branch of The...