Interview: LFHS Alumnus Mike Ferrin is an Unmistakable Voice for the Arizona Diamondbacks and MLB Network Radio
Mike Ferrin discusses his career, broadcasting during a pandemic, and his LFHS stage career
It was about the time that Mike Ferrin was doing a musical about the city of Dubuque, Iowa when Waiting for Guffman hit theatres.
The mockumentary, which lampooned community theater and its colorful denizens, has more than earned its status as a cult film for its farcical portrayal of a local stage operating far from the bright lights of Broadway.
For Ferrin, who was then a junior at Loras College, Waiting for Guffman might have hit a little too close to home. (Quite literally, as the movie centers around a community theater production in small-town Missouri.)
But unlike the film's characters — hopelessly untalented travel agents, dentists, and taxidermists who futilely chase stardom — Ferrin managed to make it out of the community theater circuit. 
That's not to say he didn't have fun playing a version of William Jennings Bryan in a courtroom-based production inspired by the infamous Scopes trial, or when he made nearly two dozen costume changes in less than two hours for "The Compleat Works of Wllm Shkspr, Abridged."
It just led him to another passion.
In 1996, while working on the bicentennial-themed musical, Ferrin connected with its writer, Paul Hemmer, a longtime radio host in Dubuque. With experience broadcasting at LFHS and Loras, Ferrin volunteered to work the overnight shift on Hemmer's newly-licensed station.
From there, Ferrin simply climbed his way up the radio ladder — or antenna, if you will. He called amateur hockey games for the USHL's Dubuque Fighting Saints in addition to working shifts as a classic rock deejay.
Starting in 2000, Ferrin worked as a sports anchor and producer for WGN Radio in Chicago, where he had a front-row seat to some of the city's best sports moments, like when the White Sox broke their nearly century-long championship drought in 2005, and the Super Bowl run made by the Bears in 2006.
He got his big break in 2007, when SiriusXM hired him as a national host for its baseball station, where he hosted daily in-studio shows and anchored on-site broadcasts at playoff games and events like the All-Star Game and the month-long Arizona Fall League.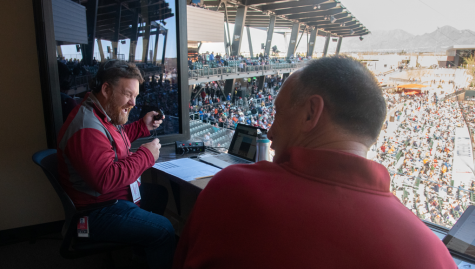 Ferrin no longer has to memorize lines or change into costume for his current profession, but he still performs every weekday on the national radio airwaves for MLB Network Radio and as the pre and postgame show radio host for the Arizona Diamondbacks.
On Wednesday, I got the chance to speak with Ferrin, a 1994 graduate of Lake Forest High School.
Our wide-ranging chat — which lasted for 50 minutes — touched on everything from what it's like to broadcast baseball games during a pandemic, the best players to interview, and the time he has tried to be on the field at two games in the same day.