MGK's "Mainstream Sellout" Album Review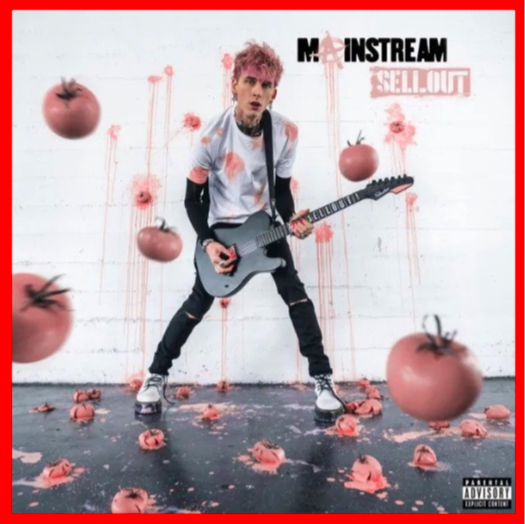 Colson Baker, better known by his stage name Machine Gun Kelly, is an American rapper turned pop-punk artist. Baker received public attention after he released his diss track on American rapper Eminem titled Rap Devil back in September of 2018. The song sits on a total view count of over 347 million on Youtube. 
There was a back-and-forth between the two artists, and Eminem then released a response diss track on Baker titled Killshot. I didn't think Baker was a good artist back then when he was trying to be a rapper because of his lousy instrumentals and lyricism, but then somehow he managed to take a turn for the worse by trying to become a one-man-army to revitalize the pop-punk genre. 
In 2020, he released his first pop-punk album titled Tickets to My Downfall which was pretty bad. Even though a lot of people didn't necessarily like the album and rated it low, it still did pretty well in terms of sales and live streams on music platforms like Spotify and Apple Music.
Mainstream sellout is Machine Gun Kelly's sixth studio album and is his second collaborative album with drummer and producer Travis Barker. The album is a part of Kelly's transition into the pop-punk genre as a part of his attempt of being the leader of a pop-punk revolution. 
The album features multiple artists such as the British rock band Bring Me the Horizon, American singer blackbear, and American rapper iann dior. The album features 16 tracks and has a run-time of 40 minutes and 25 seconds. Kelly described the album before its release as a "darker" and more "guitar-focused" album compared to the album that came before it, Tickets To My Downfall.
The album is hard to listen to. There are only a couple of songs that are comparatively not as bad as the rest of them with a huge emphasis on the word. If I had the option to not listen to any of the tracks on here, I would've gladly taken it. It is the worst album I, unfortunately, had forced myself to listen to so I could review and talk about it. 
A lot of the album feels like it's trying way too hard to rip off pop-punk songs that are very well established, such as Green Day's Good Riddance (Time of Your Life), with the track Twin Flame. His lyrics are ear-piercing and only make him come off as a narcissistic person rather than whatever he is trying to portray himself as throughout the entirety of this album.
There's not much else to say other than that I strongly suggest that if you are still looking for pop-punk in 2022, you should look somewhere else to satisfy your needs. MGK's mainstream sellout is nothing more than a terrible attempt at trying to cause a pop-punk genre comeback in the music scene all while displaying everything that he has been criticized for in the past about his music, such as his narcissistic lyrics and his unwillingness to attempt being original.
2/10