Thursday's 13: Bee Ward
Hang on for a minute...we're trying to find some more stories you might like.
Bee Ward is a senior at Lake Forest High School and is an outside hitter and captain on the varsity volleyball team.
When and why did you start playing volleyball?
I started playing volleyball in 7th grade after seeing my sister enjoy it so much. I was following in her footsteps, and I have been playing since.
What has been your most memorable moment out on the court?
We just recently played Evanston and earned a huge win. We won in two sets which was a really big accomplishment, and it was the first push of the season that has led us to our 3 game winning streak. Last year, we lost to Evanston in two sets by at least 15 points each, so coming back this year and getting the win against them was huge.
What is the biggest challenge the Scouts will face this year?
The beginning of the season kind of got off to a slower start than anticipated, and it was a challenge to get out of that little rut. We have some big games coming up against Stevenson and Libertyville, which will be challenges but great competition.
What is the hardest part about the sport?
Volleyball is such a mental sport, and in my experience, it is challenging to move on after mistakes have been made.
What is your favorite part about the sport?
Each year I look forward to being on the team because of my teammates. We all get along super well, and I have been playing with a lot of them since my Deerpath days. Besides the team, volleyball itself is a super fun sport. I love going to practice everyday, and I have been lucky to find a sport that is so enjoyable.
Who do you view as a strong team energizer?
Alyssa Thrash and Soraya Burton are both juniors, and they have really stepped up on the court to keep our team energized and focused. They are really good at talking on the court, and they get the bench hyped as well.
What is one goal you have for this season?
This season, I really hope to place in the upper half of our conference. It will be tough, but we have a few more conference games left in the season to get us there.
If you could be any animal what would you be?
I would be a dog because everyone likes dogs and I like attention.
Who is your biggest idol?
My biggest idol is Claire Mahoney because she is perfect.
If you could travel to anywhere in the world where would you go?
I would go to Lake Como in Italy because I have heard it is beautiful.
What is one fashion trend that makes you laugh every time you see it?
I was never a big fan of ripped leggings.
What is the smartest thing you have ever seen an animal do?
I don't know I'm not really an animal fan but I've seen a squirrel in the road not get hit by a car.
Disney Channel or Nickelodeon?
Disney
About the Writer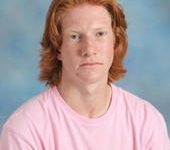 Kean O'Connor, Staff Writer
Kean O'Connor is a senior at Lake Forest High School who enjoys playing soccer and running track and field. You can find most of his writing in the In...