Junior Caroline Graham Commits to play Division I Volleyball at Santa Clara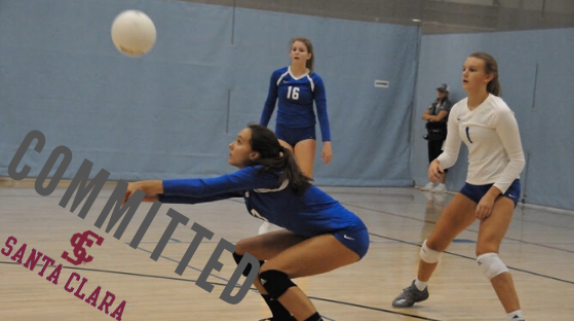 After a strong season for the Scouts, junior Caroline Graham was arguably the most vital player that led the volleyball squad to one of the most successful seasons in LFHS girls volleyball history. Graham led the team to victory on many different accounts, along with her twin sister, Katherine.
"I have been on the same team as Caroline since we both started playing (volleyball) in 3rd grade, and it has been crazy to see how much she has grown," said Katherine. "Her hard work at every single practice is definitely reflected in how she plays during games. She has been a key player on every team she has been on, and I am so happy that I have had the chance to play with her for 9 years. She deserves this more than anyone."
Originally from Oregon, the Graham sisters moved to Lake Forest when they were 10 years old. Both Graham girls played volleyball at St. Mary's, while also furthering their skills on the club level with the Illinois Junior Volleyball team. After their skills quickly outgrew the program, the twins moved on to play for the Sky High Volleyball club.
🎉 We are proud to announce that Lake Forest HS student & Sky High player, Caroline Graham, has committed to @SantaClaraUniv!

🎓 Graduating HS Year: 2021
🏐 Positions: Outside / Opposite /Defensive Specialist

Congrats, Caroline!
Go Bronco's! 🙌🏼🏐❤️#EarnedNeverGiven pic.twitter.com/VofnV0bXYU

— SKY HIGH VOLLEYBALL (@SkyHighVB) January 31, 2020
As the first person from Sky High to commit to play D1 volleyball at Santa Clara, Graham is blazing trails already.
She has proved her leadership in many different aspects of the game, on and off the court. After only being on the varsity team for two years, she was named junior captain during her second year on the team. As for her club team, she earned captaincy as well.
Clearly, her leadership qualities are unparalleled. One of her high school coaches, Tia Rupnik, elaborated on her leadership.
"Caroline was a tremendous leader for us last season. She was voted as a captain by her teammates. She has a lot of volleyball experience and therefore was a voice of reason for our team on and off the court. She brought a lot of ideas and insight in scouting opponents, as well as in intense moments during matches."
Graham did not stop with just captaincy, she was on the "all tournament team" for both the Lake Forest High School Invite and the Antioch tournament. To add even more to her collection of accomplishments this year, she was also named "all conference" for the North Suburban Conference.
Volleyball is notorious for being a mentally tough game, however, Graham defies the odds with her ability to bypass those struggles.
"As Caroline's coach, I have been impressed by her growth in the mental aspect of the game. Volleyball is a game of ups and downs, which can be one of the most challenging parts when you're in the game," Rupnik said. "Caroline has learned how to make adjustments in the game physically, but more importantly to maintain composure and to be a backbone to the team when we are in tight spots."
This past season, Graham's coaches and teammates relied on her when they needed her skills most.
"Caroline was a player that we could go to when we needed to put the ball down. She is that girl that anyone watching the game will get fired up by because she can pound the ball so fast and hard. Her kills even get me jumping up and down on the sideline," said Rupnik. "I am sincerely excited for Caroline's commitment to Santa Clara. She is going to be a tremendous asset to their program. I am looking forward to seeing what Caroline brings in her senior season this fall."
Graham's charismatic personality shined outside of the lines of the courts as well. Teammate and close friend Heidi Schoeller describes her as the most humble person she ever met.
"
It shows on and off the court."
— Teammate Heidi Schoeller on Graham's humble qualities
"She is constantly there for me and everyone single one of her teammates: no matter what, without hesitation. She truly exemplifies what good sportsmanship is," Schoeller added. 
When asked to describe the process of committing, Graham said "the commitment process is overwhelming because it's hard to manage talking to several different coaches, while trying to figure out what you are really looking for in a school and what the perfect fit is."
However, Graham is excited that the long process has come to a close and to have come to a decision on a school where she is confident that she will be happy. "The process is long (I started at the beginning of sophomore year), but definitely exciting. I feel relieved and very excited now that I have committed because I found a school that is the perfect fit for me in so many areas."
Even though the decision was hard, Graham feels like Santa Clara is the right choice on many different fronts.
"I chose Santa Clara because I am able to get an amazing education, while also being part of a volleyball program that is very competitive. I really like the coaches and everything about the school in general. Santa Clara is a school that I would go to even if I wasn't playing volleyball, which was really what I was looking for."
Even though some of Graham's fondest moments were spent on the volleyball court of Lake Forest High School, her coaches and teammates are proud to see her move onto bigger things in her career. As she has one more season at LFHS, there is much excitement to see what she brings in her final season on the squad.
In describing her time as a Scout, Graham said "I am most grateful for the people I've met over the past three years. Some of them have become my closest friends, which I never would have met if it wasn't for volleyball!"
Considering the highlights that have made her high school career special, it is likely that Caroline Graham's record of success and impact will continue as a Bronco.
About the Writer
CC Carter, Staff Writer
CC Carter is a junior at Lake Forest High School who is an enthusiastic member of the tennis and soccer teams. Outside of school, she enjoys fashion, listening...