Thursday 13 with Kirsten Larson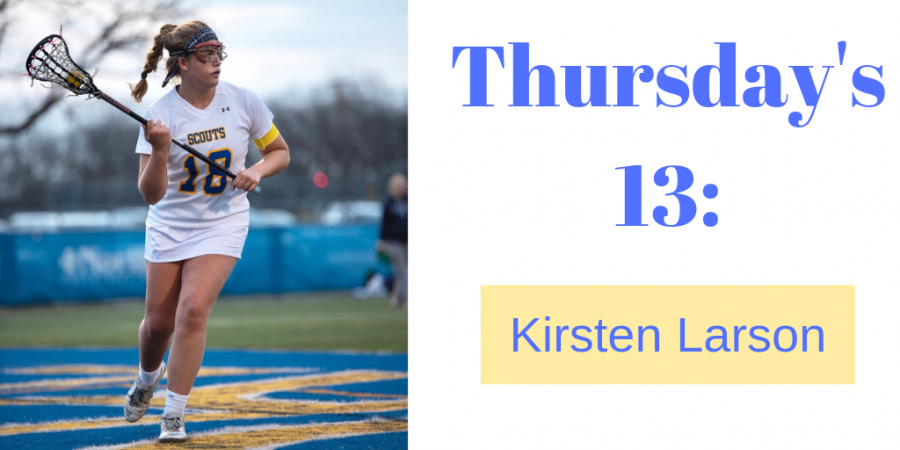 Kirsten Larson is a senior captain of the varsity lacrosse team. She plays attack and is an essential asset to the team.
How long have you played lacrosse for and why?
I have played lacrosse since the sixth grade. I have always loved the team spirit that surrounds the sport.
What is your favorite thing about lacrosse?
My favorite thing about lacrosse is the sports spirit and all the love that comes along with playing it. It's always such a positive vibe.
What is the biggest rough patch you've gone through in your lacrosse career?
I think I have gone through some time periods where my game hasn't been where I wanted it to be and I would get frustrated. Luckily, with the help of my coaches, I have learned how to get out of the rough patches.
What is your favorite lacrosse memory?
My favorite lacrosse memory is definitely traveling to various tournaments with Lauren Gambit and Addie Sidles. We had a lot of fun times together.
What are your goals for this season?
My goal is to have a really fun last season with all the girls but also have a successful season where we get better every day.
What is your favorite team tradition?
My favorite tradition is definitely showing up for each game and blasting music for 15 minutes before it's time to settle down and get serious. We all get super pumped together and it's a lot of fun.
What is it like being captain?
It's awesome being captain. Captain gives me the ability to have a little more responsibility and voice on the team. This year being captain has given me a different perspective on being a leader on a team, and it's been a great learning experience. I also love the team which makes it even better!
Do you think your white or blue uniform looks better on you?
Definitely white. White means we get to play at home and there is nothing like playing at west campus.
In terms of the boy's lacrosse team, who would you say is the most like you in a boy version? Why?
I really don't know the answer to that. I think I'm gonna go with George Schoettle; he is also a fellow senior.
What is your biggest fear?
I really don't have one specific fear, I think little things scare me for some time and then I get over it.
If your house was on fire, what three things would you take? (Family and pets are safe.)
My blue necklace that my grandma gave me, meaningful pictures, and probably my favorite sweatshirt.
If you could be any animal what would it be?
I would 100% be a dog. I'm a big dog person, and I couldn't think of anything better than being a family's golden retriever.
Do you like having a lot of hair?
It can be a real pain sometimes but I definitely like it. People always say I'll appreciate it when I grow up so I'm waiting for that!
Leave a Comment
Donate to The Forest Scout
Your donation will support the student journalists of Lake Forest High School. Your contribution will allow us to purchase equipment and cover our annual website hosting costs.
About the Contributor
Lily Fitzgerald, Staff Writer
Lily is a senior at Lake Forest High School. Lily has been on the varsity cheerleading team all four years of high school and loves school spirit. She...