Unsung Heroes
With Lake Forest Athletics, it's easy to shine light on the star players. But a 20 win season isn't encompassed by one or two people. Every successful team is built through all players doing their job to help earn W's. It's important to recognize the unsung heroes of Lake Forest High School and their efforts to make their team possible.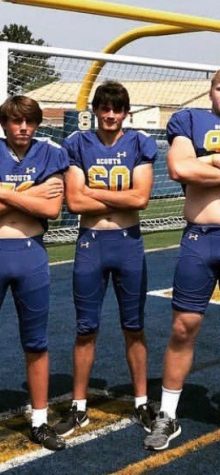 On the Scouts' Football Team, seniors Henry Feingold and Bill Avery display these efforts more than anyone else. Lineman are nowhere to be mentioned when students talk about the big game come Friday night. Defensive lineman Ben Marwede spoke on the behalf on Feingold's efforts, "Each week we prepared for a game, [Henry Feingold] played every rep at full speed and never took a play off. His dedication on making our team better is why we were able to defeat some of the toughest teams in the North Suburban Conference." Feingold displays the true meaning of Scout Pride and doing whatever you can to help your team. He's not a player journalists are interviewing for the newspaper, but one that his teammates will forever remember for his dedication to the team. Bill Avery, also a lineman, resonates the same theme. A huge contributor for the Scouts this year on both sides of the ball, Avery is a guy you want on your team. One teammate described him as, "one of our most competitive players. He would challenge you each rep you had against him and was always trying to make his teammates better." Bill earned a prominent role of this year's team due to his commitment to the sport. Winter lifts, summer camp, you name it, Bill Avery was there.
On the hardwood, junior Ainsley Wiesner made an immediate impact on the Girls' Volleyball team. With a sport where six people are on the court at once, it's hard to solidify your role without being the star player. With the strong presence of seniors on this year's team, Wiesner earned her time through hard work. While she didn't normally lead the team in kills, her reliability as a middle was always successful. Her experiences this year at the Varsity level were ideal looking at the future. Next fall, she may no longer be deemed as "unsung hero," but as a junior, she filled her role of helping the Scouts. Weisner's captain this year, Claire Mahoney, talked about how she contributed. "[Ainsley] always worked really hard in practice and strived to get better all the time." Constantly improving yourself as a player is best way to grow and Wiesner's mentality embraces it.
Of all the grueling sports offered at Lake Forest High School, Swimming and Diving has to be the one that trumps them all. With double practices that take place before/after school, swimmers have to constantly improve their times by swimming long hours every day, whether it be a normal Tuesday evening or the morning of Christmas Eve. In the water, junior Peter Landis is a diligent worker who doesn't shy away from any challenge. Landis swims some of the toughest events you can, and you'll never hear him complaining about it. At the college events meet earlier this year in Mequon, the junior swam both the 1000 freestyle and 400 IM in one day. The endurance and mental strength Landis swims with makes this completely normal for him. TFS' own John Torosian spoke on Peter's work ethic by describing him as "a real workhorse." Only a junior on Varsity, Peter Landis's potential is through the roof as he continues to makes the most out of his time in the water.
Being an unsung hero is something you should embrace as an athlete. Being successful at your role is the best thing you can do for your team. And within LFHS, Bill Avery, Henry Feingold, Ainsley Wiesner, and Peter Landis exemplify these traits. You need one player to win games, but you need a complete team to win championships.