NFL Week 2 Preview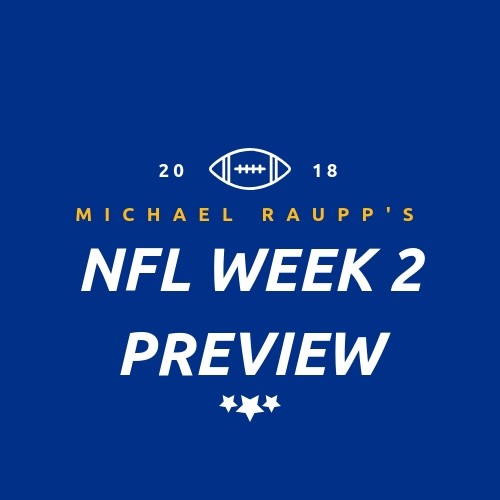 Hang on for a minute...we're trying to find some more stories you might like.
There is a plethora of riveting match-ups already coming this Sunday. Last night on Thursday night football, the Cincinnati Bengals, lead by Andy Dalton, prevailed against Baltimore; they improve to 2-0 for the first time since 2015. The remaining 15 game Week 2 NFL slate has key divisional battles and non-divisional matchups, which could easily have a profound impact on the playoff picture later in the year. Here's the Forest Scout Week 2 predictions:
Carolina Panthers (1-0) vs Atlanta Falcons (0-1)
Noon (Fox)
The Panthers survived at home against Dallas last Sunday, as they dominated the legarthic looking Cowboys. However, they suffered numerous injuries on the offensive side, including veteran tight end Greg Olsen and right tackle Daryl Williams. Meanwhile, Atlanta, who lost the kickoff game last Thursday vs Philadelphia, come into the game without safety Keanu Neal and linebacker Deion Jones. They should still scrape by the powerless Panthers' offense.
Pick: Falcons 23, Panthers 17
Indianapolis Colts (0-1) vs Washington Redskins (1-0)
Noon (CBS)
Colts' quarterback Andrew Luck didn't show any issues with his shoulder, throwing 53 passes in the loss against Cincinnati, in his first NFL game in over 500 days. They will have another tough matchup vs the Redskins, as they look to have an improved defense and Kirk Cousins' replacement, veteran Alex Smith, looked just as good. However, Andrew Luck will prove he is fully back and get his first win of the season.
Pick: Colts 28, Redskins 23
Houston Texans (0-1) vs Tennessee Titans (0-1)
Noon (CBS)
The Texans will be on the road for the second consecutive week. Both Houston and Tennessee will try and get back into the win column; both teams lost by 27-20 away from home a week ago. The Titans are banged up, as quarterback Marcus Mariota got injured in Week 1. The Texans have their own share of issues on the offensive line, but they should come out victorious.
Pick: Texans 20, Titans 13
Philadelphia Eagles (1-0) vs Tampa Bay Buccaneers (1-0)
Noon (Fox)
Both teams won last week, as the Buccaneers and veteran Ryan 'Fitzmagic' pulled off the major upset in New Orleans. The Eagles will start Nick Foles under center again this weekend; Carson Wentz has not completely recovered from a torn ACL and LCL in his left knee. The defensive unit Fitzpatrick will face this week is much better than last week, albeit, 'Fitzmagic' will not prevail in consecutive weeks.
Pick: Eagles 30, Bucs 20
Kansas City Chiefs (1-0) vs Pittsburgh Steelers (0-0-1)
Noon (CBS)
The Chiefs' offense was firing on all cylinders last week. Second year man Patrick Mahomes has already established a strong rapport with receiver Tyreek Hill in the season opener. Steelers quarterback Ben Roethlisberger status is up in the air, but James Connor filled in just fine for the absent Le'veon Bell. However, the Chiefs will still come out on top, as the Steelers will not be able to keep up with their high powered offense.
Pick: Chiefs 35, Steelers 28
Miami Dolphins (1-0) vs New York Jets (1-0)
Noon (CBS)
It is hard to believe one of these teams will start the season 2-0. But if rookie sensation Sam Darnold can improve on his strong NFL debut from Monday night against Detroit, they can stay hot going into Week 3. Although the Dolphins looked impressive on defense last week, Darnold will ride the hot hand to Cleveland, where they could realistically start 3-0.
Pick: Dolphins 23, Jets 27
Los Angeles Chargers (0-1) vs Buffalo Bills (0-1)
Noon (CBS)
The Chargers should steamroll the Bills this week, without star defensive end Joey Bosa, who is dealing with a foot injury that held him out in the season opener. Additionally, Josh Allen will make his NFL debut at quarterback. With potent weapons, on both offense and defense, with an inexperienced quarterback, this game could get away fast.
Pick: Chargers 35, Bills 7
Minnesota Vikings (1-0) vs Green Bay Packers (1-0)
Noon (Fox)
This division tilt will be one of the better games of the weekend… if Aaron Rodgers can play on what he calls a "sprained knee." As the Packers saw last week and a season ago when Rodgers went down, without their franchise quarterback, things can get ugly. The Vikings looked dangerous last week, as they have found their man behind center and have one of the leagues top defenses.
Pick: Packers 24, Vikings 28
Cleveland Browns (0-0-1) vs New Orleans Saints (0-1)
Noon (Fox)
With a scrappy tie vs Pittsburgh last week, at least we know the Browns can't go 0-16 this year. The Saints defense looked atrious last week, but there is too much talent we saw a year ago to think they can't turn it around. The Browns sooner than later will reach the win column, but they might have to wait another week.
Pick: Browns 17, Saints 30
Detroit Lions (0-1) vs San Francisco 49ers (0-1)
3:05 (Fox)
After a pick 6 on Sam Darnold's first NFL pass, the Lions defense looked awful. The offense had their own problems protecting Matthew Stafford, resulting in him to leave the game. The task does not get any easier this week, as the team heads to San Francisco to face a team too looking to get in the win column. Jimmy Garoppolo will right the ship and leave the Lions in the dust.
Pick: Lions 17, 49ers 27
Arizona Cardinals (0-1) vs Los Angeles Rams (1-0)
3:05 (Fox)
After bulking up their roster on paper this offseason, the Rams looked just as good on the field Monday night vs Oakland. The Cardinals and Sam Bradford had their struggles on offense against Washington and there is no reason to believe, facing an even better defense, they can find their stride this week.
Pick: Cardinals 16, Rams 30
New England Patriots (1-0) vs Jacksonville Jaguars (1-0)
3:25 (Fox)
This is clearly the game of the week, a rematch of the AFC Championship game. Although the Patriots edged out Jacksonville a season ago, the Jaguars continue to improve their already strong defensive unit. Blake Bortles won't need to play the hero, as their defense should carry the freight, even against the mighty Tom Brady.
Pick: Patriots 20, Jaguars 27
Oakland Raiders (0-1) vs Denver Broncos (1-0)
3:25 (Fox)
The Raiders looked like a team without a plan on Monday night. Meanwhile, Denver looks like they have found their man at quarterback, after a quarterback carousel ever since Peyton Manning retired. If Case Keenum looks like he did last week and the Broncos pass rush can continue to get to the quarterback, Jon Gruden will have a lot to look at going into Week 3.
Pick: Raiders 17, Broncos 34
New York Giants (0-1)  vs Dallas Cowboys (0-1)
7:20 (NBC)
These two divisional foes will face off on Sunday night, both trying to get their season on track. The Cowboys looked terrible on offense to say the least and besides one big run from rookie phenom Saquon Barkley, New York had their own issues. However, the Giants are much better than they looked on offense, leaving more hope than the Cowboys offensive unit, which could not get out of their own way.
Pick: Giants 24, Cowboys 14
Seattle Seahawks (0-1) vs Chicago Bears (0-1)
Monday, 7:15 p.m. (ESPN)
The Bears have a much needed home game, after a collapse last Sunday night; but the stage does not get any lower. Chicago needs much more out of second year quarterback Mitchell Trubisky, who looked out of place at times last week. However, the defense showed up, especially with the addition of game-changing pass rusher Khalil Mack. Russell Wilson will find a way to keep Seattle in the game, but the Bears will get their first win and put faith back into their fanbase.
Pick: Seahawks 24, Bears 30
About the Writer
Michael Raupp, Staff Writer
Michael Raupp is looking forward joining The Forest Scout as a junior. He enjoys running on the cross country team, watching baseball, and running track...