Drop of the Week: Famous Dex's "In the Bank" feat. YoungBoy Never Broke Again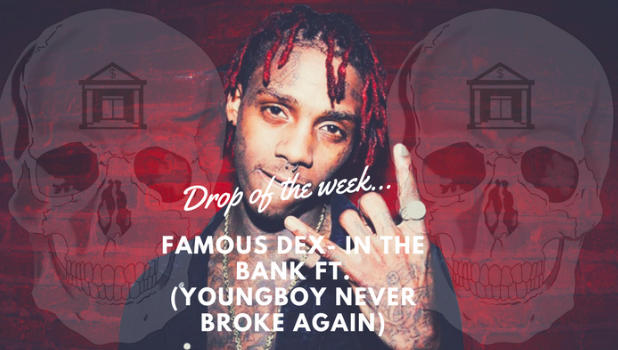 Warning: This song contains explicit language and content that may not be suitable for students of high school age. The song was chosen for its expressionism and implementation of new, experimental styles, not necessarily the message expressed by the artist. Be sure to follow @theforestscout on Spotify for curated playlists by all of the authors.
Dexter Gore Jr, better known as Famous Dex, is a New York native and rap artist sky rocketing through the top of the Billboard charts. Born in New York, Famous Dex had a rough upbringing, some of which continues to inspire him to create new music for today's hip hop scene. Dex is primarily known for him for his pop rap, trap and drill style that preaches everything from glorifying a lifestyle of money and cars to growing up in a rough neighborhood.
Famous Dex is one of the most creative artists in the rap game right now. HIs music, which primarily focuses on the creative aspect of youth culture rather than violence and danger, is new and experimenta. To many's surprise, many of Dex's friends call him Black Migos. Because Dex is one of the only Muslim rappers ever, he suddenly mentions it in many of his new tracks. Famous Dex was the first person to be signed by the record label "Rich Forever Music," established by fellow rap artist Rich the Kid. Today, Dex is also CEO of Rich's record label and looks over more than 300 tracks produced by him and fellow artists.
Famous Dex released his debut mixtape "Never Seen it Coming" in 2015, which included songs such as "Your Fault," "Jealousy, " and "For the Low." These tracks started off a rise to fame and glory for Dex in the rap industry. After this first drop, Dex was hungry for more and released another mixtape, titled "Dexter's Laboratory" in late 2015. This drop gained him a massive  following, as this is where Dex started to produce serious tracks and albums.
After releasing multiple hits and albums, Dex turned his attention to working on his newest album. Dropping one of the singles named, "In the Bank" to hype up the album, the starting of the track opens up very fast with Dexter rocking his drill/trap style. The beat consists of a simple snare combined with various trap drums. But what sets it apart from the rest of Dexter's music is the perfect combination of Dexter's lyrics and YoungBoy Never Broke Again's featured lyrics. The beat is about the same as the rest of Dex's songs, but is combined with the lyrics that shed viewpoints covering all the money Dexter has claimed over his career in the rap game.
Overall, the excitement of Dexter's new album is getting to fans and artists alike. Many are hoping for a new album sometime in the spring, or possibly before the summer crawls into Chicago. With many artist like Lil Uzi and many others smashing the Billboard charts during the summer months, and garnering acclaims like "best summer song," Dexter is focusing all of his attention to his own project.
About the Writer
Patrick Philpott, Author
Patrick Philpott is one of the writers for The Forest Scout. He enjoys all music and his favorite subject in school is English. Patrick is currently a...