Drop of the Week: 'I Got the Bag' Young M.A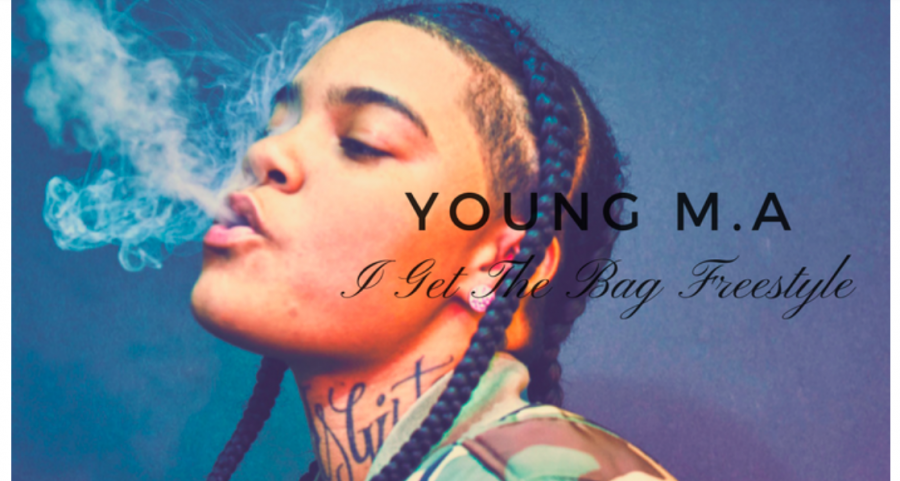 Katorah Marrero, formerly know as Young M.A is an up-and-coming female rapper that's helping to keep the wave of female rap artists exploding into 2018. Throughout her life, M.A has used her experiences in the rap game–as well as in life as a female–to jump into a game that primarily has been dominated by a male presence. The release of the popular Gucci Mane song "I Got the Bag" freestyle shows the capability of her lyricism and overall skill as an artist.
M.A was born on April 3rd, 1992 in East New York in a residential neighborhood. Her father was sentenced to jail while Marrero was just age one and he remained incarcerated until the age of eleven. With her father out of the picture, M.A's mother played a major role in her upbringing. At the age of seven, her mother decided to relocate the family to Chesterfield, Virginia due to the school systems and its location outside of the dangerous grip that violence had over parts of east New York. She began writing her rhymes in her note book at the age of nine while her mother would work at the corner store to afford rent. 
After being offered a spot on the hit TV drama Empire and declining the spot, M.A wanted to take her passion for music seriously. In 2014, a big controversy arose from the rap game over American author Dr. Boyce Watkins posting on his Facebook criticizing M.A's lyrics on her freestyle "Brooklyn (Chiraq freestyle)" which, in the end, benefitted the young rapper. The author criticized her for her lyrics, which glorify violence, black racial killing, and an overall sense of negativity. But after gaining attention, people flocked to the freestyle to hear the song, which became insanely popular and ultimately reached the 9 million view threshold on YouTube. Young M.A released her debut mixtape, "M.A the Mixtape", on March 15, 2015. This mixtape included songs such as "Body Bag" , "Girlfriend" , and "Henny Dance." After streaming on Spotify over 3.34 million times by 140 thousand unique listeners, the album was downloaded over 40 thousand times. This debut album helped to launch her career, and she later began working with artists from all around the world.
Not many people saw this freestyle coming. After finishing the "Issa Tour" with 21 Savage, many thought that M.A was going to focus her attention on a new mixtape or album. But to everyone's delight, listening to her freestyle you can tell there was heart put into this one. Young M.A has already defended her own as an artist–nevermind as a female in a male-dominated game–but many have been blown away by the complexity of her style. Gucci Mane has a very trap and dark beat to it, while M.A preaches various gospel and trap styles of music. It was an interesting choice to freestyle for. Her lyrics preach about the rap life, the gloried existence of fast cars filled with women and outrageous money binges. Ever since she got into the rap game, M.A has taken criticism for simply being in a girl doing her best in a male-dominated field, but in her lyrics she talks about her ability to fly above any rapper.. regardless of gender.
About the Writer
Patrick Philpott, Author
Patrick Philpott is one of the writers for The Forest Scout. He enjoys all music and his favorite subject in school is English. Patrick is currently a...