Friday Night Lights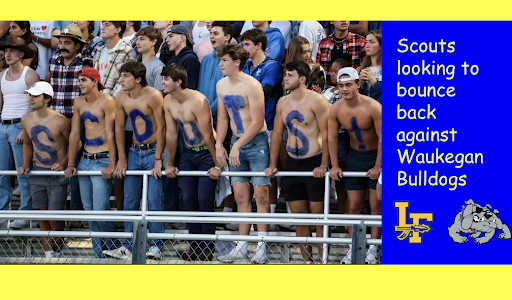 After a more difficult start to the season than in recent years, the Scouts are keeping their heads high and have been working hard to fix issues on both sides of the ball in the last two games. 
"We have just been beating ourselves," said senior Sheppard Graf . "We've had a lot of mental errors holding us back. We just want to clean up how we are playing and fix OUR mistakes."
The Scouts will have an opportunity to get back on track and fix some key mistakes Friday night as they take on an NSC conference opponent, the Waukegan Bulldogs (0-1). The game will kick off at 7:30 pm at West Campus and the theme for the evening is USA. Students are encouraged to dress to the theme and pack the stands as the Scouts take on the Bulldogs in an exciting Friday night lights matchup. 
About the Bulldogs: Last year, the Bulldogs were led by junior Bryan Lopez who led them to a disappointing 1-7 record. With more experience under his belt, it should be a closer matchup than the Scouts last showing against the Bulldogs, which was a whopping 49-8 Scout win back in the 2020-21 season. Lon McLeaden is another player to watch for the Bulldogs as he was their primary rusher in their first game of the season.
About the Scouts: The Scouts have had a rough start to the season with mental errors on both sides of the ball, as well as a slew of unfortunate injuries and concussions to key players. The Scouts have certainly had some bright spots though with Marty Hippel and Harry Kotlarz as their primary rushers, and Kotlarz again, as well as Ryan Hippel as their primary pass catchers. Tommie Aberle and Brady Goodman have both been key for the Scouts on defense, combining for 4 total sacks across the first two games.