Scouts Win 48-8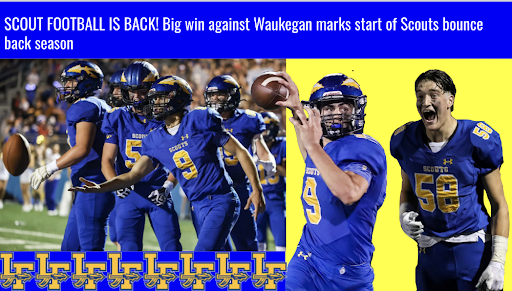 Despite a rocky start to the season, the Scouts welcomed the Waukegan Bulldogs in their first NSC Conference game of the season, and  the Scouts opened up their Friday night lights matchup scoring 34 unanswered points in the first quarter, ultimately winning the game 48-8.
Off to a roaring start, the Scouts relied heavily on the run game, having 340 rushing yards and zero pass attempts throughout the whole game. The Scouts started slow, scoring a touchdown three minutes in, but then missed the PAT. The Scouts then exploded and started to spread out the scoring attack with Harry Kotlarz having three touchdowns, Marty Hippel having a long explosive run and turning it into another, Graham Garrigan having two, and then Nathan Williams returning a punt for a touchdown. 
The Scouts are very confident in the run game, but the passing game over the past three games, especially the most recent game, clearly leaves much to be desired. 
"Last week was a program game. We knew going in that we just had to execute the game plan, which we did well, and the results showed," senior tight end Sheppard Graf said. "This week, we will continue to better ourselves but also work on our pass game in practice." 
Another improvement for the Scouts Friday night was the performance of the offensive linemen after having issues with the linemen crowing the ball too much. "I thought our linemen came off the ball better," senior Robert Pasinato said. "This week, we will continue to work on our run game because that is something that has worked for us in the past."
The Scouts continued the trend of unanswered scoring until the 3rd quarter. With the Scouts up 48 to 0, the Bulldogs stayed in and completed until the very last minute, scoring a rushing touchdown with 5 minutes to go and then rushing for a 2pt conversion, leading to the final score.
The Scouts were in control of this game from start to finish. The team has turned around their season and will continue this momentum into the next game- Homecoming against their NSC conference rival Libertyville Wildcats. 
Final score:48-8