Homecoming Football Game Preview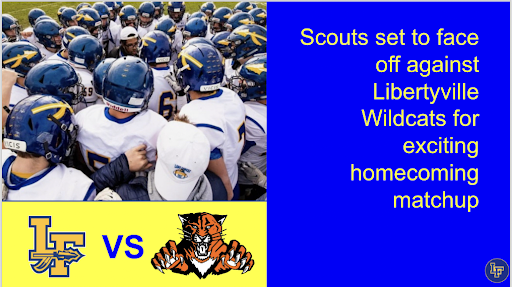 The Lake Forest Scouts (1-2) are set to face off against the Libertyville Wildcats (1-2) tonight for the Scouts' homecoming game. This should be an exciting, well-balanced home matchup for the Scouts, as they seek to extend their winning streak against the Cats to three in a row. 
"I have been looking forward to all the games this season, but getting homecoming against Libertyville is really exciting for our team," quarterback Robert Pasinato said. 
The Scouts started out the season with a team composed of seniors, juniors, and sophomores, almost evenly split across the board which is atypical for a Lake Forest football team thst is typically dominated by upperclassmen.  With only 12 seniors, the team seemed to be at a disadvantage compared to other teams with more experienced players, but the Scouts continue to call on their season themes of youthfulness and chemistry, helping make the Scouts get stronger throughout the season as they all grow closer and more experienced in the sport as a team. 
"We have a lot of sophomores up with us but I feel that the seniors have done a good job setting examples," senior Sheppard Graf said, reiterating how setting the example and making the team closer with each other will be important for the rest of the season. 
About Lake Forest: Lake Forest had a challenging start to the season; however, they recently had a BIG win against the Waukegan Bulldogs, and a significant part of their offense was their run game. The Scouts rallied for 340 rushing yards and a total of six rushing touchdowns against the Bulldogs, but watch as the Scouts worked the pass game this week, and they will definitely pivot to passing opportunities to keep the Wildcat defense on their feet. On the other side of the ball, senior defensive end Brady Goodman is having a great season, posting 13 tackles, 3 sacks, and 2 forced fumbles in the first three games of the season. 
About Libertyville: Libertyville had a different start to the season than Lake Forest, losing to Lemont, then beating Evanston Township, and then losing their first NSC conference matchup to 8th ranked Warren. Through tough losses and marginal wins, Libertyville has had some bright spots on offense in the duo of senior rushers Rocco Lavista and Charlie True who combined for over 150 all purpose yards in the matchup against Evanston. They also rely on senior receiver Kristian Gavric who recorded 4 receptions for 111 yards in that same game.