Scouts suffer tough loss against Lake Zurich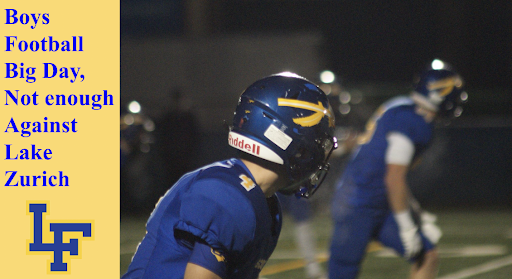 After a tough loss in an NSC conference matchup against the Stevenson Patriots, the 2-5 Scouts took on another NSC opponent, the Lake Zurich Bears (6-1), at home. 
On this cold 46 degree Friday night, neither team had the broad support they both had seen throughout the vast majority of their seasons. 
Lake Zurich, a team with serious momentum going into this game after beating 5th ranked Warren, opened the game looking pretty pedestrian. 
Both the Scouts and the Bears remained scoreless through the first quarter and a half until Lake Zurich threw a pass from their own 20-yard line which resulted in an 80-yard catch and run for a touchdown. 
From there, it was a back-and-forth battle up until half with the Scouts clawing their way back in with a double-covered 20-yard catch and run from junior Graham Garrigan which resulted in a touchdown. The Scouts missed the PAT.
The two teams maintained this low-scoring battle going into halftime with the Bears maintaining a one point lead. The Scouts were looking to stay in this game after battling with a very talented Lake Zurich team.
The Scouts received the kick from the Bears after the half but weren't able to do much with it and ended up punting to the Bears 40 yard line. After some penalties that negated some serious positive gain from the Bears, Lake Zurich threw a 63-yard pass for another touchdown, making the score 13-6 and connected on the PAT, making it 14-6.
The rest of the game was a non scoring back and forth battle between Lake Zurich and Lake Forest with a plethora of turnovers on downs and punts downed in the other teams' red zones. The final had the Scouts on the short end of the 14-6 score.
The Scouts look to bounce back against a very talented Warren team this Friday. As this is the Scouts last home game, the seniors will be honored before the game.