Outfit of the Week featuring Eleni Ballis
For this week's outfit of the week is senior Eleni Ballis.
Eleni is rocking cheetah flare pants from Urban Outfitters, which have been an ongoing trend this season. Eleni flawlessly paired these fun pants with a creme colored sweater from Free People.
This combo was the perfect balance between the two pieces to keep it right on-trend.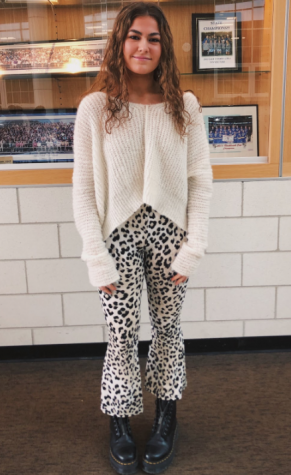 To pull this whole look together, she wore black platform Doc Martens. Doc Marten's have made a statement in the halls of LFHS this year as they have been becoming more and more popular. 
Not only did these match the outfit flawlessly, but they added another layer of style.
How would you describe your style?
"I don't really have a style, so I like to be bold and chic and just base my style off of my personality."
What are your top 3 stores to shop at?
"I really like Free People, Urban Outfitters, and probably Zara."
What influencers do you look to for style inspiration?
"I like Rihanna, Madison Beer, and Kylie Jenner."
Stay tuned for next weeks OOTW!