Style Profile #2: Eleni Ballis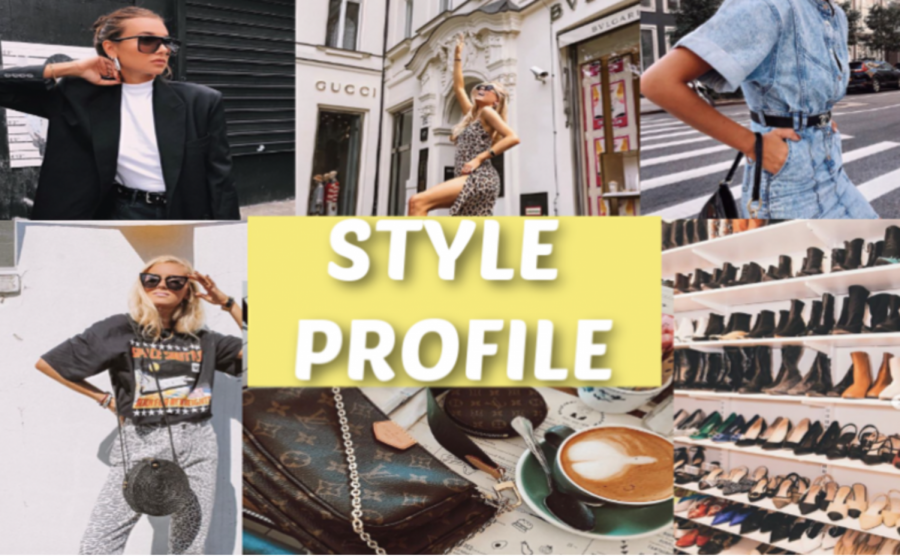 STYLE PROFILE is a column written by Rory Summerville and MK Peters, where they find students with unique and trendy styles and report their outfits for a week. 
Senior Eleni Ballis is always seen wearing new trendy pieces around the halls of LFHS and is definitely someone to take fashion advice from. Below are the outfits she wore this past week!
MONDAY-
To start the week, Eleni is wearing a light pink ruffled bodysuit from Aritzia. She paired it with some medium-washed ripped jeans from Levi's. Eleni also added some floral Gucci slides for a casual but super fashionable look. So stylish! She finished off the outfit with some hoop earrings and various rings and bracelets from boutiques to add a little more to her outfit. Eleni expressed that she "wanted something fast and easy to wear so I slipped on a bodysuit and some jeans to make a cute outfit."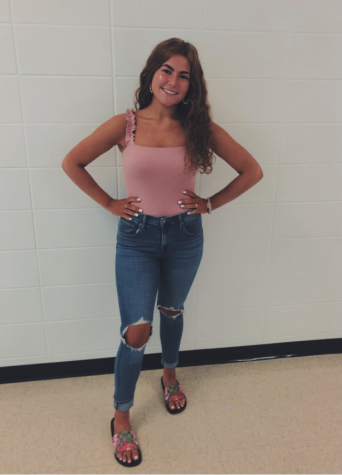 TUESDAY- 
Eleni came back the next day wearing a black long-sleeve shirt from Aritzia and some unique snakeskin shorts from Zara, which is following the current animal print trend. She paired the look with some star-studded white sneakers from Nike. She accessorized with some silver hoop earrings, and dainty silver necklaces and rings. Eleni decided to add some humor today and said she wanted to "wear her friends today," which was why she chose the snakeskin print shorts.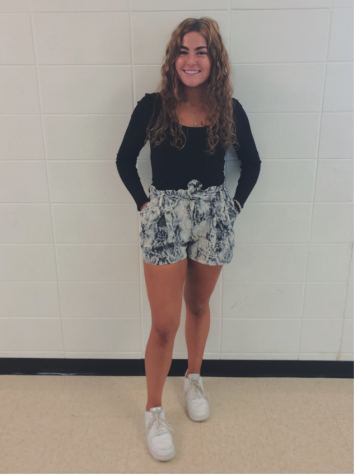 WEDNESDAY-
For Eleni's third look, she is wearing a blue and pink striped tunic from Free People with some white jean shorts underneath from American Eagle. She paired this look with the same star-studded Nike sneakers and various silver jewelry. She also added a tassel bracelet from Vivianne Ivonne! This outfit is a super cute way to transition to fall, while still keeping the outfit colorful. 
"I'm neglecting that it's fall so I wanted to wear something a little summery," said Ballis.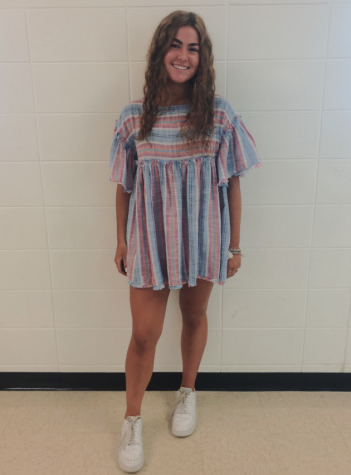 THURSDAY-
For Eleni's second to last look, she is wearing a red ruched Aritzia blouse with puffed sleeves. She added some light wash denim jeans from Target with zippers on the side; a super trendy little touch! She finished off the outfit with a cream cardigan from Neiman Marcus so that she wouldn't be cold with the fall weather rolling in. Lastly, she wore the same Nike star-studded sneakers and accessorized with the same silver jewelry. "I bought this blouse and hadn't worn it yet so I wanted to wear it before it got too cold," stated Eleni.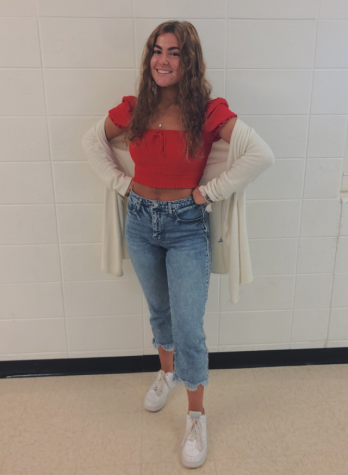 FRIDAY-
For Ballis' last look, she is wearing a tan tracksuit from Free People. Tracksuits, especially this one, are a great way to make athleisure wear look super fashionable. She paired this look with the same star-studded sneakers as the previous few days and various silver jewelry. Eleni explained that her mindset for this outfit was that she "wanted to look sporty but also cute at the same time."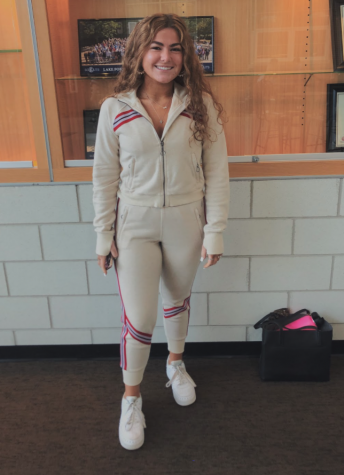 Stay tuned for next week's Style Profile!
About the Writers
Rory Summerville, Staff Writer
Rory Summerville is a junior at Lake Forest High School. She is a member of the girls cross country team and manages the girls varsity basketball team....
MK Peters, Staff Writer
MK Peters is a Junior at Lake Forest High School. She is a member of the Cross Country and Track teams. Her favorite subject is English, and she likes...