Fashion Week #4
In Ella White's column, FASHION WEEK, she finds LFHS fashionistas and follows them through their school week and reports their outfits.
Junior Margo Thornberry catches my eye when I see her walking through the halls, modeling the latest trends. Everyone is always waiting to see what she will wear next.
Monday …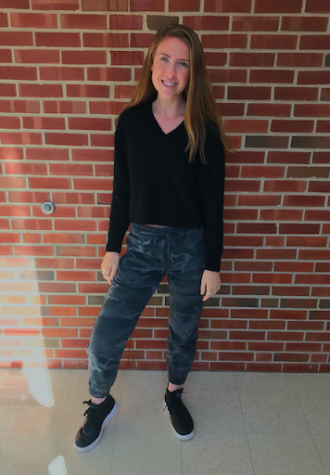 Margo is wearing a black v-neck sweater with dark camo joggers from Aritzia. To finish off the look she wears black Nike high-tops which continues the dark color palette. I asked Margo what her mindset for this outfit and she said, "it's super warm and cozy but looks more put together compared to other styles of loose pants. Oversized cashmere sweaters are super soft and warm for fall too."
Tuesday …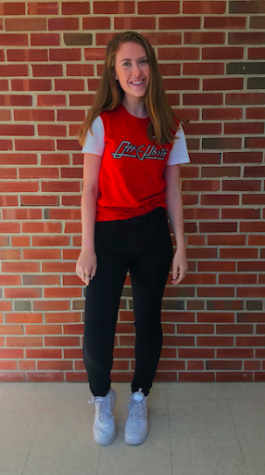 Margo is wearing a red and white color blocked Off-White shirt with black jeans from Joe's Jeans. She then throws on white Nike high tops. Finally she adds some silver and gold rings for some accessories. I asked what Margo's mindest was and she said, "by wearing a trendy brand like Off-White it is a good way to make simple jeans and a tee look more presentable and stylish." You will always see Margo sporting a new trend everyday and today is Off-White.
Wednesday …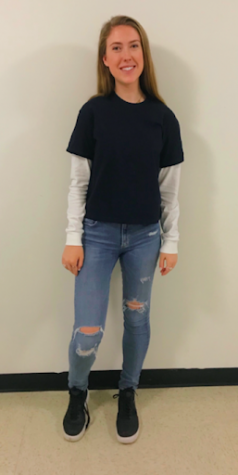 Margo shows us a new trend which is layering shirts. The white long sleeve shirt and the navy short sleeve she is wearing on top are both from Brandy Melville. She pairs these tops with light washed ripped jeans from AGOLDE. Moving down the outfit to her shoes Margo is wearing black high tops from Nike. Finally, she adds on a last minute choker that she mad at Chelsea's Beads. When I asked Margo what her mindset for this outfit was she said, "by wearing layered shirts it's a cute way to warm up but still look presentable, high rise jeans are super comfy during the school day and the light wash looks good with the shirt."
Thursday …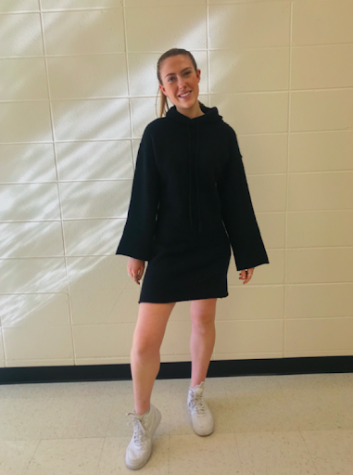 Margo is wearing a black sweatshirt from Aritzia and white shoes from Nike. This outfit is perfect for the winter and fall because it is very comfortable and warm. This look is also trending with various celebrities today! I asked Margo what her mindset was for this outfit and she said, "sweatshirt dresses are so warm and comfy and are super easy to throw together but at the same time they are super cute."
Friday …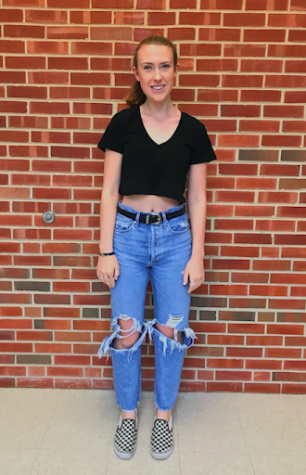 To finish off the week Margo is wearing a black cropped v-neck shirt from Brandy Melville. With the top she adds light washed ripped jeans from AGOLDE and also accessories them with a black belt with silver hardware from Brandy Melville as well. Lastly, she adds black and white gingham shoes from Vans. I asked Margo what her mindset was for this look and she said, "buying loose ripped jeans is super in and very comfortable and by adding a styling belt with silver hardware it makes it super trendy."