Fashion Week #6
Hang on for a minute...we're trying to find some more stories you might like.
In Ella White's column, FASHION WEEK, she finds LFHS fashionistas and follows them through their school week and reports their outfits.
Senior Michael Pasquella is always up to date with all upcoming men's fashion trends. He always surprises me how much he knows about fashion and even keeps me up to date with all the fashion and music news.
Monday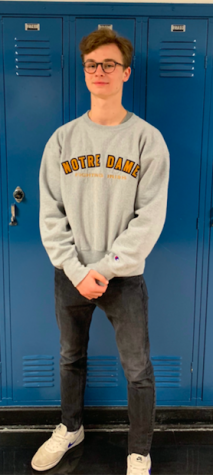 Today, Michael is wearing a retro Notre Dame crewneck sweatshirt that was originally his dads. He pairs the sweatshirt with distressed black Levi's jeans. Michael said,"I like thinner fit jeans and the black color is a good way to switch things up." As for shoes, he throws on white Nike sb's that have a royal blue swish for some color. Michael said,"there's nothing better than a clean white sneaker." Finally for accessories Michael is wearing brown circle framed glasses by Oliver's People which really fit the whole retro vibe.
Tuesday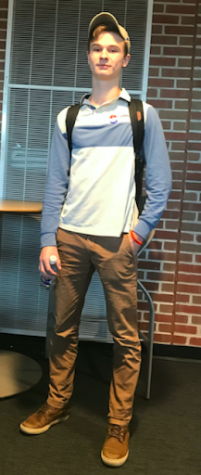 Today, Michael is wearing a white and blue color blocked shirt from Club Room. "This shirt is comfier and has more flare than a classic polo or a button down, I like the off-putting color contrast on the shirt as well" Michael said when I asked him why he picked this shirt. For pants he goes for a simple dark brown khaki pants from H&M. For shoes, he is wearing Timberland boots that he thought paired well with his pants. In this outfit Michael adds on some final touches such as a tan NY Knicks hat which he thought also went with the color scheme. Finally, he voted! He said,"the voting sticker is the best part of the outfit!"
Wednesday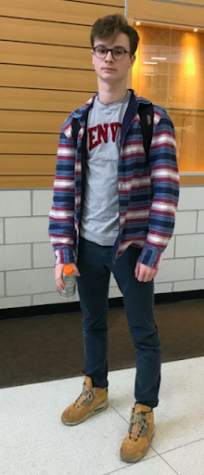 Michael is wearing a blue, red and white Eddie Bauer Jacket. Under the jacket he is wearing a Denver University t-shirt. For bottoms, he is wearing navy pants from H&M that go very well with the color scheme of his shirt and jacket. Finally, he is wearing tan Nike Air Max 90 sneakerboots to complete the outfit. He said,"I got a lot of heat for theses when I first got them but people think they're dope now."For this outfit he also brings back his Oliver People circle framed glasses. I asked Michael what his mindset was for this outfit and he said,"I liked the relaxed design and jackets that you leave open because layering is key. I love fall and the sneakerboot look is perfect for fall and winter."
Thursday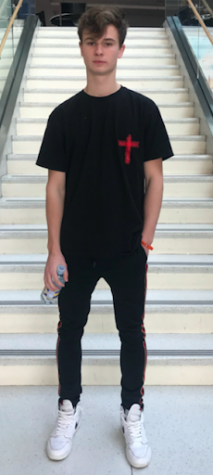 Today Michael is wearing a very trendy outfit. He is wearing a black and red Sheck West "Sheck Jesus" merchandise t-shirt. With the shirt he also wears black joggers that have a red and gold stripe down the side from Pacsun. As for shoes. Michael is wearing white Jordan 1's from Nike. I asked Michael what made him pick this outfit and he said,"I love Sheck West and have been following him for awhile so I had to buy his merchandise to support his new album. I went with these joggers because I liked the red and gold stripe stripe down the leg, and it also pairs well with the shirt. I also am really into high tops with joggers."
Friday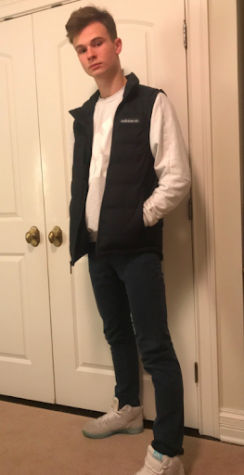 Michael is wearing a gray Adidas sweatshirt. Over the sweatshirt he throws on a black Adidas vest since it is pretty cold. For pants he is wearing navy pants. To finish to whole outfit he picks out white and blue Nike SB Baohaus shoes. I asked Michael was his mindset was for this outfit and he said,"I thought the sweatshirt with the vest was just basic and clean. My shoes are pretty flashy with the blue sole, so I can only pull them out every once in awhile and I thought this would be a good time to do so."
About the Writer
Ella White, Author
Ella White is a senior at Lake Forest High School who plays tennis and soccer. She is also the Student Body Vice President. She loves pizza, fashion and...