Style Profile #5: Sascha Robb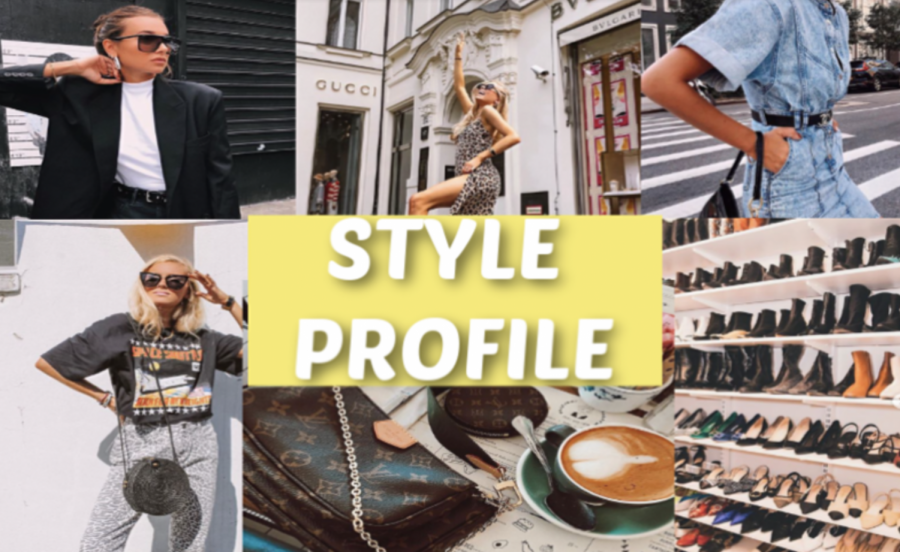 STYLE PROFILE is a column written by Rory Summerville, where she finds students with unique and trendy styles and reports their outfits for a week. 
Even though she's only a freshman, Sascha Robb has caught my eye the first few months of school. Whether it's a comfy or fancy outfit, she manages to always look super stylish. Here is what she wore this past week!
Monday …
For her first look, Sascha chose a light gray long sleeve t-shirt from Urban Outfitters. She paired it with ripped jeans from Levi's. Jeans like these have been super popular because they pair well together with any type of top to make a super cute outfit. Sascha also chose white high top Nike sneakers with star detailing. She accessorized with earrings from Valentina and necklaces from Etsy.
"I wanted to show off my new shoes so I paired them with this outfit," said Sascha.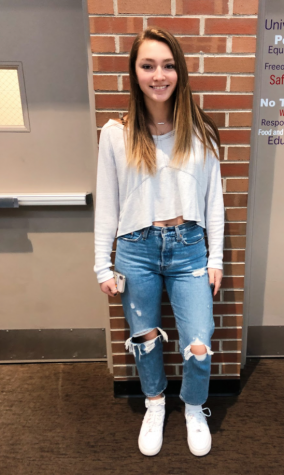 Tuesday …
Sascha went for a cozier outfit on Tuesday by wearing marble leggings from Lululemon. For her top, she wore a cropped black sweatshirt from Brandy Melville. Pairing patterned leggings with a solid colored top is a great way to spruce up athletic wear. She added the same Nike high top sneakers as Monday to finish the look. Finally, she accessorized with silver jewelry from Free People and Valentina.
Sasha said she "wanted to be comfortable, but still cute today so I chose this."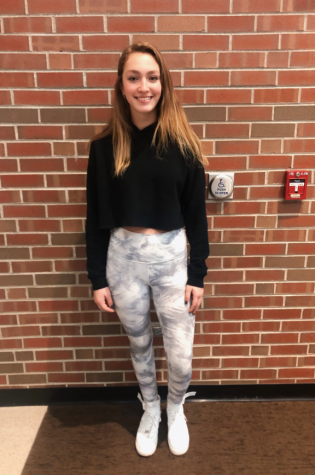 Wednesday …
Sascha switched it up for her third look by wearing a silky cami from Urban Outfitters with black jeans from Abercrombie. She paired her jeans with black lace-up boots from Steve Madden. Boots like these are great for the winter because they are stylish and keep you warm. For accessories, she chose a black and silver belt from Urban Outfitters and various silver jewelry from Free People and Valentina. "I have never worn this shirt so I wanted to wear it today and I thought it looked cute with these pants."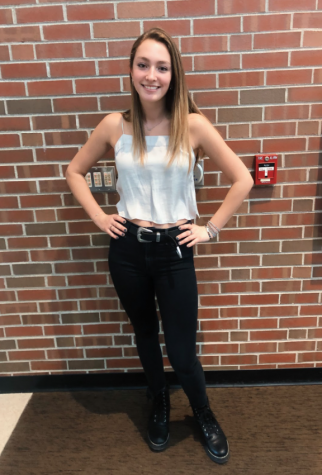 Thursday …
Sascha decided to take advantage of the warmer fall weather and wear a black one-shoulder top from Reformation. She stuck with a darker color scheme and chose grey ripped jeans from Urban Outfitters. To lighten up the outfit she wore white low top sneakers from Nike. She accessorized with silver jewelry from Valentina. Jewelry is a super simple way to make an outfit look more put together. For this look, Sascha said, "I haven't worn this outfit yet so I wanted to wear it on a day where it was sort of warm outside."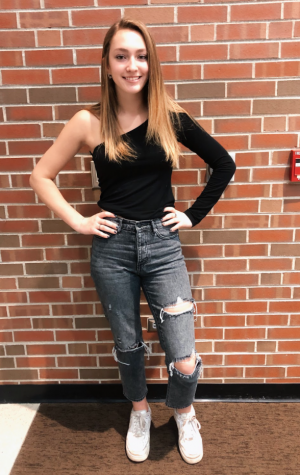 Friday …
For Sascha's last look, she is wearing a long-sleeve camo t-shirt from Aritzia. Patterned tops, especially camo, are a great way to make an outfit trendier instead of wearing a plain shirt. She paired this top with black ripped jeans from Zara. For shoes, she chose the same high top Nikes with star detailing. She finished off the look with silver dangling earrings from Free People and a silver necklace from Etsy. "I wanted a street style type outfit, but still comfy," said Sascha.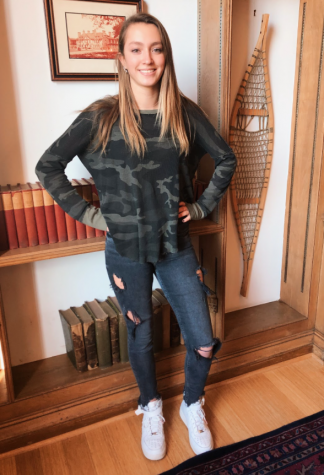 Stay tuned for the next Style Profile!
About the Writer
Rory Summerville, Staff Writer
Rory Summerville is a junior at Lake Forest High School. She is a member of the girls cross country team and manages the girls varsity basketball team....