Style Profile #3: Ava Douglass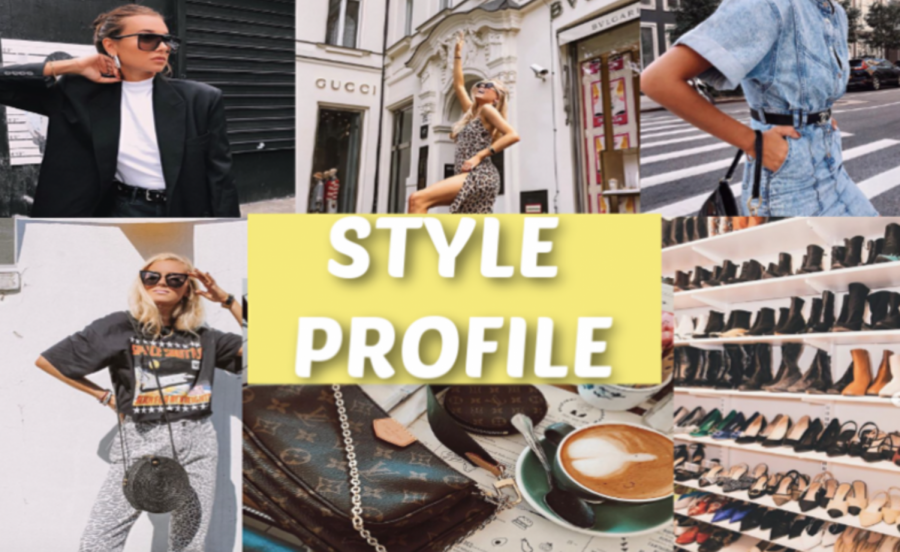 STYLE PROFILE is a column written by Rory Summerville, where she finds students with unique and trendy styles and report their outfits for a week. 
Sophomore Ava Douglass is a member of the varsity dance team and always manages to capture the perfect sporty but chic look. Here are her outfits for the recent week as we begin to transition into fall!
MONDAY-
Ava started the week by wearing a classic white ruched tee from Brandy Melville. She paired the top with black yoga pants from Lululemon and a cream corduroy jacket from Urban Outfitters. Jackets like this one are a great way to spruce up an outfit and prepare for the colder weather. For accessories, Ava added a gold lock necklace from Urban Outfitters and finished off her outfit with white sneakers from Adidas.
"It was Monday so I just wanted something comfortable and easy to wear," she said.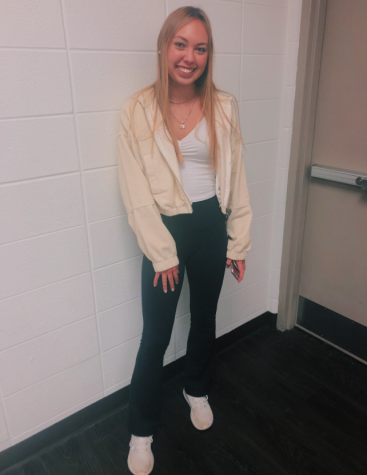 TUESDAY-
For Ava's next look, she is wearing a white textured blouse from Topshop, with black ripped skinny jeans from Free People. She also added a black and gold belt from Princess Polly to spruce up the look a little bit. To finish off the look, she added white and navy star sneakers from Estreet. So on-trend! She accessorized with a silver dainty necklace from Valentina and star earrings from ALV jewels.
For this look, Ava said, "my top was the first thing I saw in my closet so I just paired it with a simple pair of black jeans."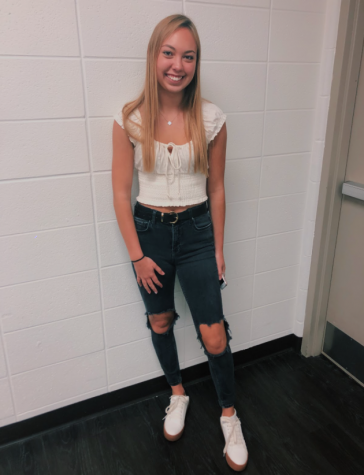 WEDNESDAY-
Today, Ava is wearing a light grey shirt with a white bralette underneath, both from Free People. Free People is a great place to shop for tops and sweaters of all kinds! For pants, she chose light blue skinny jeans with a white stripe on the side from Garage. She paired this look with dark grey zip-up booties from Steve Madden. She accessorized with some gold necklaces from ALV jewels, so the outfit wouldn't be too plain.
Ava's mindset for her outfit was to wear "something simple like jeans and a comfy shirt because that was a good way to go."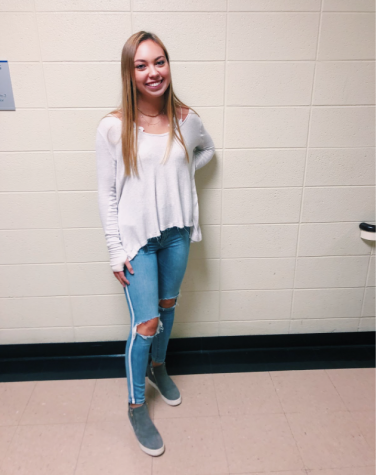 THURSDAY-
For her second to last look, Ava chose to wear a black knit sweater from Free People with a black bralette underneath, similar to her look yesterday. She also chose light wash baggy ripped jeans from Urban Outfitters to give her look a more casual vibe. For shoes, she wore white high top Nike Air Force 1's. She accessorized with a gold lock necklace from ALV jewels, one of her favorite jewelry brands. This brand has tons of cute jewelry to help you spruce up your outfits!
For today's outfit, Ava said, "I was in a rush today, so I decided a chunky sweater with loose jeans would look good."
FRIDAY-
For Ava's final look, she is wearing a white distressed sweater from Rock N' Rags and camo leggings with gold stars from Strut This. Pairing a sweater with leggings is a great way to spruce up athleisure. To match her sweater, she chose white high top Nike Air Force 1's. She is also wearing a gold choker from ALV jewels.
"I was really cold this morning and I wanted to end the week with a warm and cozy outfit," said Ava.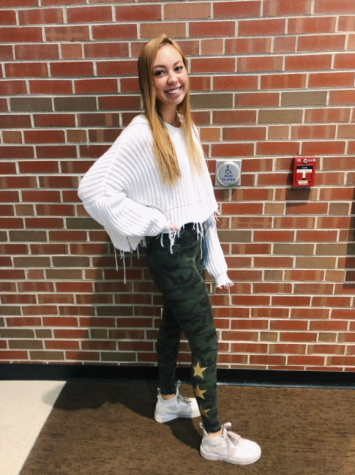 Stay tuned for next week's Style Profile!
About the Writer
Rory Summerville, Staff Writer
Rory Summerville is a junior at Lake Forest High School. She is a member of the girls cross country team and manages the girls varsity basketball team....