Style Profile #4: Zoe Frentas
Hang on for a minute...we're trying to find some more stories you might like.
STYLE PROFILE is a column written by Rory Summerville, where she finds students with unique and trendy styles and reports their outfits for a week. 
Although fairly new to the high school, freshman Zoe Frentzas has managed to show off her trendy looks in just the first few weeks of school. As the temperature starts to drop, here are her outfits for the past week!
MONDAY-
For Zoe's first outfit, she is wearing a black and white color block shirt from Zara. For jeans, she chose a light wash ripped denim with embroidered flowers on it. Jeans with different colors, stripes, or other designs are a huge trend! For shoes, Zoe chose simple Air Force 1's with light pink detailing. She finished off her look with a silver necklace from Forever 21. "Since it's Monday I just wanted a simple outfit," she said.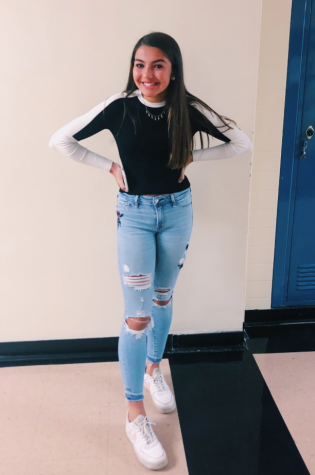 TUESDAY-
For Zoe's second look, she chose snakeskin pants and paired it with a simple black shirt, which are both from Zara. She paired this look with black leather from Nike. The matching shoes and top really make the outfit look put together. She finished her outfit off with a silver snake necklace from Brandy Melville. Zoe said, "I picked out the jeans first and then based the rest of the outfit off of that."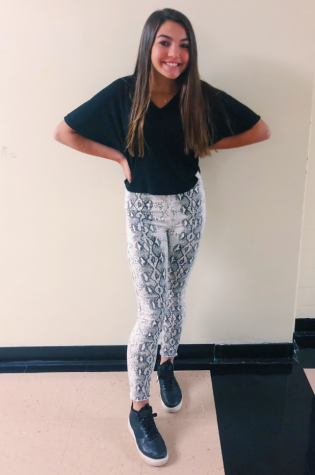 WEDNESDAY-
Zoe chose a more relaxed look for Wednesday, as she worn black yoga pants from Lululemon. She paired it with a cream fuzzy sweater from Urban Outfitters. This is another great example of athleisure! She again wore her white Nike Air Force 1's for a simple look. "I wanted to be comfy, but still cute today so I chose this," she said.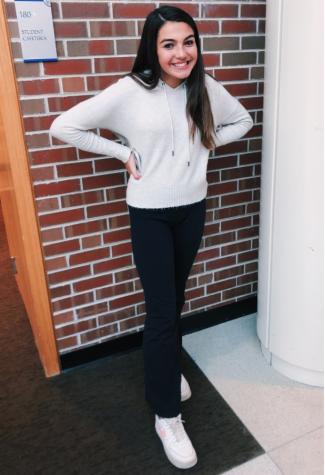 THURSDAY-
For her fourth look, Zoe wore ripped light wash jeans from Urban Outfitters. For her shirt, she wore a gray and blue shirt from Lollapalooza and a white long sleeve shirt underneath from Brandy Melville. Zoe rocks the layering trend which is super easy to do and big this fall. For shoes, she chose blue and navy high top Nike sneakers. "I didn't really try yesterday so I wanted to pick a cuter outfit today," she explained.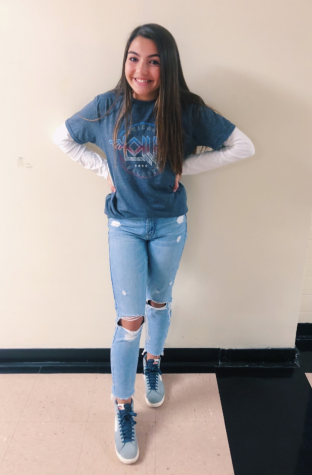 FRIDAY-
For Zoe's last outfit, she opted for a more cozy look. She wore a grey sweatshirt from Urban Outfitters with blue camo leggings from Alo Yoga. To offset the dark outfit, she chose white high top sneakers from Vans. Zoe's mindset for this outfit was that "she was in a rush and just wanted to be comfortable on a Friday.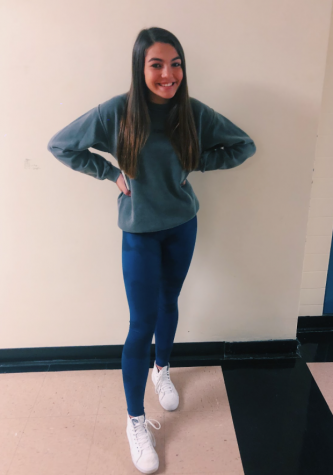 Stay tuned for next week's Style Profile!
About the Writer
Rory Summerville, Staff Writer
Rory Summerville is a junior at Lake Forest High School. She is a member of the girls cross country team and manages the girls varsity basketball team....