Alumni in Action: University of Notre Dame's Jack Jenkins (2013)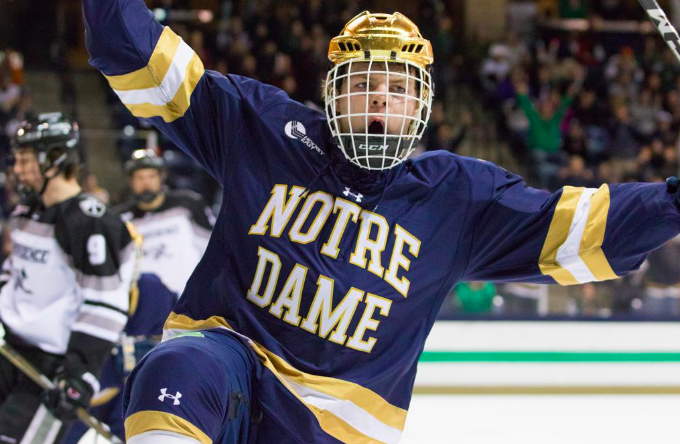 Jack Jenkins, a Lake Forest High School graduate of 2013, helped the Fighting Irish advance to their third ever Frozen Four appearance at the United Center last spring. This year, he is looking to advance the Irish back to the Frozen Four in Saint Paul, Minnesota as the Irish have started their 2017-2018 campaign off strong with an overall record of (6-3-1).
A native of Lake Bluff, Jenkins excelled at hockey throughout his childhood. He began his career with the Highland Park Falcons playing out of Centennial Ice Arena in Highland Park. He continued to progress as he took his talents to the Chicago Young Americans Hockey Club. There, Jenkins played Triple A hockey in the High Performance Hockey League, one of the most competitive youth hockey leagues in the country. In his last season with the Chicago Young Americans, he compiled 8 goals and 10 assists for the U18 team. During his senior year, Jenkins was drafted in the fourth round and 60th overall to the Des Moines Buccaneers of the United States Hockey League. He played two seasons (2012-2014) with the Bucs, appearing in 121 games while amassing a total of 49 points with 13 goals and 36 assists. Jenkins was traded in the off season to the Bloomington Thunder. During the 2014-2015 season, he was an alternate captain and had 24 points in 39 games. At the mid-season mark, however, Jenkins was traded once again to the Fargo Force in North Dakota where he finished his last season in the USHL with 11 points in 14 games. 
After having a successful career in the USHL, Jenkins took his talents to the prestigious University of Notre Dame. In his freshman season, he appeared in 28 games but only managed to grind out two goals and two assists. He registered his first career point by scoring Notre Dame's opening goal at then third-ranked Boston College in what turned out to be a 4-3 Irish victory. In his sophomore campaign, Jenkins improved his numbers, totaling seven goals and five assists for a total of 12 points. Also in his sophomore season, he notched the game winner in a 4-1 win over Alaska. Jenkins and the Fighting Irish are back on the ice this Friday and Saturday where they will face the tough Nittany Lions of Penn State in a Big Ten matchup.
About the Writer
Will Lincoln, Author
Will Lincoln is a senior at Lake Forest High School who is the Captain of the Varsity Hockey team. He is also a member of the Flag Football team. You will...