Burton: "Grind in the Dark, Shine in the Light"
How an LFHS Graduate is Handling the Loss of Two Consecutive Seasons
High school and college football players across the country have lost countless aspects of their season due to COVID-19; however, for some collegiate athletes attending Grinnell College in Iowa, the 2020 football season marked the second cancelled season in a row. For Clayton Burton, an LFHS graduate and sophomore at Grinnell, this unimaginably long absence became his reality.
A tumultuous fall in 2019 spotted with team-wide injuries brought Burton's first college football season to a dangerous hault. According to Burton, with most of his teammates sidelined, the school mostly left it up to the team to determine the outcome of their season:
"We kinda took it into our own hands; we were mad that the school didn't cut it out first," Burton said.
"
"As a competitor, I was training the whole offseason for that, and we played three games.""
— Clayton Burton
Burton and the pioneers were looking forward to competing the next year and winning games when they received news of the 2020 season's cancellation.
"Everything was kinda up in the air, until right when we were supposed to be coming back, and they decided not to…they were pretty positive about it."
Burton, a multi-sport athlete at Grinnell, has been doing everything he can to stay in shape and prepare for his next season—whenever that may come. Between virtual workouts with the team and personal training sessions on his own time, the former Scout is as ready and fired up as can be, thanks to his time at LFHS: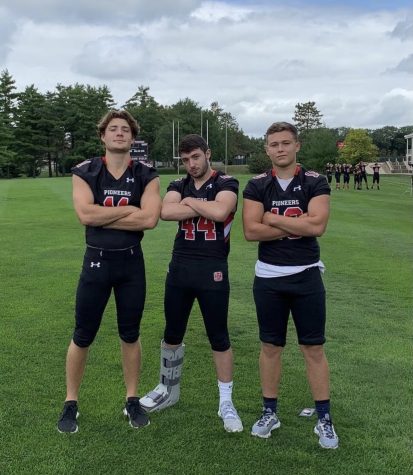 "The values I learned at Lake Forest have really helped me get through this tough time."
Though Grinnell students have not stepped on campus since March, Burton has learned to adapt. In his downtime from exercising, he juggles five to six different jobs, including umpiring, caddying, and helping out local businesses around the community.
Despite the setbacks, Burton remains excited and optimistic for next year's season.
"I've only played 3 games since senior year, so that's 2 and a half years of training to see where I'm at, so I'm kinda curious to see…how good I am now," he said with a laugh. "[I want to] win football games as a team."
Whether you know him as C-Burt, Foge, or simply Clayton, one thing is clear for the budding athlete: he has persevered through countless obstacles throughout his career and will come back stronger than ever. This is the true Scout attitude that all students at Lake Forest strive for, and Burton has it on full display.
"Grind in the dark so you can shine in the light," Burton said. "That's just been my mentality throughout this quarantine period."