NSC Alums Who Have Gone Pro That You May Not Have Heard About
The Underlying Pro Talent North Suburban Conference's History Has To Offer
AJ Shaw, Staff Writer
April 30, 2019
The North Suburban Conference (NSC) is not only one of the toughest conferences in the state of Illinois, but it has also produced some tremendous athletes like Jalen Brunson, Evan Boudreaux, and Admiral Schofield. In fact, Connor Clark wrote a great article on recent NSC alums who are currently in collegiate and professional sports.
Today, I am doing something related to that, but I decided to pick five pro athletes, retired or currently playing, that you may have not known graduated or attended an NSC school.
Note: Players who were on teams in the North Suburban Conference before the 2016-17 realignment are eligible for this list.
* = player did not graduate from school
Anthony Castonzo*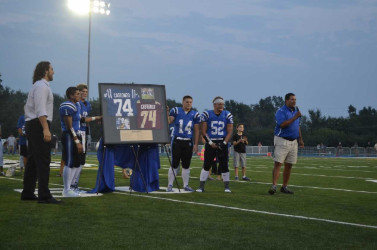 Current Team: Indianapolis Colts
High School: Lake Zurich High School
Graduation Year: 2007
While Castonzo did not graduate from Lake Zurich, he did receive a Daily Herald all-area award while playing for the Bears. His transfer to Fork Union, Virginia, gave him more Division I interest, and in 2007, he joined Boston College. There, he was a two-time First team ACC in 2009 and 2010.
Castonzo has been a staple at left tackle for nine seasons with the Indianapolis Colts after being a first round pick in 2011. This was the first time a person from Lake County had been a first round pick in the NFL draft.
Tamika Catchings*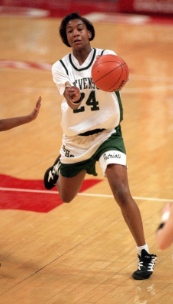 Current Team: (retired) Indiana Fever, 2002-16
High School: Adlai E. Stevenson High School
Graduation Year: 1997
If there is a LeBron James of women's basketball, Tamika Catchings is the person for that. Catchings only attended Stevenson for three years from 1994-96, before finishing her senior year at Duncanville High School in Texas in 1997.
Catchings won both Ms. Basketball in Illinois, as a 15 year old, in 1995, and in Texas, in 1997. After a successful career at Tennessee, she was drafted 3rd overall by the Indiana Fever in 2002, and went on to have a Hall of Fame career, becoming the all-time steals leader in WNBA history, a WNBA champion, a USA Olympian, and a 10 time All-Star.
Brandon Paul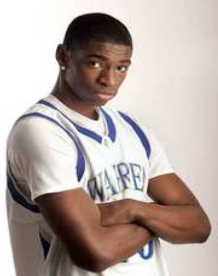 Current Team: Zhejiang Golden Bulls (China), Played with San Antonio Spurs (NBA, 2017-18)
High School: Warren Township High School
Graduation Year: 2009
While Paul played in the NBA for a very brief period last season with the San Antonio Spurs, he had a solid career at Warren, in which he capped off his career in 2009 with winning Mr. Basketball for Illinois.
He had a solid four year career at Illinois, making the Big Ten 3rd-Team twice, and becoming just the second player in school history to record 1,500 points, 500 rebounds, 300 assists, and 100 steals. Before Jalen Brunson came to Stevenson, Paul was the king of basketball in the NSC.
Michael Turner
Current Team: (retired) San Diego Chargers, Atlanta Falcons
High School: North Chicago Community High School
Graduation Year: 2000
Yes, North Chicago is no longer in the NSC, but before the 2016-17 realignment, they were a part of the conference. One of the school's most remembered alums, was Pro Bowl and All-Pro running back Michael Turner, who had a tremendous high school career.
In Turner's senior season of 1999, he helped North Chicago to their first playoff berth in eight years, by rushing for 1,392 yards and 14 touchdowns. At Northern Illinois, he finished second in rushing yards twice in his junior and senior years, and held the school records of rushing yards, touchdowns, and all-purpose yards at NIU, before Garrett Wolfe broke two of those records (rushing yards and touchdowns) in 2006.
Paul DeJong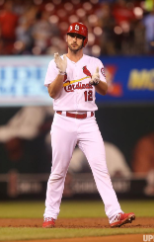 Current Team: St. Louis Cardinals
High School: Antioch Community High School
Graduation Year: 2011
DeJong moved to Antioch, Illinois in 2004, and attended Antioch Community High School where he played baseball. In his senior year of 2011, he batted .430 with four home runs and twenty RBIs (run batted in).
He attended Illinois State University as a walk on, where he impressed scouts, and was drafted in the fourth round of the 2015 MLB Draft by the St. Louis Cardinals. DeJong then made his MLB debut in 2017 for St. Louis, in which he batted .285 with twenty-five homers and eighty-five RBIs.
He placed second in the 2017 NL Rookie of the Year voting behind Cody Bellinger of the Los Angeles Dodgers, who won unanimously.
And those are five athletes who went professional that you may have not known. It is always interesting to look back at who played at the collegiate or professional level who is an NSC alum, and helps us look forward to who of the next stars out of the North Suburban Conference could break into collegiate or professional success.