New Music: It's the Little Things–Kurt and Courtney's 'Lotta Sea Lice'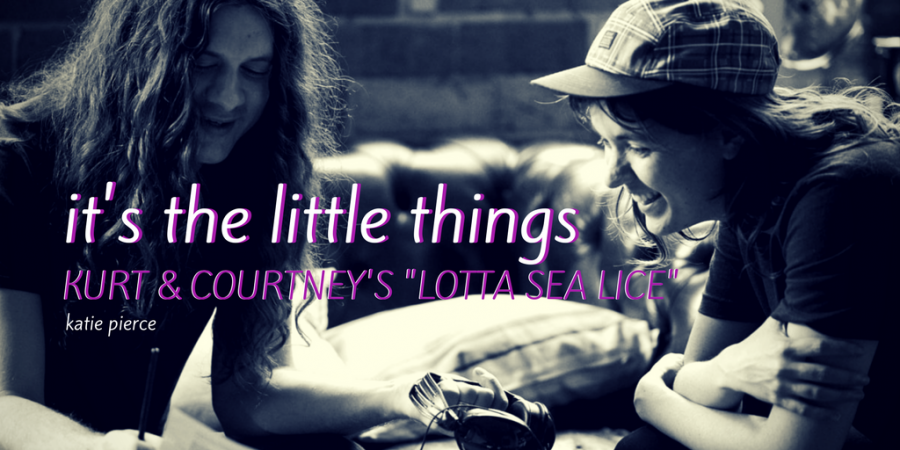 When indie rocker Courtney Barnett was touring around the world, she kept running into Kurt Vile, the lead guitarist of the The War On Drugs.  After Barnett received a phone call from her indie rocker acquaintance, the two got together in the studio to record some duet material.  From that studio, Lotta Sea Lice was born. Being hailed as 'quirky' and 'a laid-back gem,' Lotta Sea Lice resides at the number four spot on Billboard's Indie Top 100.  Barnett and Vile scale back their independent styles to meld into a soft, folk style.  Here's the song breakdown:
"Over Everything": The duo starts off the album with a satisfyingly simple riff, with Vile's scratchy vocals dominating the first verse.  Barnett's vocals meld in soon after-and in excellent contrast to Vile's-clean and surprisingly simple.  The drums, strumming guitars, and accent guitars all contribute to a simple and warm theme, embodying folk and the familiar indie vibes that the pair is known for.  Near the middle of the song, the entire room seems to fill with music from all directions, nothing more than just sound and being surrounded and hugged by the chords.  Again and again, they both repeat "don't wanna talk about it," as the song progresses towards its climax, reeling with muted anger, but then subtly fading to a single articulated chord, without startling the listener.  Overall, a stellar start to this album.
"Let It Go": After a countoff by Barnett, she and Vile switch off, line by line, ultimately settling on the theme of 'reverie.'  The song talks about songwriting, a process that I am familiar with.  The song reminds me of what it is like to write a song; you have to have a melody playing over and over in your head, and then you are frustrated about how to write it down, and write it in the right way.  Therefore, 'letting it go' is the best and most successful option.  Vile and Barnett are once again subdued to a certain point, never raising their voices from a light conversation volume.
"Fear Is Like A Forest": Written by Barnett's partner Jen Cloher, "Fear Is Like A Forest" talks of the inability of fear to ever leave our minds as human beings.  Barnett takes the lead on a simple guitar ladened anthem, where her vocals start low and then layer with Vile's to produce a multilayered rock tune.  My only complaint is that the instrumental aspect of the song is very one-note (unintentional pun); meaning there seems to be only one chord being played during the entire duration of the song.  Other than that, the embodiment of the theme of fear, and all the ways that it surrounds us is evident and intriguing to the listener.
"Outta The Woodwork": I find it interesting how the duo is able to stretch out short lyrics into long phrases, which makes each word have more meaning, no matter what the word's actual definition is.  "Out The Woodwork" features true poetry, with lots of contradictions and long, slow musical ideas, for example: "I am normally pretty forgiving, but only if you are."  The addition of the piano in this track adds another color to the repetitive nature of the song. Over and over, Barnett and Vile repeat 'she's so easy,' leaving that phrase up to interpretations from the listener.  In my opinion, I think they are trying to talk about a relationship, and how one person is too forgiving of the other, making the relationship seem trivial and dishonest.
"Continental Breakfast": One of my favorites on this album, "Continental Breakfast" switches gears to stripped-down-folk with stories woven throughout.  The contrast from more concrete rock is needed in the middle of the album.  This track talks of peace and simplicity, reminding the listener of all of the little things that they take for granted every day.  The music video shows Vile's life in contrast to Barnett's, both spending time with their families.  One lyric stands out: "Somewhere on the sphere, around here."  By pointing out how living on in America is not at all that different from another country, the pair reminds us how similar we all are to each other.  The message is needed in today's world, and it is a wonderful embodiment of what music is all about.  Ending with Barnett's soft soprano, "Continental Breakfast" isn't to be missed.
"On Script": This track seems to be a type of interlude, with the vocals seeming like a hymn.  Barnett's lyrics seem to almost be a chant, over a dark guitar theme.  Barnett takes this song all for herself, singing minimally, and darkening the mood.  The song progresses in volume, getting more intense and needy as the end approaches.
"Blue Cheese": A quirky song with quirky lyrics, "Blue Cheese" doesn't have an underlying and obvious theme.  Perhaps they both talk of love, because they often repeat the lyric 'girl of my dreams' and 'girl in real life.'  The pair seems to almost be writing like they are dreaming, adding harmonica sounds and introducing new musical 'characters,' if you will, throughout the course of the track.  It's impossible not to smile while listening to this tune.  This fantastical and upbeat song is yet another highlight of the album.
"Peepin' Tom": A simple and stripped down guitar accompanies Barnett's vocals once again, longing with a sense of searching.  Barnett talks of finding your place, again contradicting herself.  It is evident to the listener that she is writing down what she feels and sees in her brain.  "I don't wanna change, but I don't wanna stay the same," she muses, questioning herself, and also the listener.  What do we need to be changing in our lives? What needs to stay the same?  What do we have to decide on?
"Untogether": The light guitar of the beginning returns in Vile and Barnett's cover of "Untogether," adding sprinkles of percussion to color in the edges.  The duo seems to bid the audience farewell, fitting for a final song.  Vile and Barnett leave us with a myriad of advice and last-minute stories, saying things like "You can't change the unchangeable untogether."  They're right; we can't change anything if we don't work together.  At the end of the song, it feels like the listener's mind is more open and more sensitive to the little things, and to the ways we can improve our lives.
At the fast paced speed of daily life, it's good to be reminded that the little things in life still exist.  Sometimes these things, like dinner with family, or listening to music with a friend, or a bird landing on your windowsill, or even a warm day can make us happier.  "Lotta Sea Lice" allows us to put our lives in perspective, even for just a moment, to realize that working together gets things done, and that realizing the small gifts in life are definitely worth it.
Tracks Not To Be Missed: "Over Everything," "Continental Breakfast," "Blue Cheese," and "Untogether."
About the Writer
Katie Pierce, Editor in Chief
Katie Pierce is a proud senior at Lake Forest High School. Besides being Editor-in-Chief of TFS, Katie is a drum major of the LFHS band, and spends most...