Behind the Scenes: The Varsity Dance Team's Competition Season
With winter season tryouts for the Lake Forest Dance Team wrapping up last week, let's take a look at what's to come for LFDT.
So far this year, the dance team has performed at every home football game. Many people may only know the team for their halftime performances, but for the dancers, football/fall season is just preparation for competition season. 
After football season, the team hosts another tryout in order to alter teams if needed for the new and more rigorous season. Once the teams are set, the season takes off in full speed.
Occasionally, you might hear about a competition or see them perform at a basketball game, but there is much more to their season than just that.
Starting in November, the team blocks out two weekends for choreography. Each choreography day is up to 10 hours long. Just two weeks later, they have their first competition in Naperville. From there, the training is nonstop.
"Oftentimes people overlook the work put into dance,"senior captain Lauren Milanak said.
In order to be a part of the varsity team, it's required to give up your free time during winter break. 
"Winter break is when the most improvement is made… It's the most important part of our season," said Milanak.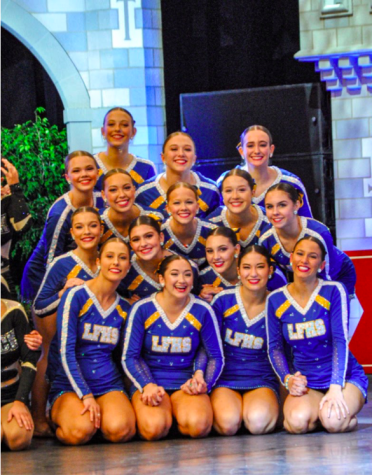 A typical winter break practice spans 4-5 hours long, occasionally with a morning workout class beforehand. Christmas Eve is no exception to this schedule.  
January is when the team competes in the bulk of their competitions, including Universal Dance Association (UDA) regionals, conference, sectionals, and state. During the week, they perform at girls and boys basketball games for more performance practice.

To close off the season, LFDT has their most important competition of the year: UDA nationals. The competition begins on February 4th, starting with prelims and semis, lasting all the way to the 6th with the finals.  
The last time the team attended nationals, in 2020, they received 2nd place in pom. In 2021, the national competition was virtual. 
"After not being able to go to Nats last year, I know my teammates and I are striving to uphold the team's legacy," says Milanak.